Do you have any "vi vu" plan in December, if not, let iD suggest you some of these interesting art places. Prepare yourself for a car full of bottles, a phone full of battery, a car full of energy and let's go… !!!
HO CHI MINH
ONE ZINE AT A TIME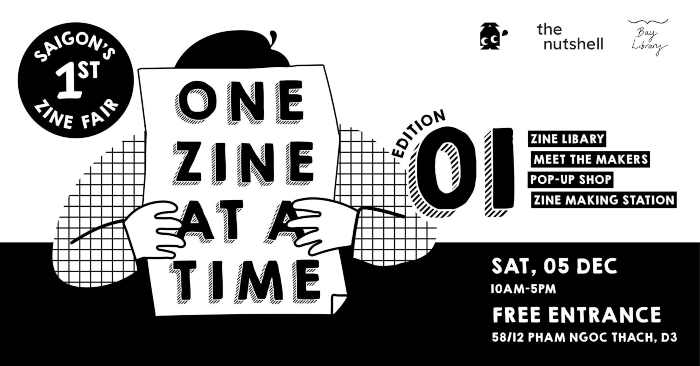 Time: 10:00 – 17:00, December 5, 2020

Location: The Nutshell Saigon, 58/12 Pham Ngoc Thach, Ward 6, District 1, Ho Chi Minh
A new project of Dry Squid Studio, "One Zine At A Time" is the first zine fair now SaigonIt is also an opportunity for the creative community and art lovers to meet. The first "version" of "One Zine At A Time" To bring you activities to give you the first step to experience this special form of composition, including:
Explore Zine What is the history of this particular type of publication and culture Zine in Vietnam in recent years.
Meet and interact with the zine makers won the title of "selected dry chicken".
Enjoy the books zine Exotic from many different countries from treasure zine "Super huge giant" of Bay Library – collaboration of Dried Squid during this fair.
Experience "one day making Squid" at the Squid studio and hand-cut the rolls zine mine.
Are you curious zine What is it? Then remember to join December 5 "One Zine At A Time" to know what it is.
---
Am I Superwoman? | Am I a supergirl?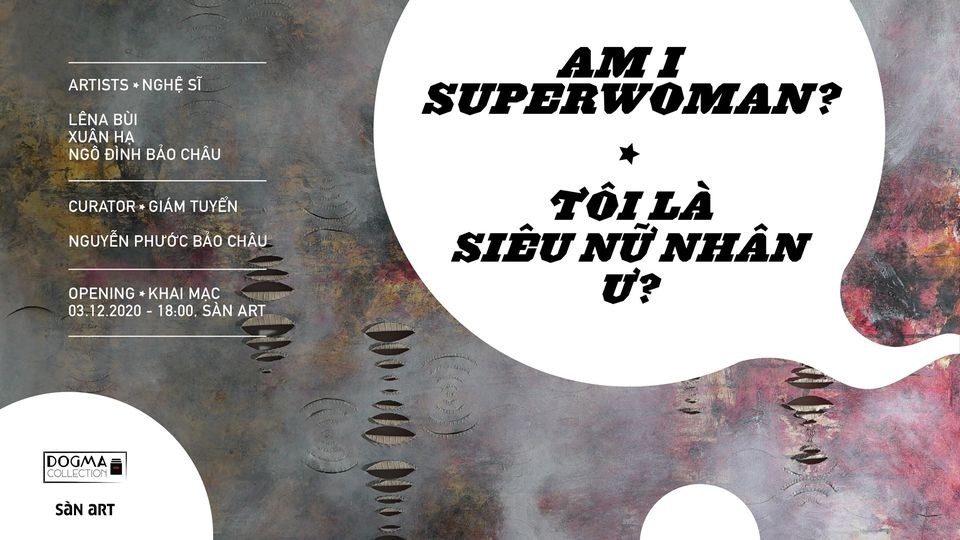 Time: December 3, 2020 – January 9, 2021
Location: Rooms B6.16 & B6.17, Millennium Masteri Building, 132 Ben Van Don, Ward 6, District 4, Ho Chi Minh
With the participation of 3 artists Lena Bui, Ngo Dinh Bao Chau, Xuan Ha and curated by artists Nguyen Phuoc Bao Chau, contemporary works by female artists bring their own reality and beliefs. But it is even more remarkable that their work is not intended to deny the sacrifices, feelings inherent in the nature of women for the family and humanity, but to evoke personal considerations towards love. Love comes from an unconditional choice, not from being attached.
"Am I a Supergirl?" We also urge viewers to join us in continuing this female story in a contemporary context: Time has changed it, or is it still a long way to go as we still need to negotiate with the past to join in. toward the future?
---
INTERLINK – COMMUNICATION # 1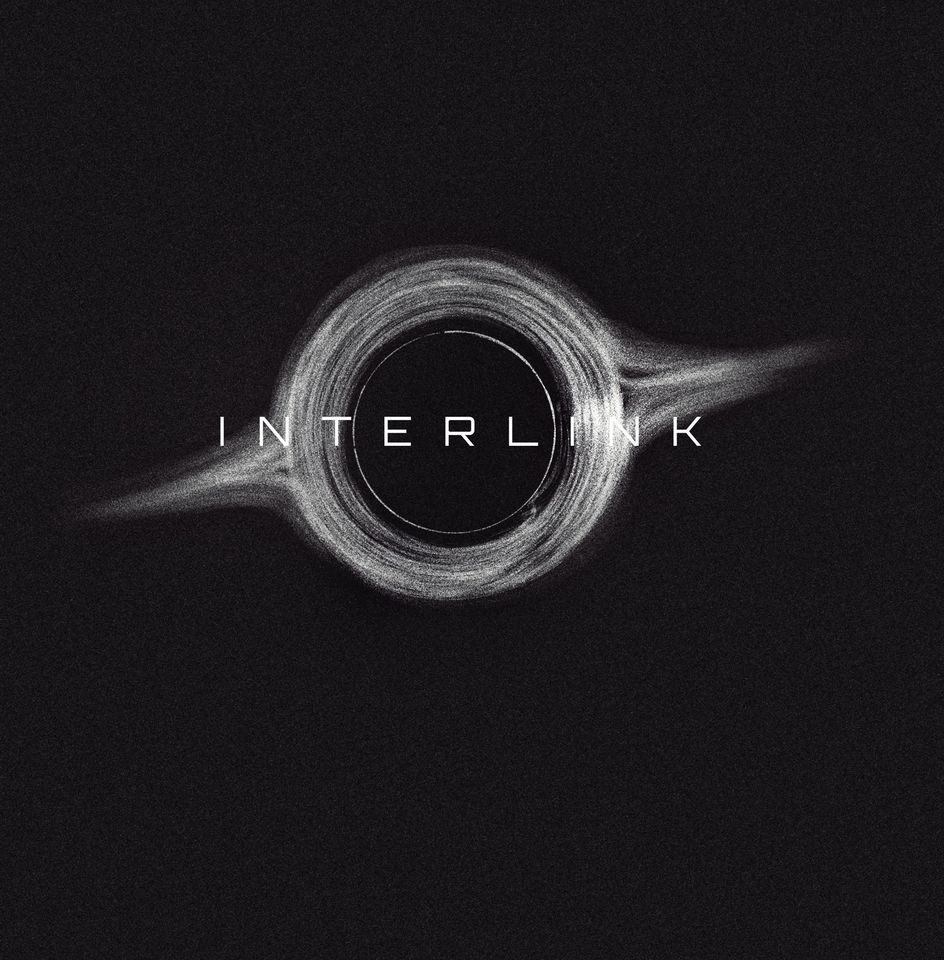 Time: 10:00 – 18:00, 09 – 12/12/2020
Location: Lucky Star Building, 102 Le Lai Street, Pham Ngu Lao Ward, District 1, Ho Chi Minh
Interlink / ˌIn
Inspired by the image of black holes, we would like to invite you to embark on a journey of multidimensional creative spaces, where personal art is revealed in different forms and at the same time blended together to create. a living reality of color and sound; a place that attracts hearts of street art enthusiasts to compose and contemplate; There is a surprise on the other side of the black hole, invite you to step through to see with your own eyes.
The event will take place for 3 days (December 9 to December 11) with the participation of many artists: Daos501 (graffiti artist), PhatSot (graffiti artist), Datmaniac (rapper), G-fam (rap club), Minh Lai (rapper), Wean & Naomi (perfomance artists), Zorba (artists group), DJ Jin, DJ Tddchll…
Admission is free for the event, especially workshops and music nights with ticket sales.
Related topics:
The set of photos is inspired by the Tale of Kiều combining fashion, light and dance
HANOI
Exhibition "Silent Memories"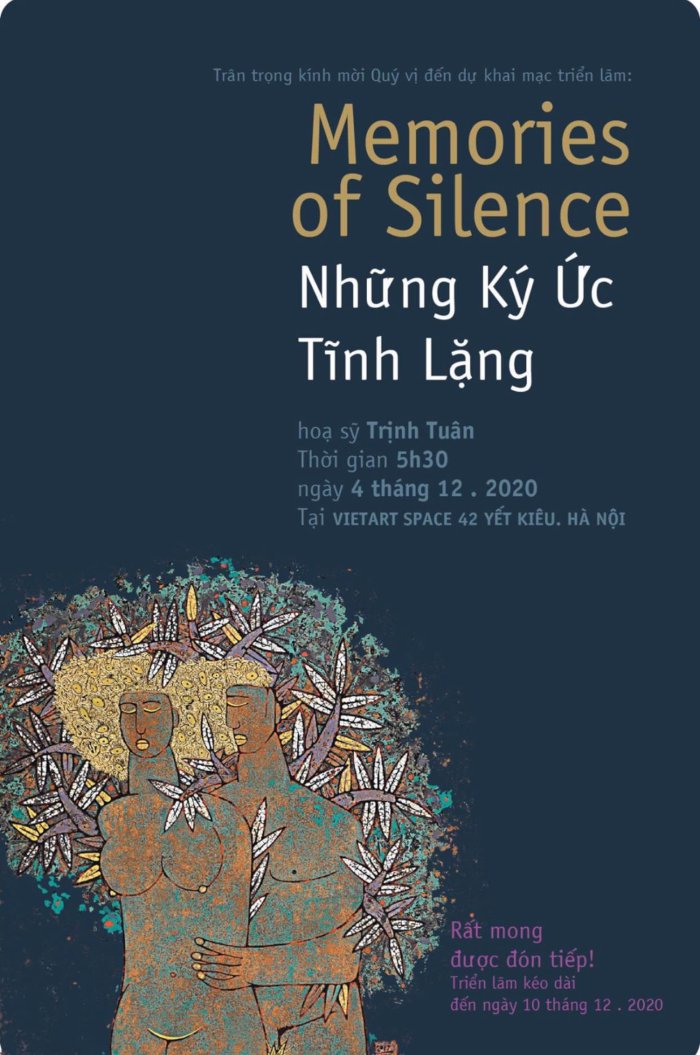 Time: December 4 – 12, 2020
Location: Art Space, Vietnam University of Fine Arts, 42 Yet Kieu, Hanoi
Known as the teacher who has honed a lot of students – young talented lacquer painter, winning many international awards, painters Trinh Tuan he is also the creator of the process of embarking on many years of art exhibitions among artists from Southeast Asia.
Exhibition "Silent memories" of the artist Trinh Tuan display 30 large lacquer paintings (composed within 10 years) to commemorate 30 years of Son Lac's career. Few people know, before setting foot in the art industry, the passion of learning from childhood Trinh Tuan music again. And the artist has "popular" a lot of instinct to love the peaceful music, love in the near-contemporary city of Ha Thanh (noisy today) soaked in, diving into his own lacquer all the time … thirty years now !!!.
---
ART for You 13th Edition | The program sells works at reasonable prices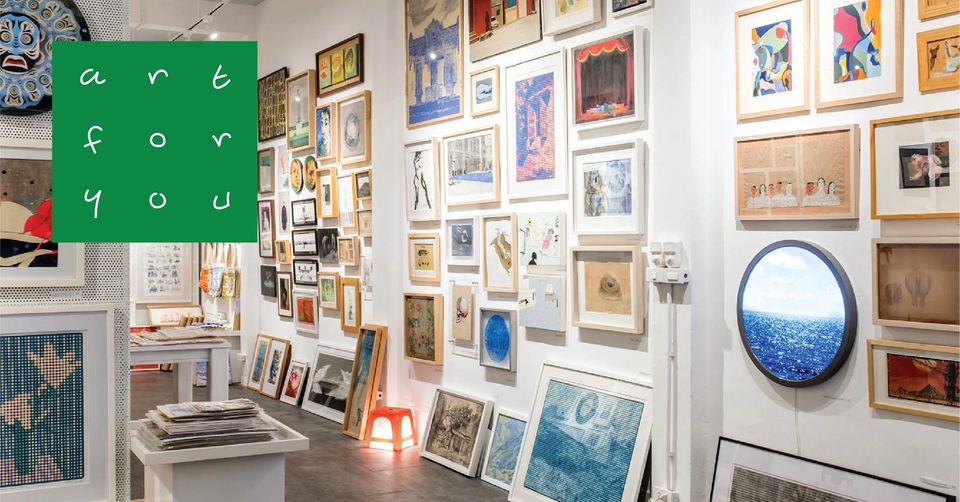 Time: 9:00 – 20:00, 03 – 09/12/2020
Location: Work Room Four, 31/67 To Ngoc Van, Tay Ho, Hanoi
Art For You is created with the desire to generate income for artists and support independent art spaces in Hanoi. And we think this is a more important time than any other time for you to consider supporting the arts community no matter how much; We hope you will see how buying art has an effect on Vietnamese art makers.
In the past 6 years, Art For You has been known as a prestigious cultural event that is expected by both artists and the host public. The event has contributed to supporting and promoting more than 150 artists, displaying more than 400 works of Art in each organization.
This event is limited to 7 days in a row, and it is also the only occasion where many great works are sold at lower than usual prices, to match the price bracket of Art For You: from $ 25 to $ 900.
So, we look forward to seeing you at Art For You!
---
Workshop Culture: Biology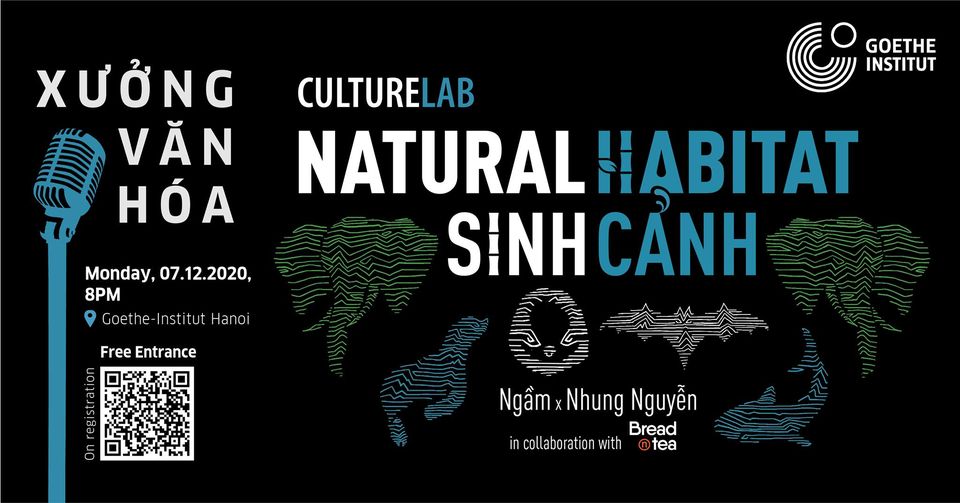 Time: 20:00, 07/12/2020
Location: Goethe Institute, 56-58-60 Nguyen Thai Hoc, Ba Dinh, Hanoi.
"Natural Habitat" ("Habitat") is a music show with live visuals due Nguyen Nhung (stage name Sound Awakener), Implicit (4-member electronic group) and Bread n 'tea in Hanoi, together with ideas and presentations.
"Habitat" was conceived in the context of epidemic diseases and social isolation, and was inspired by how that gap changed the way artists work and practice music. The performance does not stop at expressing isolation and isolation of pure reason, but aims to emphasize the distance, separation in human emotions, the insecurities before nothing. knowledge and uncertainty, and at the same time elicits audiences' ability to let the art sustain itself and overcome such challenging circumstances.
---
Yen Exhibition / Artist Van Trong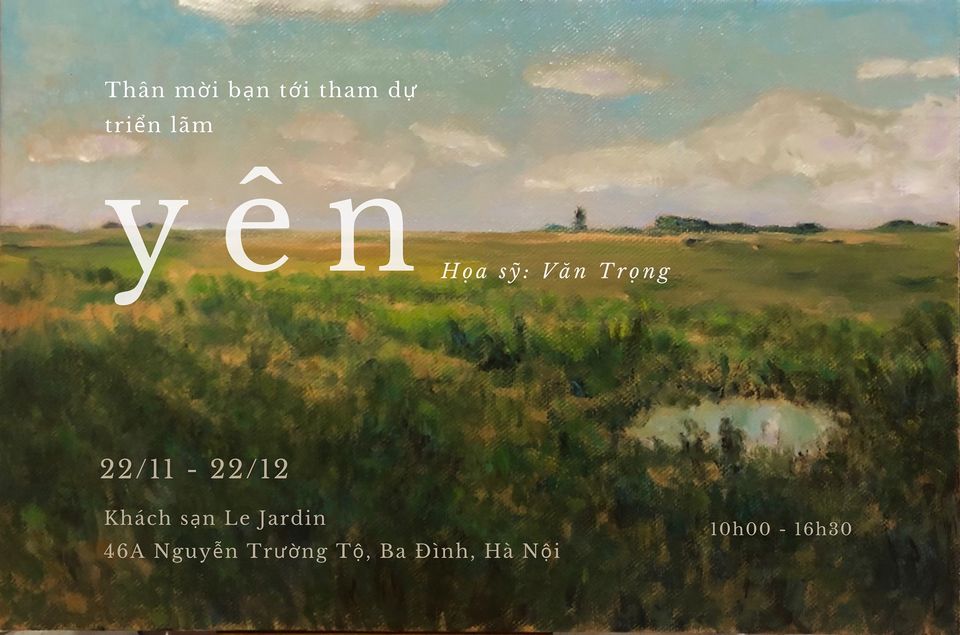 Time: November 22, 2020 – December 22, 2020
Location: Hanoi Le Jardin Hotel – 46A Nguyen Truong To, Truc Bach, Ba Dinh, Hanoi
Artist Van Trong (born in 1979) born and living in Hai Duong city, Van Trong's works have made a memorable impression on Hanoi's art-loving audiences through recent group exhibitions. More than 20 large-format oil paintings are meant to convey the artist's feelings and feelings to his beloved land, his hometown and places he has gone through.
The line of landscape paintings together with the development of world painting cannot help but mention the profound influence of the artists Impressionism in Paris in the years 1870 – 1880. The visual style of observing the changes of natural light made the artists' palette and brushing of the artist both brilliant and generous. Inheriting the world famous masters but still constantly searching for a way for himself, his painting Van Trong It seems not only to describe a landscape, space, or a land, but also to express time, emotion and spirit.
As the Vietnamese saying is familiar, the scene of life, perhaps the scenes in his works are just an excuse to share hidden feelings full of poetry and music. And above all the music in painting's Van Trong bring moments of tranquility and tranquility away from everyday life outside of life.
Synthesis: Hoang
Related topics:
From A – Z artistic terms that you may not know clearly (last part)
Product branding 101: Secrets to help build a strong brand
Bouke De Vries: An artist who recreates broken pieces of pottery