Having spent a lot of work on making things, having to get to the dock, a young YouTuber is making the internet community admire when he creates a laptop with top configuration. Although the appearance of this product, it looks a bit stinging. But that's okay, grandparents often say that wood is better than paint.
Accordingly, the young man named Jeff (from the YouTube channel Excursion Gear) decided to make his own laptop equipped with AMD Ryzen Threadripper 1950X 32-thread 16-core CPU – which is used for desktop machines. Needless to say about the power of this CPU, because it can weigh all kinds of multitasking, from AAA games to today's heaviest working software that you can touch.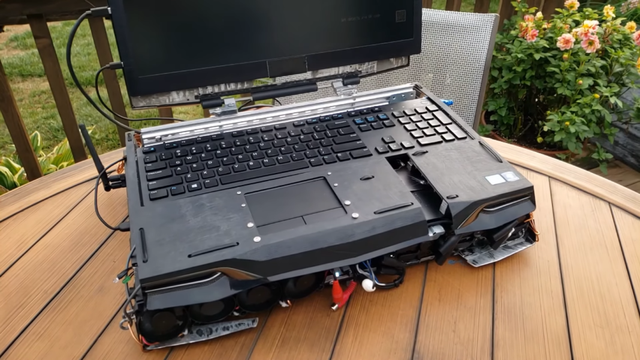 Outside, unspoiled ruins, inside a poetic and lyrical landscape …
The first problem to deal with is the AMD Threadripper CPU is quite large in size, so "stuffing" it into the tight space of a laptop is a difficult task. The guy Jeff decided to sharpen and trim HP's built-in PC case, then shape it to look like a laptop chassis.
In terms of configuration, Jeff used ASRock X399M Taichi motherboard (Micro-ATX size), 32 GB Corsair Vengeance RAM (3600 MHz), and Zotac GTX 1050 Ti video card. As for the screen, Jeff uses a 18.3 "4K mobile screen.
It looks ugly, but the configuration is free (VGA is a bit weak).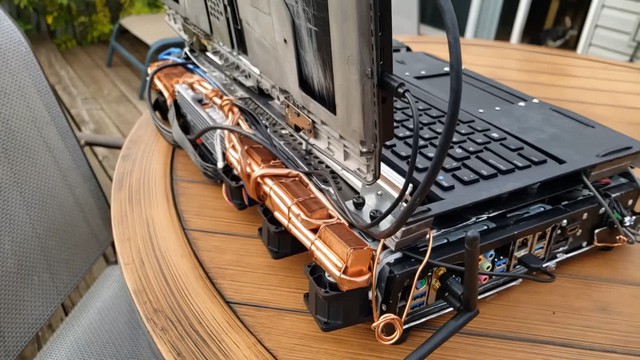 For the heat dissipation, the laptop is fitted with Dynatron A28 1U passive heatsink, designed in a compact form (low-profile) for EPYC chips used in server systems. And to increase cooling efficiency, Jeff has added 2 BFB1012HH blowers.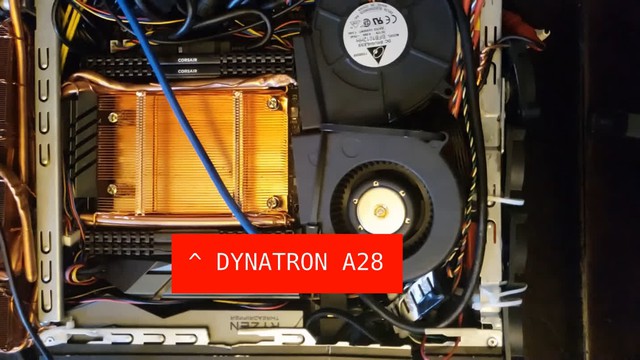 The hardest part here is finding a way for this laptop to run on battery power. After many tests, Jeff decided to combine the HDPlex 400W ATX SFF with 6 Dell Companion 18,000 mAh backup batteries to generate a current of 390 W. Although this is not necessarily the most powerful laptop in the world, but making homemade I have an AMD Threadripper CPU equipped with a very impressive result.
Here is how Jeff invented his "junk" but extremely powerful laptop. If you want to work hard to follow, remember to have a few tens of millions available …
Sources of synthesis tom's HARDWARE, Gearvn