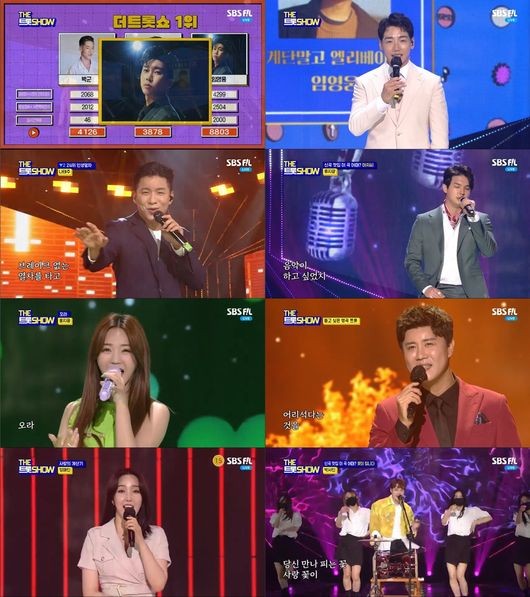 [OSEN=최나영 기자] In 'The Trot Show', which was broadcast live on the 28th, Lim Young-woong, the prince of trot, took first place with 'Not by stairs but by elevator', setting a great record of entering the Hall of Fame for four consecutive months.
Young-woong Lim took the lead by showing a big gap from second place in the preliminary voting that took place for about a week from the 16th (Sun) to the 23rd (Sun). Im Young-woong, who showed an overwhelming difference by receiving 8803 votes from the total score of the live broadcast real-time votes, took the first place by defeating Park and Young-tak.
With this, Lim Young-woong entered the Hall of Fame in March with 'My Love Like the Starlight', 'I Trust Only Me' in April, 'HERO' in May, and 'Elevator Not Stairs' in June, and no one can follow the trot system. He has proven once again that he is the strongest.
Park, who was nominated for the first place for the first time, received a total of 4126 votes and took second place after Lim Young-woong, tasting a moment of emotion. Park, who settled in second place with a terrifying rise, said, "I can't believe I'm here. I am so happy and grateful to have been nominated for first place on 'The Trot Show' with Young-woong Lim and Young-tak Young." Young Tak, who has been steadily gaining popularity, took 3rd place with a total of 3878 votes. Since 'The Trot Show' excludes the monthly number one song from the nominations for the next month's number one, attention is focused on which song Lim Young-woong will rank on the chart in July.
On the other hand, on the live stage of 'The Trot Show' broadcast on this day, Park Gun, Na Tae-joo, Ryu Ji-kwang, Yang Ji-eun, Hong Ji-yoon, Kang Hye-yeon, Jin Hae-seong, Jeong Jeong, Na Sang-do, Park Seo-jin, Myeong-seop, Lim Seo-won, Ahn Seong-jun, Kim Jung-yeon, and Lee Je-na appeared. It brought joy to the viewers.
Meanwhile, 'The Trot Show' is broadcast every Monday at 9 pm on SBS FiL and SBS MTV.
/nyc@osen.co.kr
[사진] Captured from 'The Trot Show'