Microsoft is currently rolling out a new update for the Outlook.com website, bringing many great support features for Outlook web users.
The latest feature that Microsoft added to Outlook web version is the ability to create one or more new Sticky Notes directly on the platform extremely convenient. The newly created notes will also be synchronized immediately and displayed on both Windows 10 and Microsoft Launcher on Android. This will be especially useful for those who use Outlook on public computers and do not have access to the Sticky Notes application on Windows 10.
The new update that contains the Sticky Notes feature on Outlook.com will be automatically applied by Microsoft, meaning that users will not have to update it manually. However, due to the deployment of regional updates by Microsoft, users in Vietnam may have to wait a few more days to experience this new feature.
To check if the Sticky Notes feature has been updated, visit the Outlook.com website, look to the options menu on the left side of the screen and click on Notes. If your Outlook.com has been updated, you will see an "New Notes" option right on top.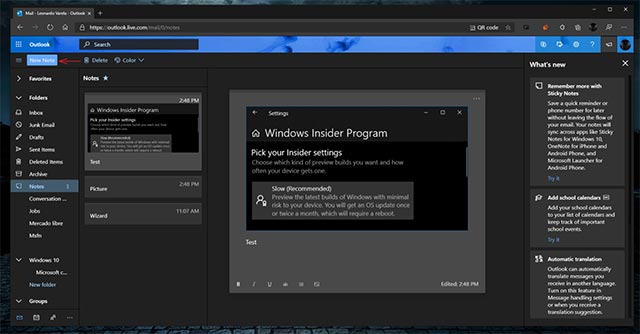 Sticky Notes is a built-in note taking application of Windows, which gives you a solution to create notes on your computer screen to remind important tasks, with the advantage of simplicity, convenience and speciality. Easy to use, while providing all the utilities you need for a professional note-taking application.
Sticky Notes provides Windows 10 users with many options for font size, background color, and effective note-editing tools. Along with those features support arrangement, backup and note management to ensure you do not miss any plans, schedules set out.
To learn how to use Sticky Notes, please refer to the article:
Tips for using Sticky Notes in Windows
.