(Techz.vn) Yamaha Japan will launch a new model of medium motor R3 (R25) in the new year with new additions of tones on Valentine's day.

With the 2020 version, Yamaha R3 will be equipped with a 2-cylinder engine, DOHC, 321cc capacity, cooled by radiator, providing maximum power of 42 hp at 10,750 rpm and extreme torque. great 29.6 Nm at 9,000 rpm, along with a 6-speed gearbox.
The new design of Yamaha R3 2020 is inspired by the current big brother Yamaha R1. The frame structure is a Diamond Fame, Fairing type based on an aerodynamic design with front air intakes referenced from M1 racing cars in MotoGP. This causes the front of the vehicle to grip the road surface at high speeds and bring cool air down to help cool the cooling system.
In addition, the windshield part of this model has been adjusted to a new angle to allow better ventilation, while increasing aerodynamic performance and helping reduce the impact of wind on the driver. It has been improved from telescopic suspension to 37 mm reverse stroke from KYB.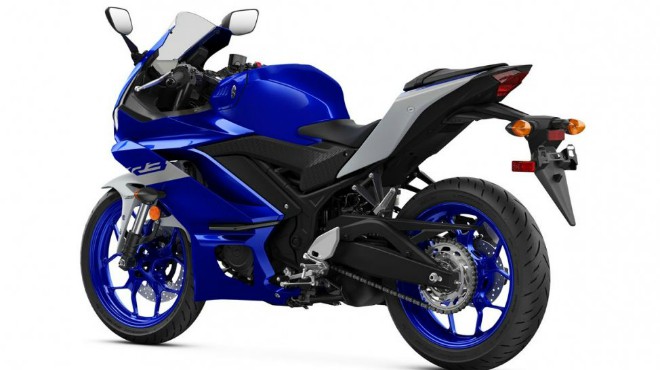 The new Yamaha R3 2020 version will be available in 3 colors: Matt Silver (Deep Silver), Deep Purplish Blue metallic C (Blue) and Matte black 2 (Matte Black). Currently, the price of the R3 2020 model has not been disclosed. However, as expected, this model does not have too much difference with the 2019 version.
.