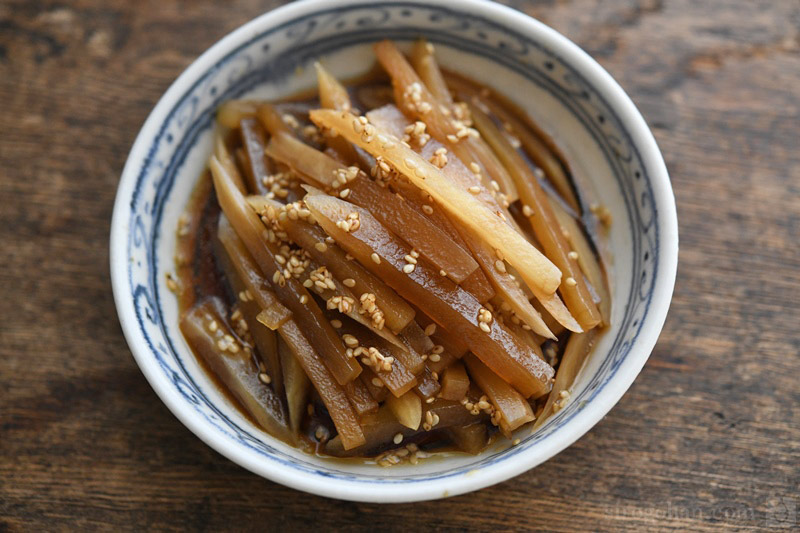 Cooking time: 10 minutes or less* Cooking time excluding soaking time
Yacon has been attracting attention in recent years due to its abundant nutritional value.It looks sweet, but it has a crispy texture both raw and cooked.is.
We sometimes eat it with kinpira or miso soup, but this timePonzu pickles that are easy to eat even for unfamiliar peopleI would like to introduce how to make.
Keywords for this recipe

Ponzu sauce
A little minor vegetable recipe
Vegan (no animal material used)
How to make yacon ponzu and sesame oil pickles
Preparation of yacon
Yacon looks like a sweet potato as shown below, but the taste and texture are quite different.
As a feature,The taste is like a pear with little sweetness, and you can feel a little udo-like aroma. In addition, it has a crispy texture both raw and cooked.
On this recipe page, in addition to the taste of ponzu, sesame oil is also scented, making it a very easy-to-eat side dish.Yacon pickled in ponzuTo make.
First, peel the yacon thinly and cut it into sticks with a length that is easy to eat.
When eating yacon raw, it is easier to eat it if you remove the lye a little, soSoak the cut yacon in water for 5 to 10 minutes to remove the lye.To do.
Finishing yacon pickled in ponzu
Drain the yacon after removing the lye and transfer it to a storage container.
Because it's fine in that containerSeasoning A (3 tablespoons of ponzu soy sauce, 1/2 tablespoon of sesame oil and white sesame)Add.
Roughly mix with chopsticks in a storage container, cover and let the taste blend in the refrigerator.
At first, the upper part is not soaked in ponzu, soMix it upside down once in about 30 minutes...
As a guideline for the time to soakAt least an hour, preferably a few hoursis. If you leave it for about half a day, the taste will soak into the bottom.
In addition to the taste of ponzu, sesame oil also has a scent, which makes it a very easy-to-eat side dish.* Keep in the refrigerator for 3-4 days
[Supplement]
In the case of my daughter, she says that if she doesn't remove the lye when eating yacon, she "feels a little bit spicy." If you remove the lye for 5 to 10 minutes, you won't feel that way, so be sure to expose it to water when eating raw.
..