After a series of criticisms from users, Xiaomi recently announced it will add the option to turn off ads on MIUI in the upcoming update.
Xiaomi's custom interface – MIUI has previously received a lot of compliments from users. However, it is currently facing a lot of criticism in the past few months, mainly due to the company's strategy of inserting ads into MIUI.
Instead of eliminating it, Xiaomi recently announced that it will optimize and censor more closely for the ads included in MIUI. This confirms that they still retain the ad on their custom interface platform, even though users feel uncomfortable about it.
Xiaomi Product Manager cum MIUI Manager, has confirmed that the company will add an ad toggle option in MIUI. This feature is being developed and tested. He also confirmed that it will be implemented on all smartphones supported to update to the next update, likely MIUI 11.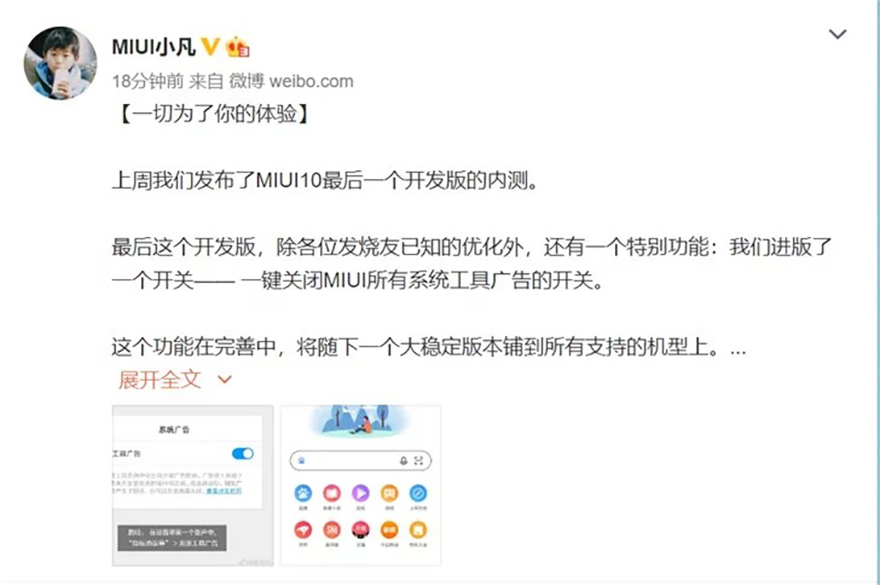 While Xiaomi's biggest source of revenue comes from the smartphone business, the company's internet services and software accounts for only 9.7% of total revenue. This represents a marginal growth of Chinese manufacturers compared to 9.1% in the same period last year.
According to the report, MIUI 11 is likely to be launched on September 24 in China with the flagship Mi MIX 4. Currently, it seems that MIUI 11 is in beta and it is likely to be built. builds on the latest Android 10 operating system.
---
_ Join the group Discuss CellphoneS technology: Here
_ Like / follow fanpage Sforum.vn: FB.com/SforumTech


Lê Long