Xiaomi Mi 11 Lite has officially come to Vietnamese users with eye-catching design, as good technology as Mi 11 5G senior. It can be said that Xiaomi's smartphones are always particularly interested in the configuration, so after a period of time on hand and experiencing Xiaomi Mi 11 Lite, today I will send you performance reviews. by Xiaomi Mi 11 Lite.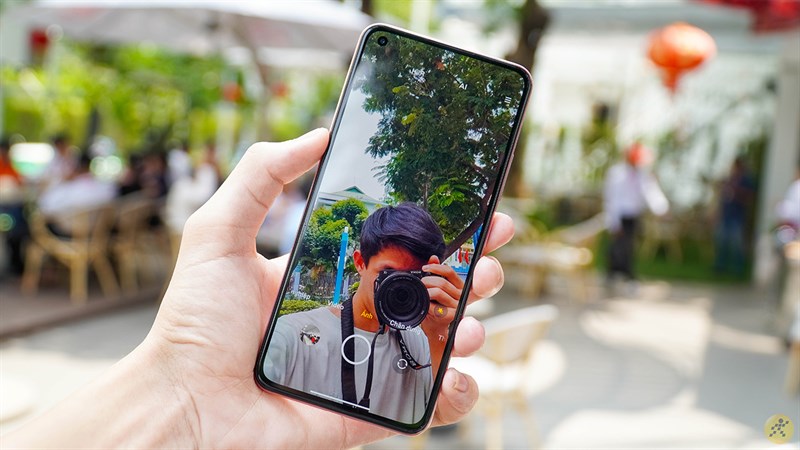 See also: On hand Xiaomi Mi 11 Lite: Impressive appearance, 64MP main camera, running a gaming chip and 33W fast charging
Xiaomi Mi 11 Lite has good configuration parameters in the segment
Before going into the performance review of Xiaomi Mi 11 Lite, first I will repeat a little about the parameters of the machine for those of you who do not know:
Screen: 6.55 inch, AMOLED panel, Full HD + resolution, refresh rate 90 Hz.
CPU: Snapdragon 732G, 8 cores.
GPU: Adreno 618.
Battery: 4,250 mAh, fast charging 33 W.
RAM and internal memory: 8 GB and 128 GB.
OS version: MIUI 12 (Android 11 platform).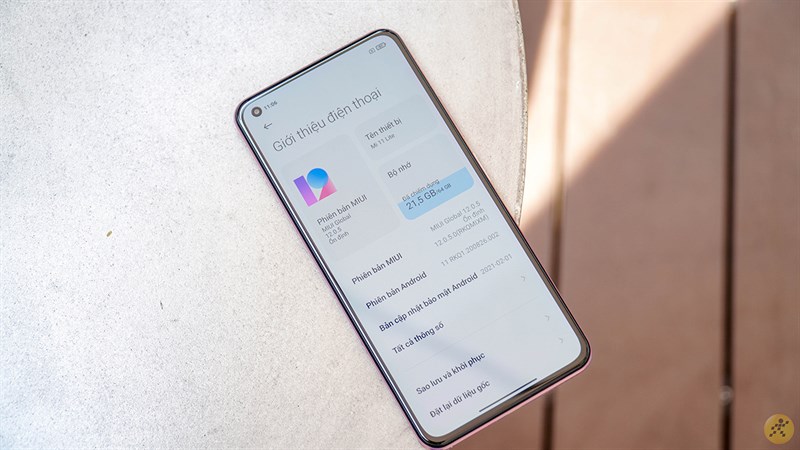 Xiaomi Mi 11 Lite was introduced as a shortened version of Xiaomi Mi 11 5G, but it still inherits the best and most advanced technology like its brother. As I said at the beginning of the article, configuration and performance are very much interested by many users. So does Xiaomi Mi 11 Lite with Snapdragon 732G really deliver the performance we expected?
How is the power of Snapdragon 732G on Xiaomi Mi 11 Lite shown in numbers?
First of all, I will use the Geekbench 5 app to score the performance to see how the Snapdragon 732G chip on the Xiaomi Mi 11 Lite will concretize the performance through the numbers. And here are the results that cannot help but impress me.
First, the Xiaomi Mi 11 Lite single and multi-core scores produce the following results:
Multi-core: 1,765 points.
Single core: 553 points.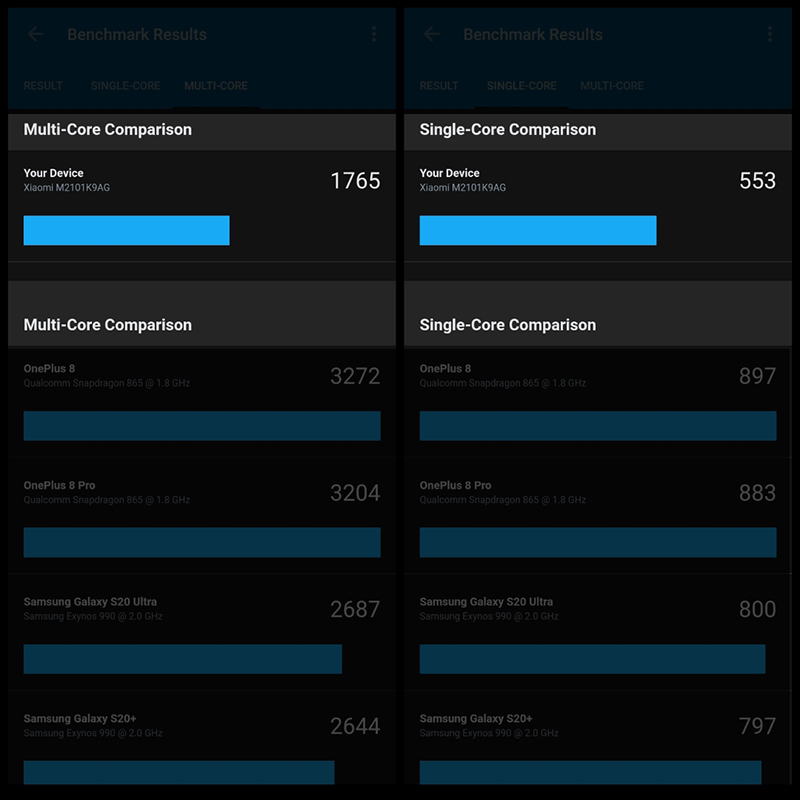 If we compare the results of Android Benchmarks from Geekbench, we will see that the single-core performance of Snapdragon 732G on Mi 11 Lite is stronger than the Snapdragon 845 chip and the multi-core is more powerful than the Snapdragon 765G chips. From there, I speculate that the processing ability of this Snapdragon 732G chip will be very smooth in many different tasks.
Next is the Xiaomi Mi 11 Lite 2D and 3D graphics score test:
OpenCL graphic score: 1,277 points.
Vulkan graphic score: 1,122 points.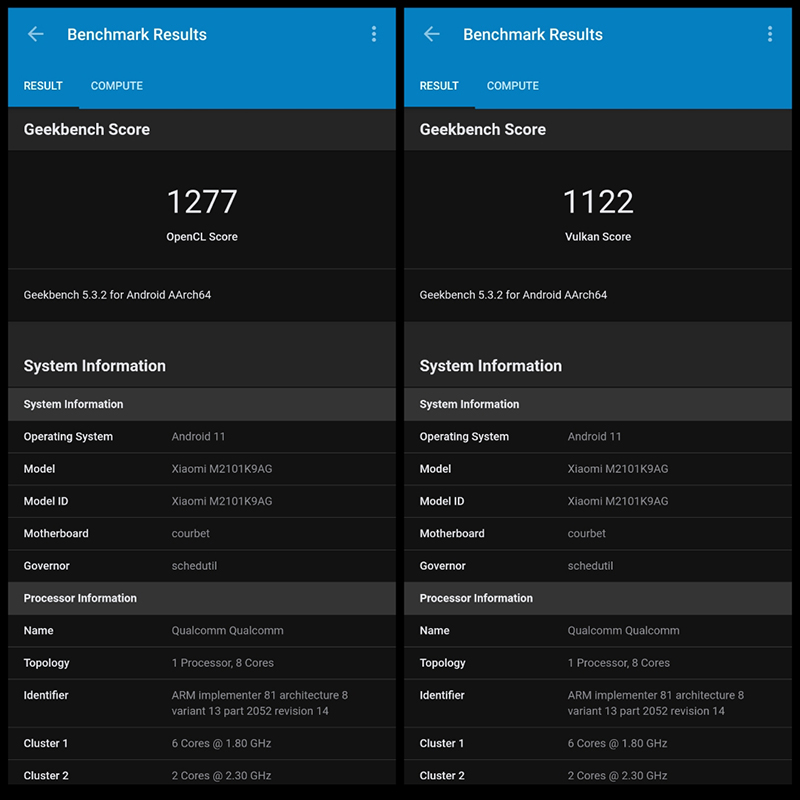 Similarly, still the results obtained from Android Benchmarks, we can see that the OpenCL graphics score of Snapdragon 732G is significantly lower than that of the Snapdragon 845 and the same applies to the Vulkan graphics score. How to know that the first chip 8 always has a difference with the 7, especially in terms of graphics processing capabilities.
Next, I will experience by fighting actual games to see if this chip delivers stable performance or not?
Experience realistic battle on Xiaomi Mi 11 Lite
To have the most objective view of the performance of 'her brother', I have played 4 popular games such as: League of Legends: Speed ​​War, PUBG Mobile, Call Of Duty Mobile for your reference. . Besides, I have recorded all the FPS data with the Prefdog application, configured via the link here.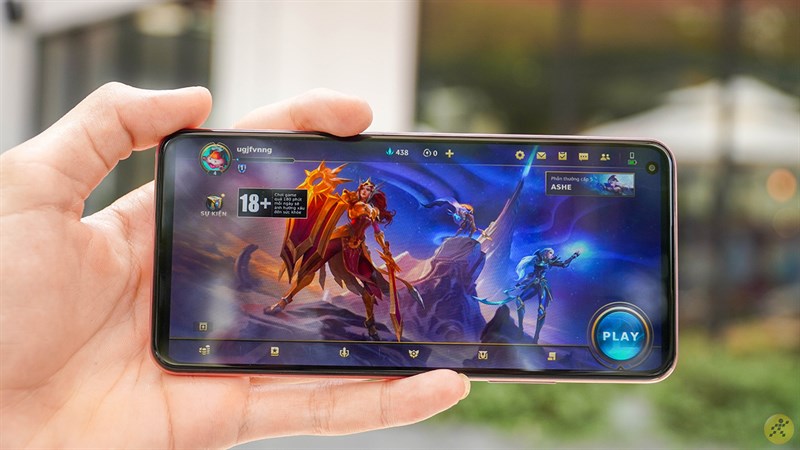 Arena of valor
Challenge him a bit, I have set the configuration of the game to the highest level to see if Snapdragon 732G on Mi 11 Lite offers a stable experience with the highest configuration level of a basic game like Lien Quan or are not.
HD resolution: Super high.
Image quality: High.
Details: High.
High FPS: Enabled.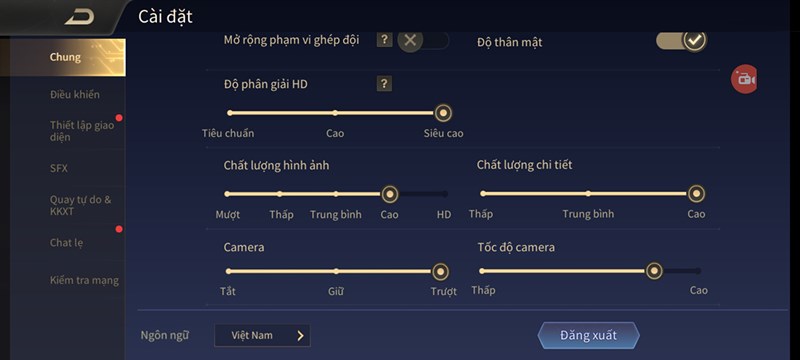 With the graphics level that I have set above, it can be said that my experience when playing Lien Quan Mobile with Xiaomi Mi 11 Lite is extremely great, when the device gives me the ability to fight smooth and stable game with all. Everything, especially the images and animations in the game are recreated very vividly, quick skill-launching interaction with no lag phenomenon at all.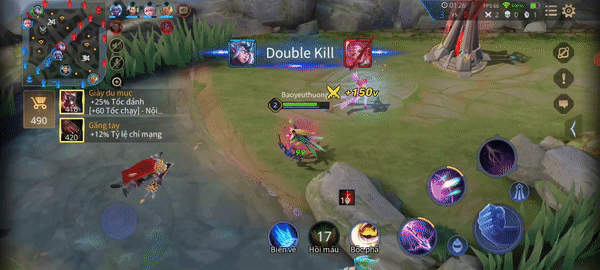 Looking down at the FPS I measured with Prefdog, it is unbelievable to see my eyes when the Mi 11 Lite is able to maintain extremely stable FPS at 58.8 to 59.8 FPS. This is only seen on high-end flagship models, while Mi 11 Lite with Snapdragon 732G chip is truly a miracle.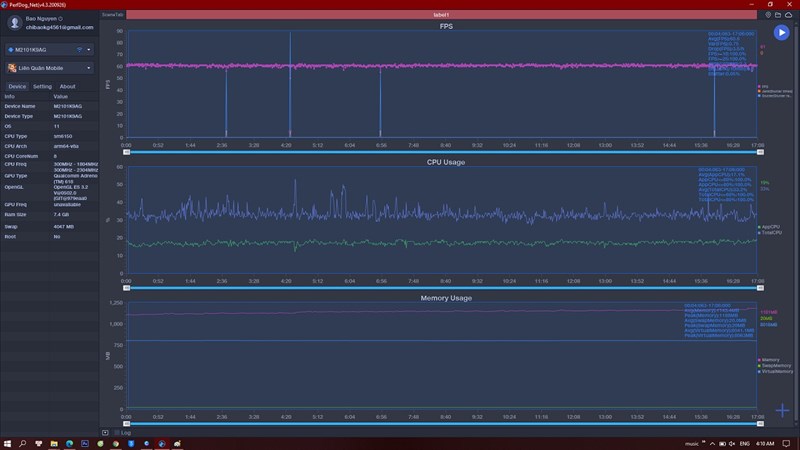 League of Legends: Rapid War
If League of Legends is smooth, League of Legends: Speed ​​War is not inferior to giving me a very impressive experience of stability and especially the visuals.
Similar to Lien Quan Mobile, at Speed ​​Chien, we also set up the highest configuration that the machine can run:
Shading quality: High.
Model Quality: High.
Scene quality: High.
Quality of effect: High.
Resolution: High.
60 FPS: Enabled.
Interface animation, character shadow: Enabled.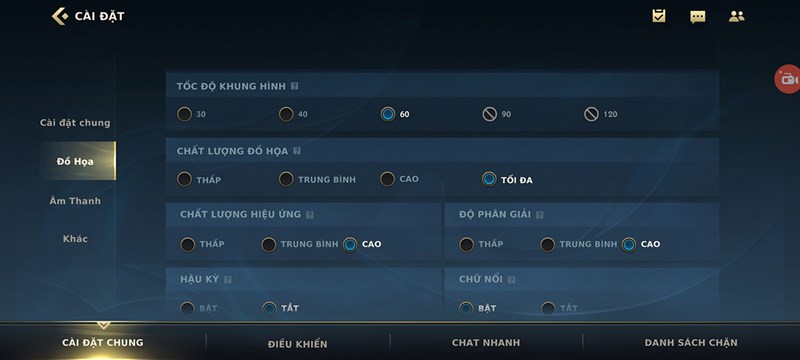 Like I said, Lien Quan Mobile gives me stability and smoothness in game play, with Speed ​​War will be about graphics and graphics. I am extremely impressed when the screen of Mi 11 Lite has recreated a fascinating and authentic Summoner Rift map, combined with extremely special animation effects to bring visual effects. together interesting. It can be said that Mi 11 Lite gives us a colorful party.
The FPS I measured from the Prefdog app, this number fluctuates continuously whether I move alone, farm soldiers or a normal 1 vs 1 solo and more when fighting, FPS will range from 55 to 60 FPS. For me, it feels completely fine to play, but if you don't feel good, I think we should reduce the quality of the graphics to play smoother.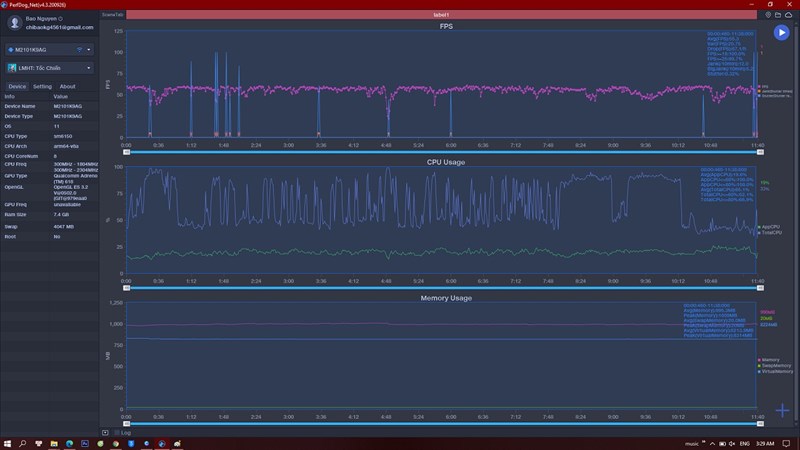 PUBG Mobile
Of course in every performance review we must have PUBG Mobile. With this survival shooter game, my Xiaomi Mi 11 Lite can set the graphics level as follows:
Graphics: Balanced
Frame rate (FPS): Extremely high.
At this configuration level Xiaomi Mi 11 Lite only stops at 40 FPS. With PUBG Mobile, the machine has shown its power very well when it comes to the experience is quite good with FPS levels ranging from 30 to 39 FPS regularly.
Although fluctuating often, the machine still shows the smoothness and reproduces the scene extremely vividly in every detail. It can be said that thanks to the power of Snapdragon 732G, Mi 11 Lite handles graphics very well, so there is little lag happening. If so, only when I walk in the fields or when driving will appear. You can rest assured that these frame jerky phenomena occur only fog.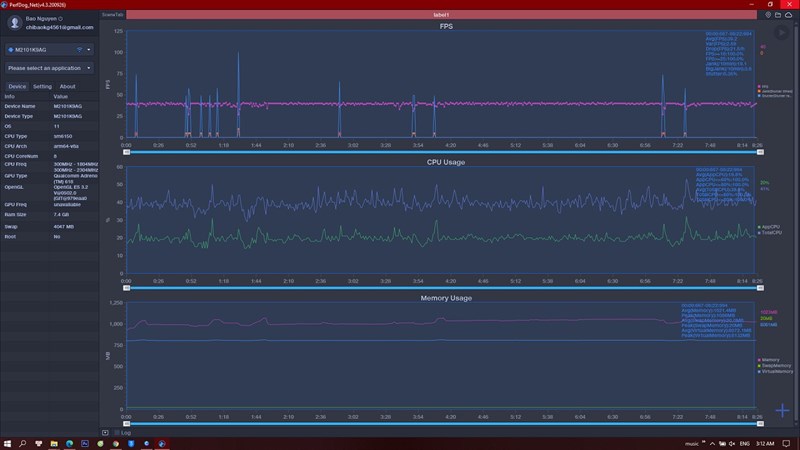 Call Of Duty Mobile
Finally, Call Of Duty Mobile, I am confident that the highest level of graphics that Xiaomi Mi 11 Lite can achieve is:
Image quality: High.
Frames per second (FPS): Max.
Enabled modes such as: Depth of field, Brightness enhancement, Shadow, Water surface reflection.
To get the smoothest experience, I will prioritize lowering the image quality slightly, to optimize the number of frames per second, doing so will take a bit of detail but will improve the smoothness and stability of the image. game.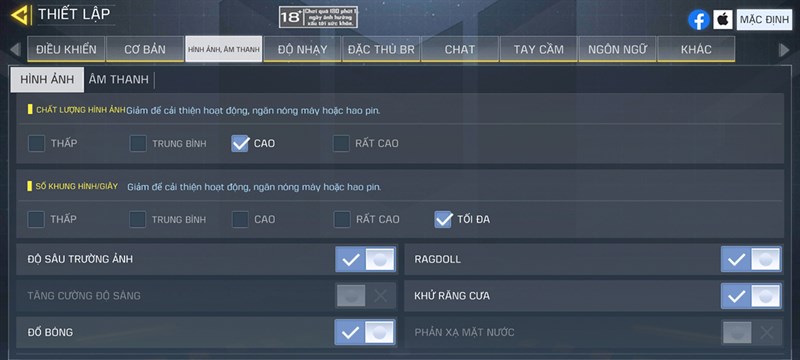 At first when looking at the FPS chart displayed on Prefdog, the frame rate of Call Of Duty fluctuates a lot from 60 FPS, but falls to 55, then to 50 FPS. But compared to the reality, my experience with the machine is very smooth, fast operation without a bit of delay, so the feeling of shooting is very happy.
In terms of stability, sometimes there will be a bit of lag, but not very noticeable. But I still recommend that you reduce the quality of graphics to have a smoother experience when playing this game.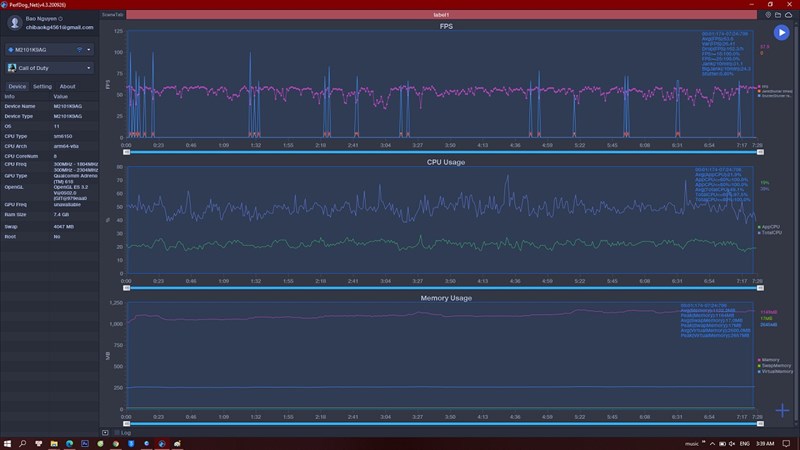 After experiencing 4 titles: Lien Quan, Speed ​​War, PUBG Mobile and Call Of Duty Mobile, I found that Xiaomi Mi 11 Lite will be more stable when playing MOBA games than shooting games, it seems that This game needs a more powerful chip to handle a wide range of game animations and effects.
Epilogue
Although just launched here, Xiaomi Mi 11 Lite has left us with a lot of impressions such as beautiful design, thin, light, elegant. At the same time, the Snapdragon 732G chip on Mi 11 Lite can only give us enough configuration to play smoothly and stably at an average configuration level.
What do you think about this Xiaomi Mi 11 Lite? Please leave your comments in the comments.
See also: Realme GT 5G detailed review: Boom with Snapdragon 888 chip, compact overall and 120 Hz screen
Xiaomi Mi 11 Lite
Goods coming soon
7.990.000₫
Discount 1 million, 0% Installment Plan, 18 months warranty
See details
Edited by Nguyen Anh Tuan
Not satisfied with the article
1,556 views
Related posts
Xiaomi launched the Mi 11 Lite in the right price segment of the previous Redmi Note 10 Pro, is there a fight?


2 hours ago

DxOMark: Xiaomi Mi 11 5G camera reaches a total of 120 points, equivalent to Pixel 5, recording video with less noise


8 hours ago

3 smartphones under 4 million are greatly reduced, surprisingly cheap prices can be purchased by anyone, you know?


13 hours ago

Xiaomi CEO shares a photo on Mi 11X multicolored hand, looks like a Redmi K40 renamed


1 day ago

All Xiaomi smartphones with Snapdragon chip, impressive 64MP camera are on offer, extremely attractive discounts do not miss you


1 day ago

Xiaomi sold more than 30,000 Mi MIX Folds in just 1 minute, bringing in more than 1,414 billion in revenue


1




2 days before
.