In addition to the ability to vacuum, Xiaomi Roidmi NEX can also act as a mop and connect wirelessly to smartphones to display information.
Today (June 21), Xiaomi has just launched a brand new portable vacuum cleaner on the Youpin community fundraising platform called Roidmi NEX. In addition to the features of a conventional vacuum cleaner, the product also adds many new features and can also act as a mop if needed.
The most prominent highlight of NEX Roidmi is the ability to vacuum and clean the house. For the cleaning part of the device, the company has added technology "smart slow release". Basically, it will help the product absorb and retain more moisture when you wipe it. In addition, the device also has a soft wiping brush using hydraulic fibers with new nanotechnology, which is waterproof and stain resistant.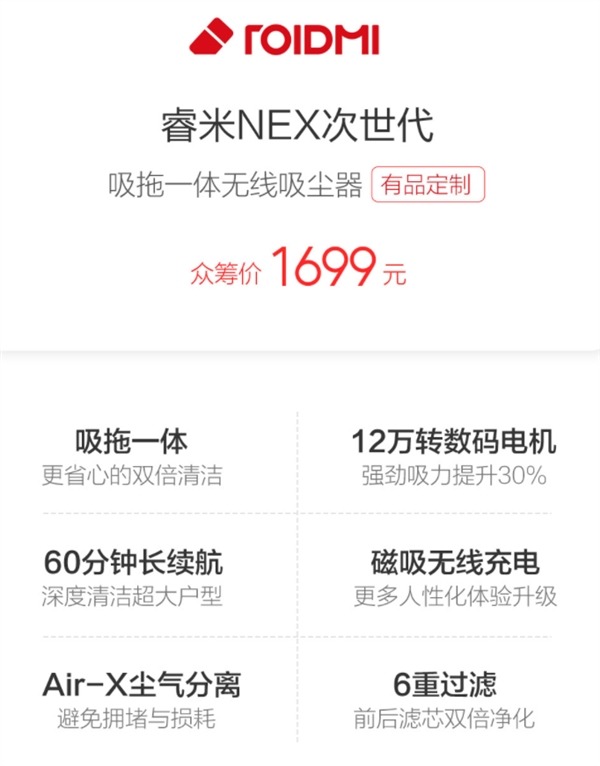 Speaking of dust collection, Rodmi EX is equipped with a Engine-X digital brushless motor, with a maximum speed of up to 120,000 rpm and a maximum power of 435W. In addition, it also comes with Air-X dust separation technology to keep the vacuum cleaner from clogging, as well as air filtration systems in the front and rear.
The Roidmi NEX cordless vacuum cleaner has an 8-pin stand (using Samsung or LG batteries), which can be used within 1 hour with a full charge. Users can easily monitor the remaining battery of the device via smartphone. The product is currently sold on the Youpin community fundraising platform at a price of 1699 yuan (about 5.75 million).


Lê Long