Batteries swelling is one of the common signs in smartphones, not only affecting battery life and life, but also posing a risk of fire, causing loss of safety for users.
As reported from MyDriversXiaomi recently patented a new lithium battery technology to solve the aforementioned problem. This technology can detect and notify users about the aging status of the battery. In other words, it has the ability to detect if the battery is swollen or not and issue a warning to the user, avoiding possible risk.
In the description, Xiaomi said "Patents related to methods of detecting bulging batteries, including: battery compartment, battery back cover, piezoelectric ceramic and current detection circuit. The piezoelectric ceramic will be located on the inside of the battery back cover and located opposite the battery, or the bottom of the battery compartment. The current detection circuit is connected to piezoelectric ceramics and is used to detect whether piezoelectric ceramics have current present or not. If the piezoelectric ceramic has electricity, this means the battery has been swollen excessively. "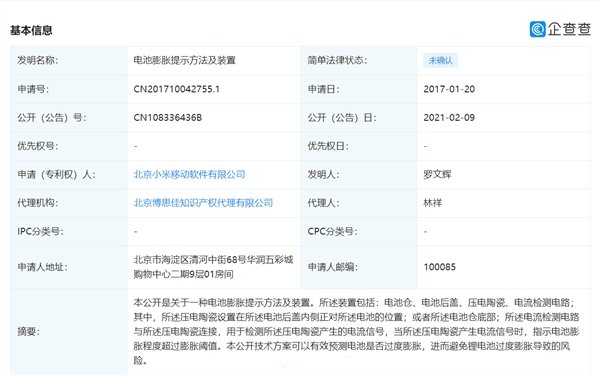 Simply put, the technology relies on the battery and its surrounding components to detect any abnormal battery distortion. In fact, it can be applied more in the future, helping users to be more secure when using smartphones in particular and electronic devices in general.