Asus is a laptop brand that is too familiar to users. To enhance the customer experience, Asus constantly changes its products. In particular, ZenBook Duo 14 UX482 is the most appreciated laptop model of this brand.
ZenBook Duo 14 UX482 is the second generation of dual-screen laptops from Asus. Previously, in 2019, Asus introduced the first generation of dual-screen laptops at CES. In this second generation, ZenBook Duo 14 UX482 is upgraded more powerfully, but the size is thinner and lighter.
An upgrade point that cannot be ignored in ZenBook Duo 14 UX482 compared to its predecessor is the secondary screen that can be tilted by 7 degrees. This secondary screen will automatically be pushed up when we open the main screen via the link lever. With this mechanism, the machine will dissipate heat better, reducing the heat of the machine when used continuously.
Both the primary and secondary monitors have the same resolution. Screen size 12.65 inches, resolution 1,920 x 515 pixels. Built-in screen with anti-glare technology and 400 nit screen brightness.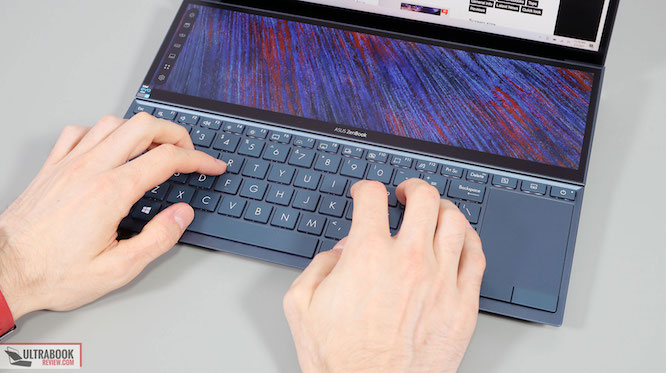 In terms of hardware, ZenBook Duo 14 UX482 uses Core i7-1165G7 chip, 16GB RAM, 1TB SSD memory, Intel's Iris XE graphics chip or MX450 GPU. ZenBook Duo 14 UX482 has two USB-C ports that support the Thunderbotl4 standard, so it's quite convenient. And yet, the device also has a standard HDMI port, a 3.5mm headphone jack, a microSD card slot, a battery indicator, and a charger.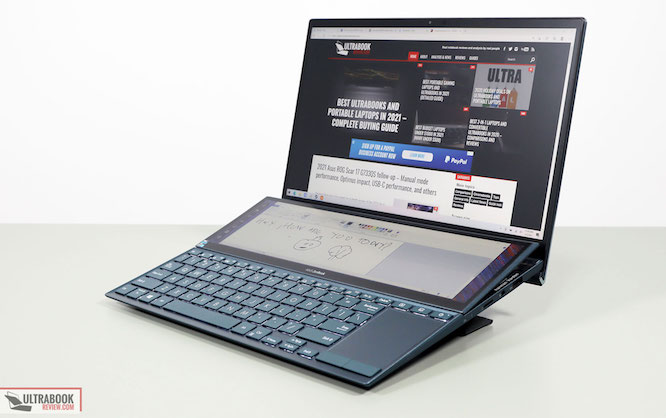 Both screens of the ZenBook Duo 14 UX482 support touch. Particularly, the secondary screen also supports a pen with 4,096 different pressure sensitivity levels.
Currently, ZenBook Duo 14 UX482 Core i5-1135G7 version, 8GB RAM, 512GB ROM and MX450 is priced at 33.99 million VND. And the more upgraded version is Core i7-1165G7, 16GB RAM, 1TB ROM, MX450 costs 39.99 million.
.