World's first 7-screen notebook: Expanscape releases Aurora 7 top workstation notebook
2020-01-08 18:31:57
55 likes
121 Favorites
55 reviews

Direct link
I remember that at the CES exhibition a few years ago, Razer had exhibited a notebook with three screens, and at this CES 2020 conference, expanscape, a notebook design developer from the United Kingdom, created the world's first Block screen notebook-Aurora 7.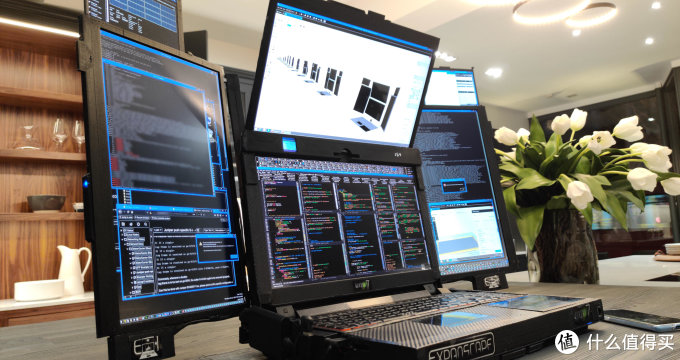 This top-notch notebook is designed for users in special areas such as Devsecops design, content creators, data technology, cyber security, and stock and securities markets.
The biggest selling point is the foldable screen. In addition to a 17.3-inch 4K main screen on the front, a 17.3-inch 4K screen on the top, two 17.3-inch vertical screens on the sides of the fuselage, and two 7-inch 1920×1200 stretches on the top. The small screen, the last screen is integrated in the palm rest area, which is also a 7-inch 1200p screen, supports multi-touch, and can interact with the main screen.
Due to the integration of so many screens, it is still relatively cumbersome to fold it together, but it is much easier than setting up a multi-screen environment. It looks like a Transformer after expansion, and I have to say that this is indeed science fiction.
The internal configuration is also quite luxurious. It is equipped with Intel Core i9-9900K processor, has 64GB of large capacity memory and hard disk, and is equipped with NVIDIA GeForce GTX graphics card (model unknown). The battery life is not disclosed. It is relatively easy to carry a strap and storage bag, but it is estimated to be bullet-proof if you go out with it ~
At present, the aircraft has been launched on the official website, interested friends can follow.

.