Porsche Cayenne is one of the most popular product model of the German car manufacturer with increasing sales each year. Not only is it luxurious, handling is as flexible as a smaller car, it also has respectable performance thanks to its V8 engine and even good off-road capability. However, saying that does not mean that it does not need any further improvement. The Porsche Cayenne Turbo shown below can achieve speeds of over 330 km on the German highways.
Video Porsche Cayenne Turbo tuned by Edeltuner HGP reaches speeds over 330 km / h on the Autobahn highway
The video begins with a walk around the car, and from the outside it doesn't look anything unusual, but as soon as the driver begins to step on the gas, you can hear that this Cayenne is definitely installed. Something special under the hood. After that, the driver gradually put the car on Autobahn, and things kept climbing gradually as the car quickly passed the speed mark. As a result, it can reach speeds of 333 km / h, and is probably the fastest Cayenne in the world right now.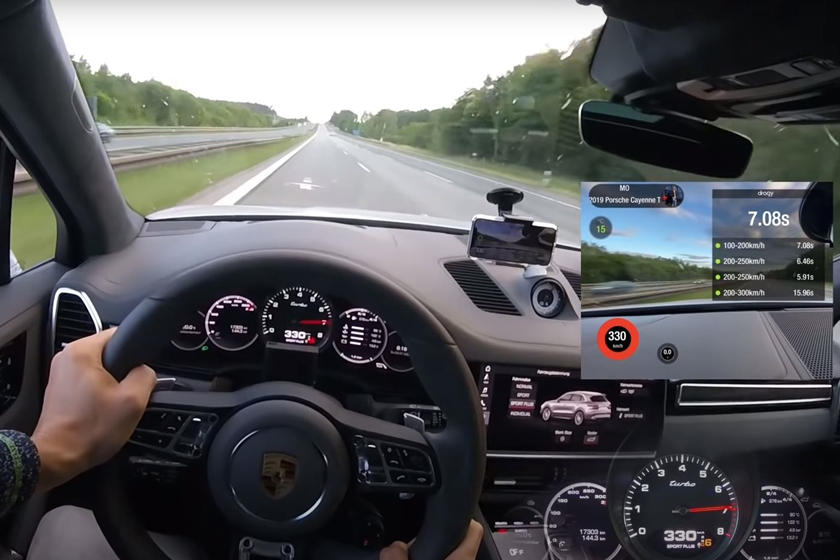 Photos cut out from video
More specifically, this Cayenne Turbo was modified by Edeltuner HGP in Germany, and is considered one of the strongest cars in the country. The company has offered "1000 PS" equipment for both SUVs and coupes, thereby raising the total capacity to nearly 1,000 horsepower. By comparison, the standard Porsche Cayenne Turbo is equipped with a twin-turbo V8 engine that produces 541 hp and 770 Nm of torque, incorporates AWD and will be able to accelerate from 0-96 km. / h in just 3.7 seconds. Its top speed is 286 km / h when equipped with the Sport Chrono package. These are all impressive numbers, but compared to the car in the video is nothing.
Duy Thành
.