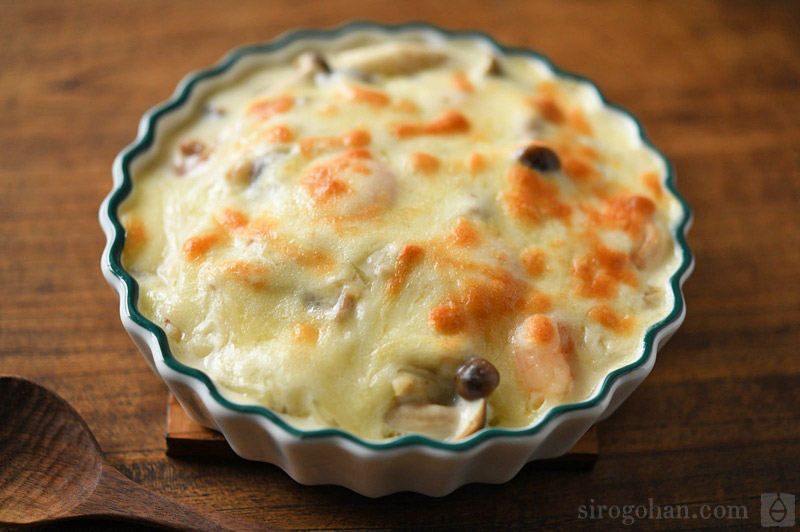 Cooking time: 60 minutes or less* A total of about 40 minutes is a guide
You can make it for the first time without failureRecipe to make white sauce with one frying pan and make doria with riceis.
I have a recipe that includes both shrimp and chicken, but I put them together in one of them.EvidriaOrChicken doriaAnyway, it's OK!
Keywords for this recipe

Shrimp
milk
chicken
Western food
onion
butter
cheese
Shimeji mushroom
Shrimp and chicken doria recipe
Preparation of shrimp and chicken doria
The main material to prepare isPeeled shrimp, chicken thighs, warm rice, onions, shimeji mushrooms, milkI also use butter, flour, salt and pepper.
Cut off the shimeji mushrooms and slice the onions. Thaw the peeled shrimp, then wash it quickly.If there is back cotton even if it is small, make a notch in the back with a kitchen knife and take it outIt is good.
* If you can buy chicken that has been cut to about 1 cm square for cooked rice, that's OK. Even if you cut it yourself, use 1 cm square as a guide.
How to make white sauce / thickening
Put 1 teaspoon of oil in a frying pan, heat on low medium heat, add chicken and fry while loosening with chopsticks. Before adding the onions, season with a pinch of salt and a little pepper (not included in each amount).
Fry the chicken alone for about 1 minute, then add the onions and fry for another 1 and a half minutes. Fry the onions until they are transparent.
Add shimeji mushrooms and shrimp, fry for another 2 minutes, lightly cook and then turn off the heat.
Sprinkle 2 tablespoons of flour over the frying pan and add about 5 g of butter., With the stir-fried ingredients, make the white sauce as it is in the frying pan.
Add flour and butter and heat over low heat.Mix the flour with chopsticks and let the ingredients blend in...
Put it on low heat for about 30 to 45 seconds, but while entwining the powder on the frying pan with the ingredients, heat it until the whitish color disappears.If that happensPour about 1/3 of 400 ml of milk..
Increase the heat a little and mix the ingredients gently with chopsticks to blend the ingredients with the milk.
* Milk is added in 3 portions. By doing so, I think that it will be less likely to get lumpy and will be a beautiful white sauce.
The flour and milk that were entwined with the ingredients gradually mix, and the whole becomes thicker.It's OK to cook until just before the steam rises and boils.is.
Then add 1/3 of 400ml of milk again. Mix and heat in the same way, and when it's about to boil, add the rest of the milk and repeat.
Add the last milk, mix and heat, thicken and if the white sauce is boilingReduce the heat to low and cook for 5 to 6 minutes.
While boiling over low heat, use a rubber spatula or spoon,While mixing the bottom and edges of the frying pan, after 5 to 6 minutes, thicken it until "when you draw a line on the frying pan, you can see the bottom a little or not" as shown in the picture below...
If that happens, turn off the fire andSeasoning A (2/3 teaspoon salt and a little pepper)Adjust the taste with.
Shrimp and chicken doria finish
When the white sauce is ready, prepare warm rice andSpread the sauce thinly on the bottom of the heat-resistant container, and layer rice and white sauce in that order...
Spread an appropriate amount of cheese for pizza, and if it is a toaster, it will be completed in about 10 minutes with a strong heat, if it is browned and browned.
[Supplement]
Some processes are the same as macaroni gratin,Stew the white sauce shorter than the gratin, finish the sauce lightly so that it gets entangled with the rice, and make it slightly salty.I think it will be the perfect finish for Doria.

As I wrote in the introductory text at the beginning, it is delicious to make shrimp or chicken in either one (150g).
If it is an oven, put it in a heated temperature of about 200 to 250 ° C and bake it until it becomes brown.
After completing the white sauce in step 2, if it is cooled once, it is easy to warm the core by putting it in a heat-resistant container, heating it lightly in a microwave oven, warming it quickly, and then baking it with a toaster.
..