Azur Games is one of the world's top ten hyper-casual game publishers, with over 1.5 billion downloads of its products.
Among them, "Stack Ball" is the most successful product with more than 300 million downloads, followed by "WormsZome" with more than 200 million downloads. In addition, according to Sensor Tower's data, "Stack Ball" and "Hit Master 3D" were the top 20 products downloaded worldwide in the first quarter.
Ultra-casual game products from Azur Games
Azur Games is headquartered in Cyprus, so how did they grow into a hyper-casual game manufacturer and what is their current strategy? A few days ago, the foreign media GameBeat published an interview with Azur Games CEO Dmitry Yaminsky. Game Gyro compiled and organized the content of the interview.
About 200 prototypes are made every month, but only 1-2 are online in the end
Dmitry was in the advertising industry earlier. After experiencing setbacks from 2014 to 2015, he moved to the game industry. In 2016, he established a game publishing company in Moscow to publish Chinese nuclear games.
Later, they found a studio. The studio was working on a shooting game called "Modern Strike Online". They are responsible for the online marketing of the product. In the end, the product was downloaded more than 70 million times, a great success. Azur Games therefore acquired part of the studio and started a self-research path.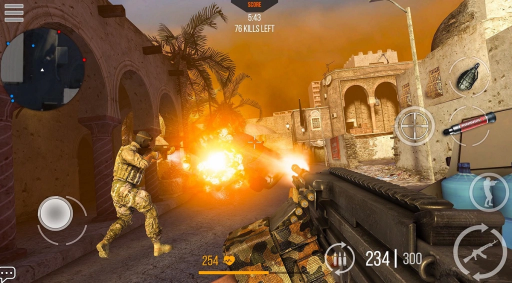 《Modern Strike Online》
In 2017, driven by companies such as Voodoo, ultra-casual games began to take off, and Azur Games moved its headquarters to Cyprus.
According to Dmitry, they were groping forward at first. In their first attempt, the two of them worked as a team, a technology, and an art for almost a month, and they made a product. The product's advertising revenue reached $1,000 on the first day and $2,000 on the second day, after which they started to buy. At that time, the ultra-casual game market was less competitive and easy to make. Their first product was a real success.
Some companies started mass production of games like factories, and developers were keen to recommend products to publishers. While many companies are still looking for ready-made products with good data, Azur Games has already started to take a step forward, looking at potential teams, polishing prototypes, and accumulating experience.
Although the current ultra-casual games can still obtain a large number of downloads, Azur Games has taken the route of product diversification, deploying casual games and mid-core games. These products will be launched in the next few months and years.
Although Azur Games is headquartered in Cyprus, the team members are scattered all over the country, including branches in Dubai and Moscow. Most employees work remotely. In terms of personnel allocation, about 50 people are responsible for marketing and analysis, 30 animation designers are responsible for the production of promotional materials, and about 200 people are responsible for the China Nuclear Project.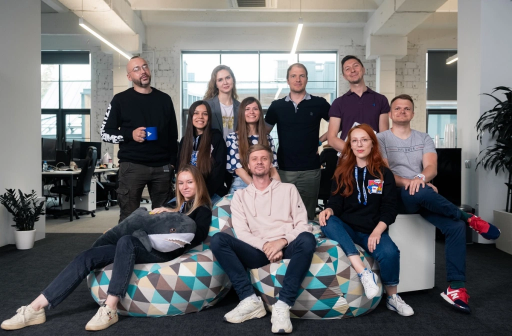 Some employees of Azur Games Moscow
Among them, there are several mini teams in the ultra-casual game department. The configuration of each team includes a producer, 2-3 product assistants, and 2-3 game planners. Each team works with several studios.
Dmitry said that they make almost 200 game prototypes every month, but only 1-2 of them can go online in the end. In other words, you need to do a lot of work if you want to create an explosive super casual game, and many of them are invisible to the outside world.
Red Sea's ultra-casual game market, with a monthly marketing cost of over US$15 million
Although the ultra-casual game market has grown to the present day, the competition is also fierce. For example, Zynga acquired the ultra-casual game company Rollic to compete for this piece of cake.
At this Red Sea track, Dmitry said that only if you are willing to share more expertise with developers, test faster, have your own analysis system, and apply these skills and experience to research and development, you can be competitive.
For them, they will fully communicate with developers and provide necessary resource support. For example, if a team does not have an animation designer, planning, or even art, they can help the team.
In other words, in their ecosystem, their strategy is to provide better cooperation conditions and R&D support. They are willing to share anything with developers to help developers make the right decisions, such as market trend analysis data.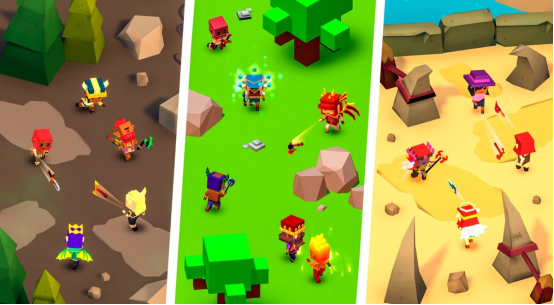 Azur Games《Axes》
This also means that they need to find the right team and establish a long-term cooperative relationship of mutual assistance and mutual benefit. So far, Azur Games has invested more than $1 million in developers, many of which are located in Eastern Europe. Dmitry said there are many capable programmers in the area.
Dmitry concluded that the most important thing is that they use potential as a measure. If it is a potential team, they are willing to invest energy and funds. For example, if a team's annual income reaches 5 million U.S. dollars, they are willing to invest up to 10 million U.S. dollars to obtain 20%-30% of the equity. In some cases, they may invest more. The studio will retain control of the project, they will only help the product in all aspects, including marketing.
In the ultra-casual game market, competition has been fierce by 2019, and it is now even more intense. In May, Azur Games' marketing and promotion expenses exceeded 15 million U.S. dollars. At the same time, the company provides developers with relatively better conditions, such as paying better remuneration for each prototype to help them cover part of the development costs. In this way, they are also more willing to do more attempts.
Specific to the product strategy, their strategy is to increase users' LTV and focus on in-app purchases. This means that they need to do more in-depth projects, but they will also consider the actual situation of the development team. If the developer does not have enough experience, then they can make some simple mechanism products.
An explosive ultra-casual game with about 300,000 to 500,000 downloads per day, but Dmitry believes that the long-term is more important. The long-tail income of a hot product is about 100,000-400,000 US dollars a month. If there are 10-30 hot models, the long-tail income will be very impressive, reaching millions of dollars a month.
Now, Azur Games is looking for more studios to invest in. "A lot of friends are getting stronger and stronger, and we have to remain competitive," Dmitry said.
Source: Game Top
Original: https://mp.weixin.qq.com/s/mAiu-daCCrljKZn_-PDbjQ
Compilation source: https://venturebeat.com/2021/06/19/how-azur-games-grew-its-hypercasual-games-to-1-5b-downloads/
.