Currently, there are quite a few software supporting data extraction from iOS devices to PC, Laptop and vice versa. In addition to iTunes, some other names can be mentioned as 3uTool, … but there is still another great software that can help you copy music, videos easily between your computer and phone, tablet. The tool that I mentioned is WinX MediaTrans.
This software is considered as a perfect alternative to iTunes to backup iPhone to avoid data loss; transfer files from old iPhone to new iPhone; iTunes blocks file transfer or can't bring external songs to iPhone using iTunes, etc.
When using WinX MediaTrans, it won't require you to have an Internet connection either sign in with your iTunes account and for use. This makes you more comfortable when you need to extract data from iOS devices to the computer.
WinX MediaTrans / iPhone Transfer
WinX MediaTrans Giveaway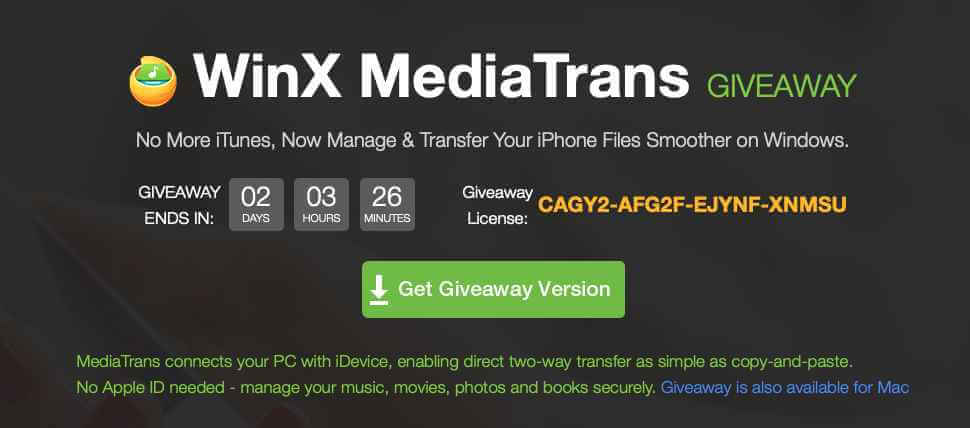 Current software WinX MediaTrans License is free for 2 days, so please quickly get the license key right through this link.
Get WinX MediaTransfer for free to transfer iPhone data
If you want a fuller version of WinX MediaTrans, the upgrade can be done for as little as $ 25.95. The sooner the upgrade, the cheaper the price.
Upgrade to WinX MediaTrans full version with special offer as low as $ 25.95 (57% off)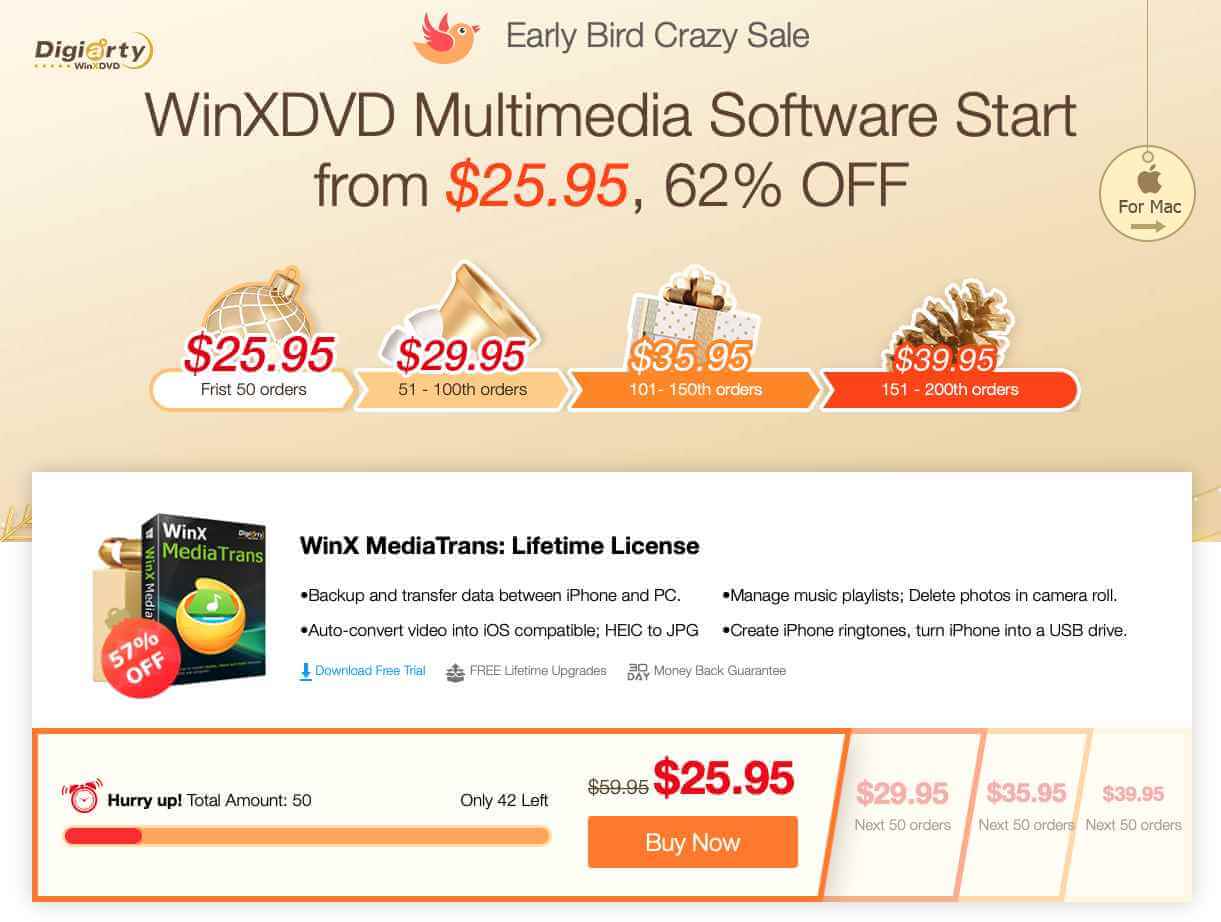 Main features of WinX MediaTrans
Convert songs between Windows and iPhone: create playlists, automatically convert music to MP3 / AAC. Create ringtones for iPhone.
Convert video between iDevices and Windows: Automatically convert video format and compress video size for Apple.
Backup iPhone photos to PC and vice versa: Automatically convert HEIC photos.
Convert ebooks / audiobooks and convert EPUB to PDF, TXT for iPhone, Windows.
Save Word, PDF, Excel, Apps and other files in your iPhone with encryption.
Sync and manage iPhone files without iTunes limits: No iTunes freeze error, easy to operate.
How to export photos from iPhone / iPad without iTunes
Step 1: After successfully installing and activating the license key obtained from the program above. Please connect your iOS device to your computer via Lightning cable.
Step 2: Click on the icon Photo Transfer at the main interface of the software.
Step 3: Press the button Export to export the images from the device to the computer. You can note a few points:
Section Group: Choose to quickly sort your images and videos by Year / Month / Day date.
Click Refresh: To update, add new photo data if just added.
Export with Encryption: Export images with password.
If the Export section has a line HEIC, then choose Export HEIC to JPG to view images on Windows.
Live Photos: The output will include JPG image and video.mov
If the image is available iCloud icon, you need to download these photo and video files on the device you are using and then proceed to export as instructed above.
Epilogue
WinX MediaTrans is considered quite a great software if you are in need of a simple and versatile tool in extracting data between iOS devices and computers. Sign up to receive the license key of WinX MediaTrans software right away during this very good promotion because it will end soon.
Also, if you have any questions or concerns regarding WinX MediaTrans, please share with me in the comments below.
The post WinX MediaTrans: The perfect alternative to iTunes appeared first on Computer Tips – Informatics for you.