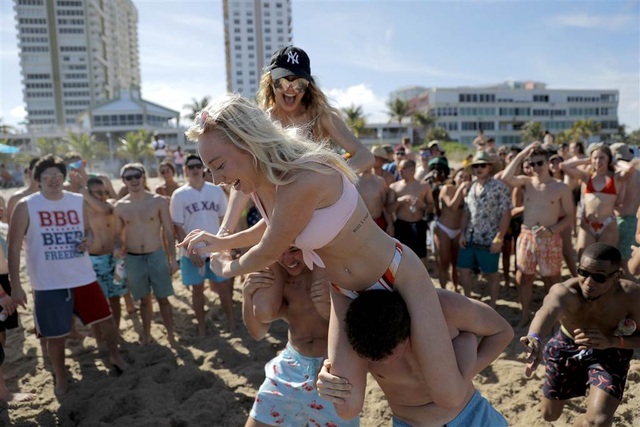 At the present time when the whole world is faced with the chaos caused by the Covid-19 epidemic, the weekend is probably the much-awaited rest period.
However, if anyone witnesses cyclists or joggers crowding at parks in New York, or climbers gathered at beautiful locations in the UK, or crowds chatting on Beaches are full of people in California, they won't think that a dangerous pandemic is sweeping the world.
When the outbreak began in Italy, the government blocked the affected "red zones" in the northern region. As the number of infections continued to spread, Italy sealed off the entire country on March 9. Anyone who violates the blockade order can be fined 232 USD and 6 months in prison, according Reuters.
Since then, hundreds of thousands of Italians have been warned by police for violating the ban. A Chinese Red Cross official said last week that Italian measures, although most stringent among European countries, were not strong enough.
On March 20, the Italian army was mobilized to help the government enforce blockade regulations as the number of deaths in Italy continues to escalate and hospitals are overloaded due to the number of patients infected. Covid-19 soared.
Late last week, when Italy recorded more than 1,400 Covid-19 deaths in two days, authorities were forced to put stricter restrictions on both residents and businesses to control the epidemic.
Although Europe has now overtaken China and has become a global epidemic of Covid-19, many Western countries do not seem to have learned a lesson from the Italian case.
In London, where residents are still flocking to parks to enjoy sunny weekends despite recommendations in government homes, Prime Minister Boris Johnson decided to issue a nationwide blockade on the evening of the 23rd. 3.
"People are only allowed to leave home for very limited purposes," Prime Minister Johnson said, and listed four possible reasons to go out: buying necessities, exercising once / a time. day, use medical services or go to work if the work is really important.
"That's all you should leave home. People shouldn't meet friends. If your friends want to meet, say" No. "You shouldn't meet family members if they're not with them. home with you, "said Mr. Johnson.
The British Prime Minister warned the police would enforce the blockade by dispersing crowds and punishing anyone who violated it
British Health Minister Matt Hancock said that citizens who do not comply with the community distance measures recommended by the government are all "very selfish" people. Meanwhile, New York Governor Andrew Cuomo described those who still gathered at the park as "wrong", "arrogant" and "emotionless".
The command is not strong enough?
Nick Chater, a professor of behavioral sciences at Warwick Business School, said CNN that the moves of Western countries are not strong enough. Western leaders have been "very disturbed in delivering the message" when ordered to gradually close bars, restaurants, cinemas and schools over the past week, and appealed to the public for recommendations. from officials to prevent the disease from spreading.
According to Mr. Chater, when people are advised to do something "fairly gently", they will not feel it is really necessary and must do it "at all costs".
"Because the message they receive makes them feel things are not so important. Because if the message is really important, we won't say something like, "We recommend stopping the red light, we recommend driving on this side of the road." We just say: "You have to do that. If you don't do that, you're breaking the law, "Professor Chater said.
Western governments are still reluctant to enforce tough blockade measures, whereas before that China implemented swiftly after the outbreak began. Instead, people in countries like the United Kingdom, Germany and Australia are only recommended by the government to keep the community apart, while businesses are recommended to allow employees to work from home if possible.
Although the number of deaths and Covid-19 cases increased significantly, Germany only issued a "no-contact" order instead of a nationwide blockade. Chancellor Angela Merkel said on Tuesday that Germany would ban all gatherings of two or more people, except those who live together, to "reduce exposure" and curb the spread of the virus.
Over the weekend, the crowd still gathered massively on the beaches in California, USA. They climb and walk around the park, despite state authorities requiring residents to avoid close contact. Australia's famous Bondi Beach was still packed with thousands of people until the state government closed the beach on March 21.
In the UK, many people still share photos of commuters on the Monday Monday of the subway, although the government recommends that only people with truly important jobs arrive. .
Many pressing people have shared pictures of crowded roads and tourist sites on social media, calling those who ignore the blockade "Covidiots" (Covid Fools). Vacationers even flood into remote residential areas, raising concerns about the risk of overcrowding in small local hospitals.
Snowdonia National Park in Wales said it had gone through "the busiest day to welcome visitors in history" and called on the government to make clearer measures and guidelines.
Why does the phenomenon occur? California Governor Gavin Newsom yesterday called on young people, who still flock to the beaches, "not to be selfish". Scottish Premier Nicola Sturgeon urged people "to do the right thing now". Meanwhile, Australian Prime Minister Scott Morrison criticized the practice of "disregarding" regulations on community distance.
However, Professor Chater said that these officials' statements were not enough.
"It was a big propaganda failure. Look at China, look at Korea, we can see these strategies really work, not merely theory," Mr. Chater said.
"In China, it is important that the blockade is very strict, even more aggressive than necessary. But we all know that a strict blockade will work. In Korea, people are free to move around, but they have conducted extremely rigorous tests on a large scale. Perhaps both strategies should be combined, "said Chater.
In recent days, China has not recorded new cases in the country after imposing an early and strict blockade, although this has prevented people from leaving their homes for more than a month and China's economic growth has declined.
Keeping the community gap is arguably the most effective means of keeping infection rates low in Hong Kong, despite the rising number of cases. Newcomers to Hong Kong will be provided with an electronic wearable device to help track whether they have violated the isolation order.
Some European countries are taking more actions to control the spread of disease. In France, thousands of people were fined for violating the blockade, while many parks and beaches began to close.
However, according to Professor Chater, if European leaders want to do more, they need to turn the advice into "mandatory" orders before it's too late.
Success
synthetic
.