At the dawn of massively multiplayer online games (MMOs), Western developers built a model of selling games, paying monthly subscriptions, selling expansion packs to maintain maintain an online game product for decades.
This is considered the standard model that the world follows, until a few free web games (free-to-play or freemium) appear like Neopets or RuneSpace. However, it wasn't until Nexon released MapleStory and witnessed an explosion in the number of subscribers, a new free game revolution took place.
From inspiration in Korea, Chinese developers quickly jumped into the game and took the free game to a higher level. It's a free game that sells virtual items (microtransaction) that want to get better, there's no other way you have to pay a lot of money (pay-to-win).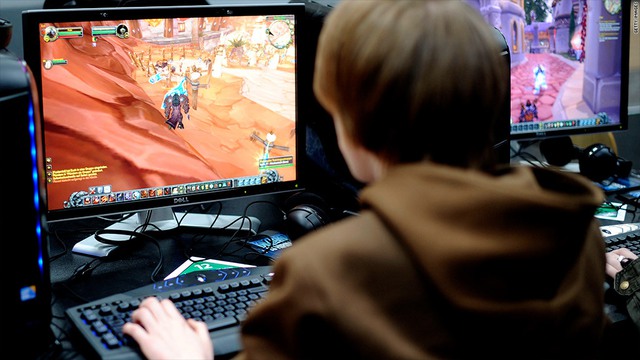 China's success has forced Western and Japanese developers to chase after free games. Since the late 2000s to the present, the shadow of the paid game has started to diminish and there are typical reasons for developers not interested in this model.
Collecting compulsory fees is a barrier
At the beginning of charging, the manufacturers probably did not expect that a game's life cycle could be 5-10 years or more. World of Warcraft has had 16 years of operation and Vo Lam Truyen Ky is no less competitive with 15 odd years.
However, the two examples above are just one of the rare exceptions to succeed by launching in the early days when the MMORPG market was not yet formed and other game genres were not invasive.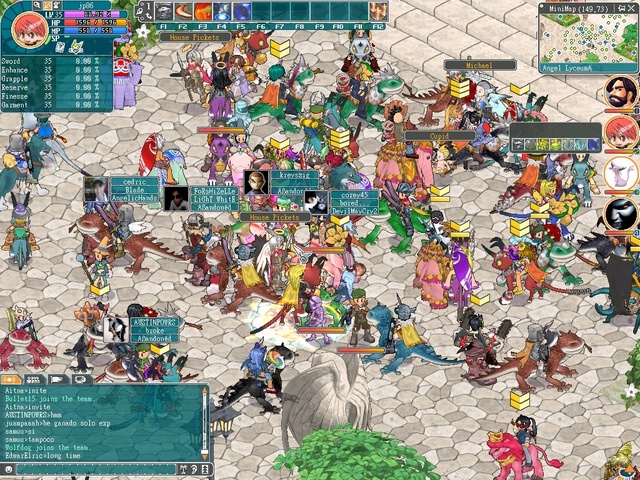 Online games need community to survive.
There are countless other paid games that developers invested heavily but failed to attract players. Typical of these are Korean blockbuster MMOs such as Guild Wars 2, Aion, TERA, ArcheAge or Black Desert Online; Western MMOs like The Secret World, Rift or Star Wars: The Old Republic.
The aforementioned games then had to find a way to change to a free model or limited free play to attract gamers again, because too few players in an MMO is the biggest barrier to killing the game. play.
Indeed, online games are built around the creation of an opposing community group such as guilds, friends, countries or territories. Without players, the community is not created, the game features cannot be operated smoothly and the game will die.
Difficult to "suck blood" players
A major limitation of the mandatory fee is that the developer cannot collect more from the player once they have paid all the fees such as game purchases, expansion packs, and preferential packages.
While the publisher still has to spend a monthly fee on the technical team and server operation, the inability to charge additional players is the next barrier that hinders the development of the online game itself.
This is a problem that has caused developers a headache finding a solution. In the end, classic online games like World of Warcraft (WoW) or Vo Lam Truyen Ky (VLTK) had to accept the in-game virtual goods shop (cash shop). WoW was around 2011 and for VLTK it was around 2008 when the fee of 60,000 VND / month was not enough to offset the cost of operating a huge number of Martial Arts players at that time.
A chest of luck, a symbol of 'blood-sucking' gameplay for free.
However, the paid game still faces a big barrier in the game structure (game mechanics) that makes it difficult for developers to "suck blood" like a free game. For example, a free game can create super bosses that are so unreasonably forced that players have to beat things really well with extremely high spray rate.
Users automatically accept these ridiculous things in free games because they are unwritten rules of free games. In contrast, a paid game that creates unreasonable things or sells too expensive items can get a backlash, leading to a boycott from the player.
Too many free games
With 2.5 billion people playing the game in 2019, the free game generated $ 87.1 billion in revenue from the total market of $ 120.1 billion, according to a recent SuperData report.
According to Sensor Tower, the percentage of paid games released on iOS and Android has dropped from 25% to 5% in the last 5 years.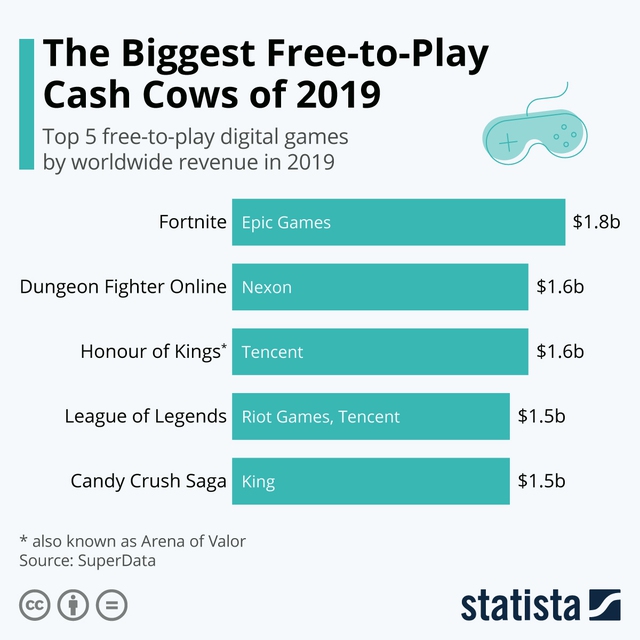 Top 5 free games with the highest revenue in 2019
These figures show that free games are overwhelming, at least in terms of numbers. And with the way games are organized by popularity on online game stores now, paid games are less likely to be seen by users.
Unable to reach players, charging right from the download process, it is clear that the charging game has a huge barrier that makes the market share increasingly narrow. And it will not be surprising if in this decade, the market will be left with only free games.