Kon Tum is a province in the northernmost region of the Central Highlands, Central and Vietnam. Kon Tum province is located at the Indochinese junction, most of which is located in the west of Truong Son mountain range. It is bordered on the north by Quang Nam province with a border length of 142 km and the south by Gia Lai province with a border length. 203 km to the east, Quang Ngai province to the border with a length of 74 km, the west borders to Lao PDR (154,222 km) and Kingdom of Cambodia (138.3 km).
Kon Tum city view
Kon Tum topography is mainly mountainous, accounting for about two-fifths of the whole province, including adjacent hills with a slope of 150 or more. The mountainous terrain is mainly distributed in the north – northwest running to the east of Kon Tum province, diverse with hilly, mountainous, plateau and lowland areas alternately quite complex, creating landscape landscapes. Abundance and diversity are both specific to the subregion and intertwining.
Kon Tum has many natural landscapes such as Ya ly lake, Mang Den pine forest, Km 23 natural stone area, Dak Nung waterfall, Dak To hot spring and special use forests, nature reserves … to form tourist and convalescence tourist resorts. These ecological landscapes can be combined with revolutionary historical relics such as the revolutionary relics of Kon Tum dungeon, Dak Glei prison, Dak To – Tan Canh victory monument, Plei Kan victory, Mang Den victory. … traditional indigenous cultural villages forming palaces, human-ecological tourism routes.
What is the license plate number for Kon Tum?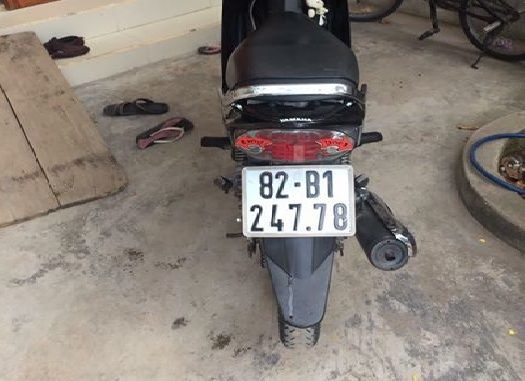 The license plate of Kon Tum has a code of 82. (Image: Internet)
Similar to license plates in provinces and cities nationwide, Kon Tum license plate It is prescribed in Appendix 02 of the domestic number plate of motor vehicles and motorcycles, issued together with Circular No. 15/2014 / TT-BCA and Circular No. 36/2010 / TT-BCA. Accordingly, the license plate of Kon Tum Province is coded with the code of 82. The Kon Tum license plate will be managed by the Police Department of Kon Tum Province and issued to vehicles in the province, specifically:
Department of Traffic Police, Department of Road and Rail Traffic Police of provinces, cities directly under the Central Government (hereinafter referred to as Traffic Police Division) register and issue number plates for vehicles including: cars, tractors, trailers and semi-trailers; motorbikes with a cylinder capacity of 175 cm3 or higher, or vehicles subject to confiscation decisions of competent state agencies and vehicles of similar structure to the above-said vehicles of agencies, organizations or individuals in domestic and foreign, including military vehicles based on economic or local residence.
Motorcycles, mopeds, electric motorcycles, vehicles with similar structure to motorcycles, mopeds and electric scooters of foreign agencies, organizations and individuals, of projects and economic organizations enter into joint ventures with foreign parties in localities and organizations and individuals with headquarters or residence in urban districts, towns or provincial cities where the Traffic Police Offices are headquartered.
Police of districts, towns, provincial cities (hereinafter referred to as district police) shall register and issue number plates for motorcycles, mopeds, electric motorcycles and similar structural vehicles The above-said vehicles of domestic agencies, organizations and individuals are headquartered or residing in the locality.
Details of Kon Tum motorcycle number plates in each district and city
Kon Tum province has 10 district-level administrative units, including 1 city (Kon Tum) and 9 districts (Dak Glei, Dak Ha, Dak To, Ia H'Drai, Kon Plong, Kon Ray, Ngoc Hoi and Sa Thay. , Tu Mo Rong). According to the regulation, motorbikes in Kon Tum province will be allowed to apply a 5-digit license plate and use separate letter symbols to distinguish license plates by district and city. As follows:
Kon Tum license plate
Administrative units
License plates
Kon Tum City
82B1 / D1 – xxx.xx
Ia H'Drai district
82C1 – xxx.xx
Ngoc Hoi District
82E1 – xxx.xx
Dak To district
82F1 – xxx.xx
Tu Mo Rong district
82G1 – xxx.xx
Dak Ha district
82H1 – xxx.xx
Kon Ray district
82K1 – xxx.xx
Kon Plong district
82L1 – xxx.xx
Sa Thay district
82M1 – xxx.xx
Dak Glei district
81N1 – xxx.xx
The license plate of Kon Tum cars follows the latest regulations
Kon Tum license plate for cars of 7-9 seats or less uses the symbol 82A-xxx.xx
The number plate of medium-sized passenger cars and cars of 9 seats or more in Kon Tum province is 82B-xxx.xx
Trucks and pickups use the symbol on Kon Tum's license plate number 82C-xxx.xx
Van license plate number registered in Kon Tum province is coded 82D-xxx-xx
Vehicles of foreign-invested enterprises, leased cars of foreign countries, vehicles of foreign companies winning bids in Kon Tum province have registration plate numbers as 82LD-xxx.xx
Trailers in Kon Tum use license plate 82R-xxx.xx
Military license plate for doing business in Kon Tum has the symbol 82KT-xxx.xx
Above is the information on Kon Tum license plate and license plate details in each district, city and province. Hope the information that Tinxe.vn shared, it will be helpful and help readers be more active in the process of using cars and participating in transportation in Kon Tum province.
Duy Thành
.