On April 10th, China's first popular science game conference with the theme of "Innovation and Transformation of the Popular Science Industry" was held in Shanghai. The conference was guided by the Science and Technology Popularization Department of China Association for Science and Technology, Shanghai Science and Technology Commission, and China Game Industry Research Institute. It was co-sponsored by Shanghai Science and Technology Museum, China Science Writers Association, Shanghai Academy of Sciences, and Polk City.
Literally, popular science games are the product of the integration of games and popular science. In China, the development of popular science games is still in its infancy, but with the increasing attention of all parties and related attempts and explorations, it has gradually entered the fast lane of development.
The science function behind popular science games
Wang Yayuan, deputy director of the Propaganda Department of the Shanghai Municipal Committee of the Communist Party of China, delivered a speech for the forum first. Wang Yayuan pointed out that in recent years, the agglomeration and spillover effects of the digital game industry in Shanghai have been very obvious. There have been a number of games that disseminate excellent Chinese traditional culture, and a number of functional games that disseminate scientific and technological knowledge have emerged, letting people see the cultural and educational aspects of games. potential. With the emergence of 5G, artificial intelligence, AR/VR and other emerging information technologies, the blue ocean of games also sees the possibility of promoting the deep integration of venues and digital, and urging new formats of production.
Wang Yayuan also mentioned that the popular science industry is a highly integrated industry with multiple crossovers, and games well reflect the characteristics of culture + technology. Combining games with popular science is of far-reaching significance to the development of popular science industry. He also hopes that the popular science industry will continue to upgrade and develop with the help of games +, strengthen exchanges and cooperation with popular science and other industries, expand the boundaries of game applications, give play to the positive value of games, and continuously improve the development level of the digital entertainment industry.
Popular science games emphasize the educational function of games. Taking online as an example, "Monument Valley" interweaves a labyrinth world through an interesting sense of spatial dislocation, combining various geometric forms and knowledge of architecture, and organically combining mathematics and art.
Another example is "My World" through the cooperation with Guangzhou Respiratory Health Research Institute and other institutions on epidemic prevention science, and has successively launched a set of gameplay, maps, and resources for the "Common Epidemic Fighting", which integrates professional knowledge of epidemic prevention in a targeted manner. Pushed to the youth group.
Popular science games in the eyes of game makers
Regarding popular science games, game manufacturers have made quite a few attempts in recent years.
Gong Lijuan, producer of Polk City Games, said that Polk City and the Shanghai Science and Technology Museum jointly launched a "Jigsaw Bird Hunting Journey" at the beginning of the year. The game contains photographs of different birds from 21 countries, and integrates various artistic expressions such as photography, painting, music, text, etc. It has important educational significance for understanding the rich bird resources. In addition, the game also has answers to questions and passes to improve the playability.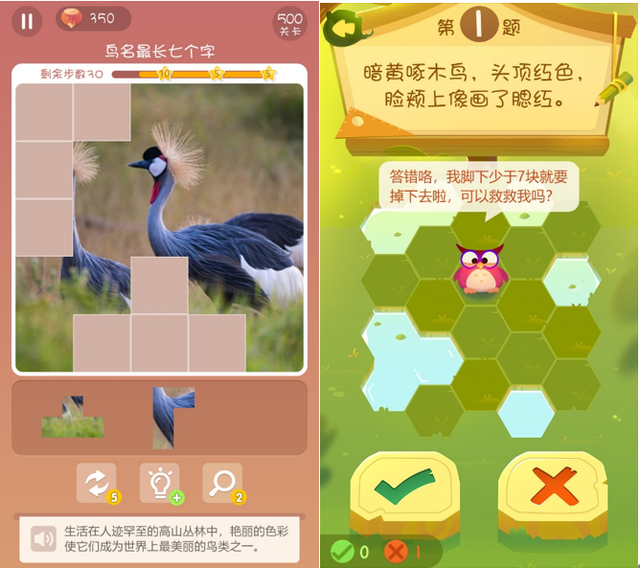 Wang Yuyun, Senior Vice President and Spokesperson of Perfect World and Chairman of Perfect World Education, mentioned in the sharing that the company has cooperated with AVIC Media to customize a theme agile game called "Cloud Companion Journey", using gamification methods to popularize science and safety instructions, Experience the special services of Air China's cabin. It also supports the on-board WiFi game, so that passengers on board can better understand the job functions and safety knowledge of flight attendants and captains. Recently, they are also discussing a game of "Yangtze River Delta Story", a production and construction game based on the Hemudu culture, hoping to popularize the culture of the Hemudu period to the public through the game.
Lin Fengyang, head of game product development for Tencent Games Dream Chasing Project, said that in the past two years or so, Tencent has released about 20 games and cooperated with more than 10 top partners, including the Central Propaganda Department, the China Association for Science and Technology, etc. , And the cumulative distribution channels of these games currently cover more than 30 million active users. Take "Mandarin Town" released last year as an example. The company found the people in the most important "three districts and three states" area, and also cooperated with language publishing houses to try to promote Mandarin education through gamification. In front of more people.
Popular science games have a chance to develop into "three high games"
At the event site, the "Declaration on the Development of Popular Science Game Industry" was released together, and Chen Yanglin, a lecturer at the Shanghai Science and Technology Museum, took the stage to read it. The "Declaration on the Development of Popular Science Game Industry" is divided into three parts:
First, it reached a consensus on agreeing with the science popularization and educational goals of popular science games, balancing the science and entertainment of popular science games, and building a full-scene, interactive, and in-depth experience space for the museum; secondly, systematic research on popular science games will be carried out. Highlight the core functions of science popularization and science education, build a diversified and integrated science popularization game research and development system, cultivate high-level developers, and promote the standardized development of popular science games; finally, the declaration promises to adhere to the public welfare orientation, ensure the scientific nature of communication, and value intellectual property rights. Grasp the ethical safety line.
From left to right: Qin Wenbo, Secretary of the Party Committee and Dean of the Shanghai Academy of Sciences, Zhou Zhonghe, Academician of the Chinese Academy of Sciences, Chairman of the Chinese Science Writers Association, Wang Xiaoming, Curator of the Shanghai Science and Technology Museum, and Xu Renbin, CEO of Polk City
In one day, nearly forty or fifty experts, scholars and game practitioners shared and exchanged ideas. Some practitioners have expressed their views on the future of popular science games.
A spokesperson for the Polk Urban Sustainability Office said that whether playing games or doing science popularization, it is all about making this society more efficient. From the perspective of diversity, the channels through which people receive information should be diversified.
Zhang Guangbin, deputy director of the Science Communication Center of the Shanghai Science and Technology Museum, hopes that popular science games can develop into a "three-high game", that is, high science content, high quality content, and high innovation content. He also hopes that gamification thinking can be universally reflected in popular science venues in the future, and entering the popular science venue is just like entering the game space.
Wang Xiaoming, curator of the Shanghai Science and Technology Museum, analyzed that the core of the popular science industry, including popular science games, is science, the soul is culture, and life is innovation. He suggested that universities, enterprises, venues and other parties should jointly build an open and three-dimensional science popularization game platform, and all parties should jointly build a science popularization game industry chain that not only has a standard system but also accommodates their own characteristics, and promotes talent cultivation and products through the holding of popular science game competitions. Emerge to promote scientific and cultural exchanges and dissemination.

Source: Game Grapes
Original: https://mp.weixin.qq.com/s/lAM9BXiUT-rLSp9O1dSySQ
.