In the heyday of the old villager Vo Lam Truyen Ky (VLTK), it was indeed the pleasure of racing to hunt for equipment and weapons in the game. For those who have been with VLTK since the first days, they will surely know the pair of Anonymous rings, a treasure that used to make the gaming community stand still.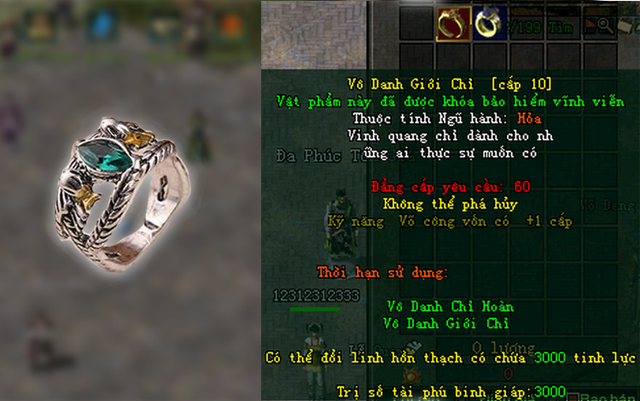 Not only Vo Lam Truyen Ky, many later games also have the appearance of a pair of Anonymous rings and this treasure is considered a symbol of the strength and playability of the "giants" when pouring money into the game. online games.
The invincible power of Nameless World Only
For all gamers who have played Vo Lam Truyen Ky, everyone must have understood too well the popularity of the equipment set Anonymous Gioi Chi and Anonymous Hoan Chi, according to which if one of these two items is equipped, all the player character's skill set will immediately be raised one level.
And when equipped with both Anonymous and Anonymous at the same time, their characters will activate all the hidden attributes of all other types of equipment worn on them. With completely superior power compared to other treasures in the game, at the beginning of its launch, anyone who owns a pair of Anonymous and Anonymous Hoan Chi will almost have no opponents.
Hundreds of millions of dong to exchange for the first pair of Anonymous rings
The first pair of Anonymous rings in Vo Lam Truyen Ky is owned by Hac Dieu, a player who is ranked as a legend of the Vietnamese gaming community. In order to be the first to own this invincible treasure, Black Bird had to spend more than 4 months of effort, effort and money to collect honor points from many accounts on other servers. together.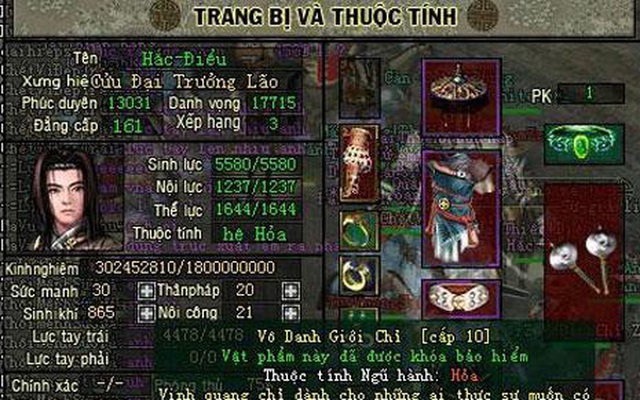 To get "Unknown only" at that time, gamers must own 2 million match points. This is not a small number when the reward for the champion of this activity every month is only about 10,000 points. To accumulate enough, Hac-Dieu had to get points from 73 VIP accounts in 30 different machines.
The converted value at that time was about 1 million VND for every 10,000 points. It is worth mentioning that in order to transfer points between two characters, the transferor must "sacrifice" 20% ie to be able to buy this pair of rings, the number of "consumption" points is about 2,400,000 points, equivalent to a value of about 240. million VND. This is an extremely terrible amount if expensive in the context of the Vietnamese game market about 15 years ago.
The power rings in the story of Kim Dung
Vo Lam Truyen Ky was built based on the martial arts novels of Kim Dung. This is something everyone knows. Only thing, unlike the game, Kim Dung's swordplay world hardly exists any "too hegemonic" rings like Anonymous Gioi Chi. The most famous ring is probably Tiet Chi Hoan, a treasure that Vo Nhat Tu gave to Hu Truc when he passed on 70 years of internal work and the title of Tieu Dao (Thien Long Bat Bo) sect head.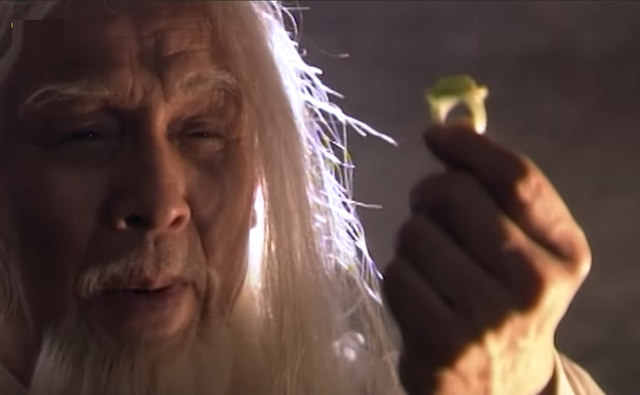 Vo Nhat Tu passed on Thiet Chi Hoan to Hu Truc in the 2003 film Thien Long Bat Bo.
In addition, it is also possible to mention the chief ring of the Iron Master Bang of the Thien Nhan Sheep. In short, the famous rings in the story of Kim Dung are just symbols of power and status; Other than that, there is no other effect.