A VPN, or Virtual Private Network, allows you to create a secure connection to another network over the Internet. VPNs can be used to access region-restricted websites, protect your browsing from prying eyes on public Wi-Fi … So what specifically is a VPN? Why should it be used and used in what case?
Related posts
How to create a computer VPN for yourself or share with friends
How to install VPN for Mac, setup VPN on Mac OS X
Will a VPN make the network faster and consume battery? Which country VPN is most powerful?
How to use VPN Gate fake IP
How to download, install and activate Microsoft 365, Office 2019
VPN also known as Virtual Private Network (virtual private network), allows users to set up a virtual private network with another network on the Internet. VPNs can be used to access geographically restricted websites, protecting your browsing from "curiosity" on public Wi-Fi networks by setting up a virtual private network. for you, ….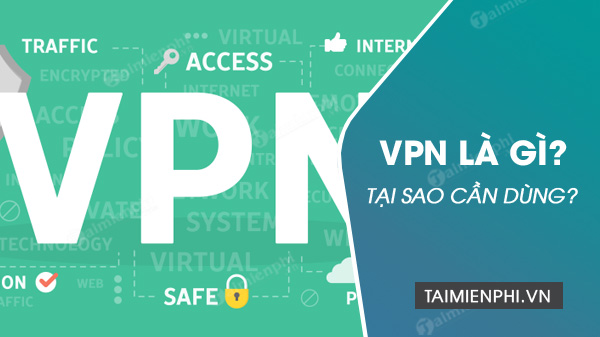 What is a VPN? How to use a VPN
Basically, VPN forward all network traffic system access – where local and network resources can be remotely accessed bypass Internet censorship (Internet censorship). Most operating systems have built-in VPN support.
What is a VPN?
When you connect your computer (or other devices like a smartphone or tablet) to the VPN, the computer will act as a local connection like a VPN. All network traffic will be sent over a secure connection to the VPN.
And because your computer operates on this network, this allows you to access local network resources even when you're on the other side of the world.
Alternatively you can also use the Internet as if you were present at the VPN location. This is beneficial in some cases if you are on public Wifi or want to access geographically blocked websites.
If you browse the web while connected to a VPN, your computer will contact the website through an encrypted VPN connection. The VPN forwards requests to you and passes back the response from the web over a secure connection. If you're using a US VPN to access Netflix, Netflix will know your connection is in the US.
Benefits of using a VPN
Despite being a fairly simple tool, a VPN comes with quite a few benefits:
– Access Business Network while traveling: VPNs are often used by business travelers to access their business network, including all local network resources. Local network resources must not have direct contact with the Internet for added security.
– Access Home Network while traveling : Alternatively, you can set up your own VPN to access while traveling. This will allow you to access Windows Remote Desktop via the Internet, meaning you will be allowed to access your personal computer via the Internet, share files, work on home computer data and even playing games on that computer.
– Hide browsing from local network and ISP : If you are using a public Wi-Fi connection, and you browse the web on non-HTTPS sites, then your activities will be visible to everyone (if they know how to see your activity).
If you want to hide your browsing for security and privacy, you can connect to a VPN. Your local network will only see a single secure VPN connection. All other traffic will be through the VPN connection. And can be used to bypass the surveillance of your Internet service provider (ISP).
– Access geographically blocked websites : Even if you are a US citizen, but you are traveling to a country other than the US and you want to access Netflix, Pandora or Hulu, this is not possible. However, if you connect to a VPN located in the US, the access to Netflix, Pandora or Hulu is entirely possible.
– Use VPN to bypass Internet censorship .
– Download files : Many users use VPN connections to download files through BitTorrent. This is really useful if you want to download all valid Torrents – if your ISP is controlling BitTorrent and it's quite slow, you can use BitTorrent on your VPN to experience faster speeds.
Advantages and disadvantages of a VPN
– Advantages of VPN
Anonymity online
Because of the hidden IP, online hackers will not be able to use your real IP address to track information. Besides that, ISPs cannot monitor what you do online.
VPN helps you cross geographical distances
Since a VPN can hide your real IP address, it can easily help you bypass geographic restrictions because the platform you want to access will think you are from the right geographic area. VPNs are useful if you are looking to unblock content from anywhere in the world, or if you regularly travel or work abroad.
A VPN secures online connections
Public Wi-Fi often has security risks. However, if you use a VPN, you won't need to worry about those dangers. Because VPNs use encryption to secure online communications, it makes sure that no one can monitor them.
VPNs can prevent bandwidth throttling
Internet service providers sometimes implement bandwidth capping in order to improve their service. So a VPN encrypts all of your Internet traffic, so your ISP won't be able to tell what you're doing online. They will not know if you are using too much bandwidth to play games, download or watch TV shows online.
VPNs can bypass firewalls
Firewalls are a fairly commonly used tool today to prevent users from accessing certain websites. However, you can easily bypass any firewall through the VPN thanks to the hidden IP – which most firewall tools use.
– Disadvantages of VPN
VPNs sometimes slow down internet access
Depending on various factors, your internet speed may be affected when using a VPN. However, this is not a big deal because if you have a powerful processor or large bandwidth.
Using the wrong VPN can put your privacy at risk
A VPN is meant to protect your online data, but without research, you can choose a completely opposite service. Also, if you choose a VPN provider to keep a log of your online activities, it also jeopardizes your privacy.
A decent VPN will cost money
A free VPN is obviously not a reliable option, you will definitely need to choose a paid VPN provider. If you're short on cash, that could be a problem – especially since some carriers may charge up to $ 9-12 / month, which adds up in the long run.
Not all devices support VPN
Although VPN services typically work on the most popular platforms (Windows, iOS, macOS, Android), there are some operating systems and devices (Linux, Chromebook, Boxee Box) that don't really support these VPN applications, or VPN application platforms, were not developed because they were not widely used. In such situations, you will have to manually set up VPN connections on the device / operating system you want to use.
How to use a VPN
Connecting to a VPN is pretty straightforward. On the Windows operating system, press Windows key, then enter the VPN keyword, and click the option named Set up a virtual private network (VPN) connection .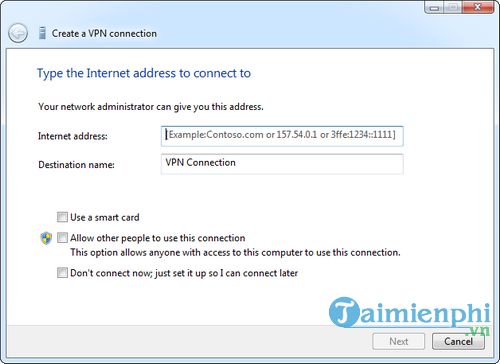 What is a VPN? How to use a VPN
Note:
If using Windows 8, click Settings, then enter the VPN keyword and click Set up a virtual private network (VPN) connection .
Use the wizard to enter the address and login information of the VPN service you want to use. To connect or disconnect from the VPN, you use the network icon in the system tray – which manages the Wi-Fi network you have connected to.
Some VPN providers may provide a client for you to configure.
Some VPN applications for more reference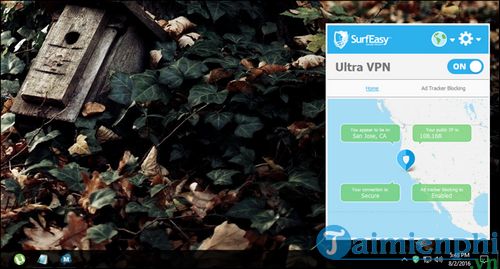 => Link download TunnelBear


=> Link download SurfEasy


=> Link download StrongVPN


If you are a new VPN user and you are basically using a VPN on public Wi-Fi or want to access geographically blocked websites. There are several VPN application options for you such as SurfEasy and TunnelBear. SurfEasy has better speeds but TunnelBear gives you a free option, as long as you don't use excess 500 MB every month. Also you can consult and use StrongVPN.
Hotspot Shield is one of the software that supports creating the best virtual private network on computers today, after using Hotspot Shield to set up a virtual private network to access public internet, please turn off VPN on Hotspot Shield to Do not affect the internet connection at home or work, refer to how to turn off VPN on Hotspot Shield if you do not know how.
See also: How to disable a VPN on Hotspot Shield
There is no need for software to support creating a VPN, just by simple steps on your system, whether it is Windows 7, 8 or Windows 10, creating a VPN on these versions is very easy, if interested, you can go to Taimienphi to find out.
VPN is just a virtual private network, so it is very simple to have VPN errors appearing during use, study some VPN errors and how to fix them to have a response if you encounter must be in the process of creating a virtual private network to access the public internet.
https://thuthuat.taimienphi.vn/vpn-la-gi-tai-sao-can-dung-va-dung-trong-truong-hop-nao-23689n.aspx
If you are wondering which is the best VPN software and service today, you should refer to the VPN list here to know the top best VPN support software that has been compiled by Taimienphi.
See also: Top list of best free VPNs
.