Last week's poll shows that the six new Nokia models didn't cause excitement – and maybe they weren't supposed to, sometimes boring is good. The X-series have a chance chance to position themselves as phones that "just work" for three years, which is exactly what some people want.
Of course, few of the "just works" crowd will read this or have voted in the poll. The Nokia X20 did manage to carve out a niche for itself, so this could make a solid mom and pop phone. However, the pricing is going to be an issue.
The most premium thing on the X20 is its 3-year warranty and 3-year software support. The Snapdragon 480 in particular drew a lot of negative attention with people questioning whether it can measure up against older 600-series chips. But, again, our audience is far more demanding in terms of performance than the general population.
Even so, dropping the price below €300 will boost sales. The Nokia X10 is almost there and is mostly the same phone, save for the camera. The phone bombed in the poll, but it may be worth another look by those considering the X20 – the X-series was never going to ace camera shootouts, but €40 is €40.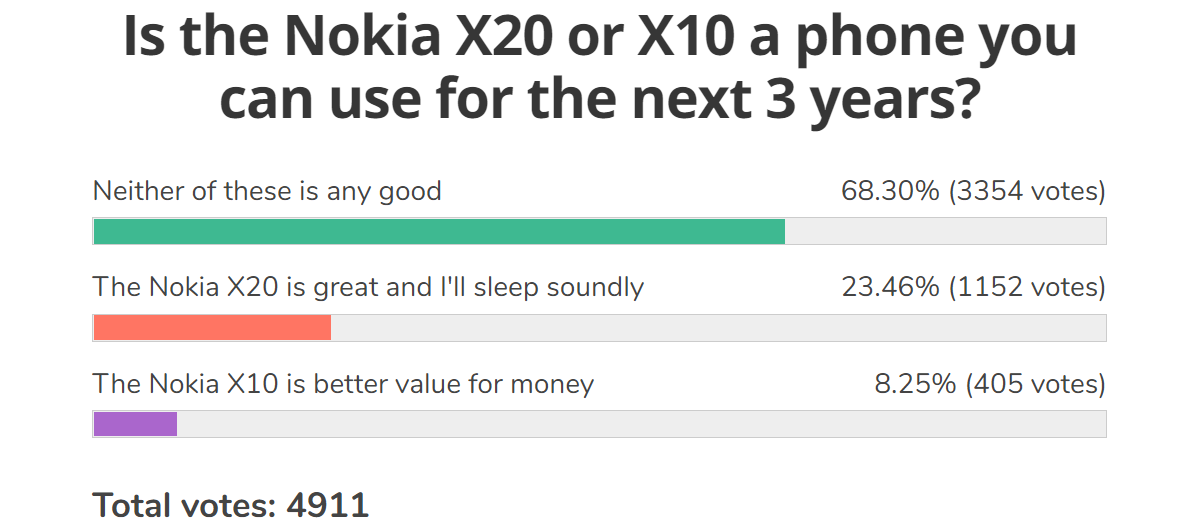 For the price-sensitive market the Nokia G20 has basically the same camera as the X10 but costs half as much. But it's the screen (720p+) and chipset (Helio G35) that took a hit. On the upside, you get 2 years of full support, which is more than most phones in this price range.
If lack of 5G isn't a problem now, it might be in a couple of years time. It depends on how you use your phone. As for the Nokia G10, the less said of it, the better.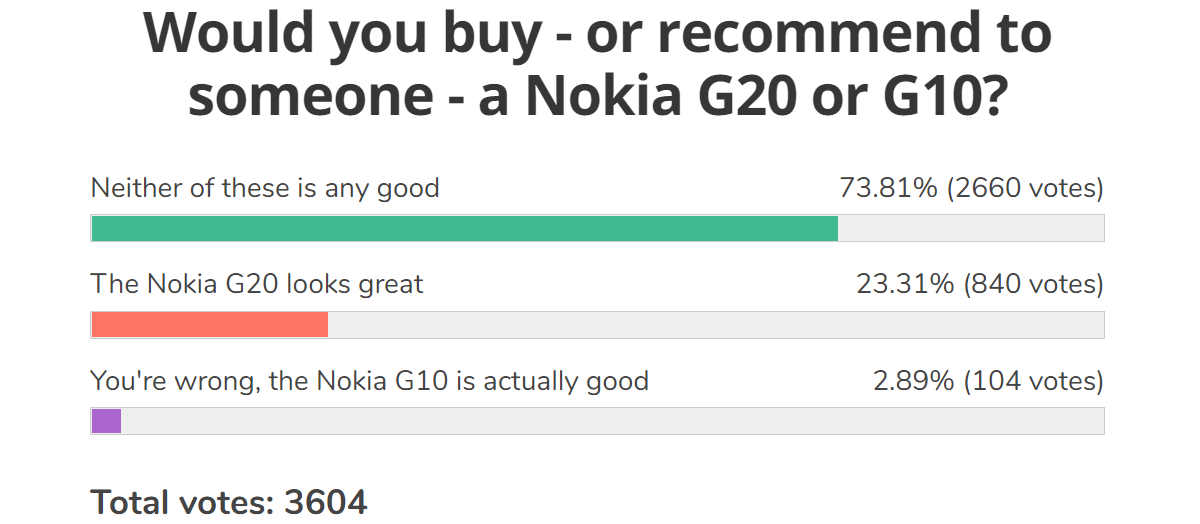 Finally, the Nokia C20 managed to edge out the KaiOS nostalgia phones, so there's some demand for something slightly more capable than the 3310. But the Nokia C10 barely moved the needle, so not too much demand.
Anyway, our guess is that the desirability of the C-series will vary by region – in some places, you can pick up a full Android phone for around €100, there Go Edition doesn't make much sense. Elsewhere, there are few to none full-blooded Android options, which changes the equation.