Last week's poll caused a heated discussion and no consensus was reached. Yet one thing is clear – the Samsung Galaxy Note10 Lite got a much warmer reception, it was a few percentage points off a positive result.
It's cheaper than the premium Note10 and Note10+ phones but offers the same S Pen experience. That's unique in the phone world, the few other handsets that have a stylus can't hold a candle to the Note and S Pen.
Opinions about the Samsung Galaxy S10 Lite were noticeably more hostile. The high launch price is causing many to wonder if the Lite is worth it compared to the premium S10 models, which cost about the same.
New Samsungs rarely hold their price after the first few months, so S10 Lite's price will be more palatable by Q2. Even so, the impending release of the S20 models means that Galaxy S10 prices are about to drop across the board.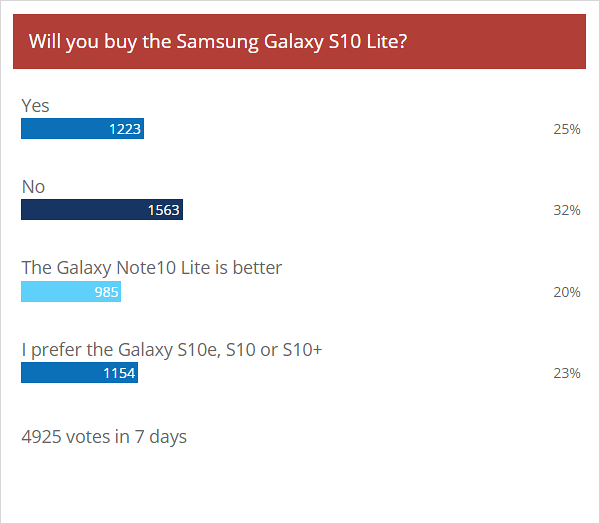 Surprisingly few people mentioned the Snapdragon 855 chipset or the 48MP camera of the Galaxy S10 Lite. Those are advantages over the Note10 Lite, which uses the 2018 Exynos 9810 chipset and a trio of 12MP cameras.
But you can get flagship chipsets fairly easy these days if you go for Xiaomi, Realme, Oppo, vivo or one of several other brands. Phones with 48MP cameras are even easier to find, so no one was particularly impressed that a €650 phone has such a sensor.
The S Pen that successfully swayed opinions, however. The Galaxy Note10 Lite can become the phone to have for those who don't want a second hand Note9 but aren't ready to pay Note10 money either.