On the hands of the Vivo X60 Pro with a set of 3 quality cameras using ZEISS lenses and many impressive shooting modes, I had a pretty good shooting experience. Let's review the Vivo X60 Pro camera!
See more:
On hand Vivo X60 Pro: Powerful minimalistic design with the promising Zeiss camera cluster!
A day with Vivo X60 Pro: I am pleased that Vivo understands and cares about users in every little detail
Night photo is handled well by "sister AI", many good exposure modes
I know that Vivo X60 Pro has some night photography features, so I'm pretty sure it takes good night shots. So I also went around taking some night photos with these modes.
This photo I took at Con Rua Lake, this area is not too dark, so Vivo X60 Pro is not difficult in processing. The image is bright, the trees are flat, and the reproduced sky is blue with some clouds.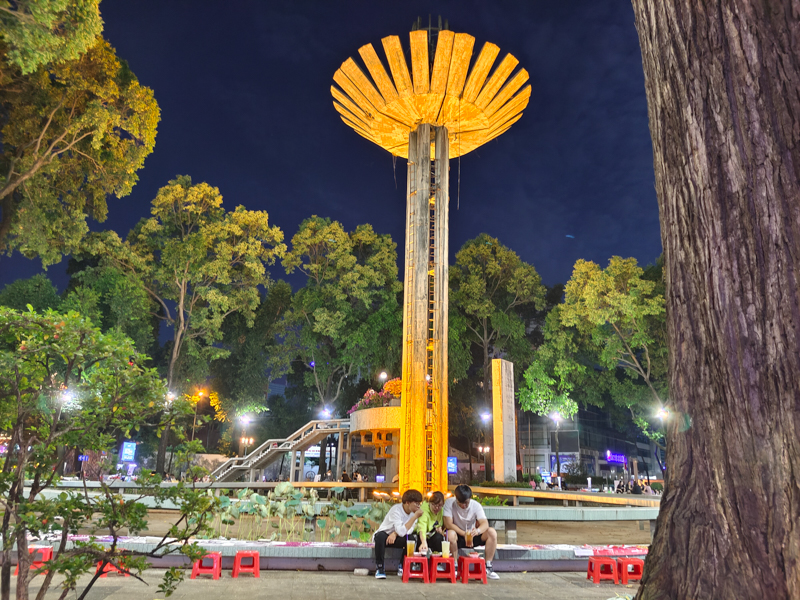 At this time, I stopped the red light so I took the shot at hand. Everything shows up just enough, not too bright, Notre Dame Cathedral is the darkest place in this photo but still gives pretty good details. Once again, the Vivo X60 Pro still gives a blue sky when taking night photos.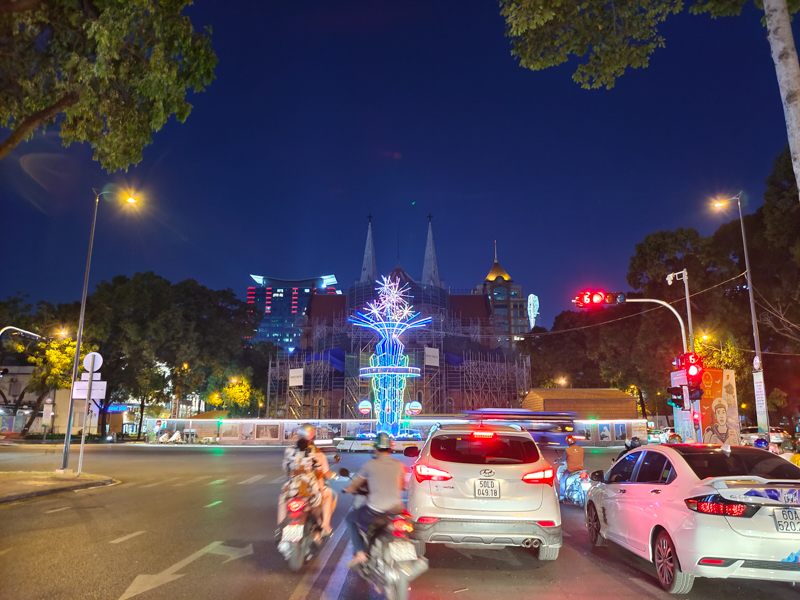 I came in front of Notre Dame to take a picture of the church at night. Brightness, just enough details, look quite impressive.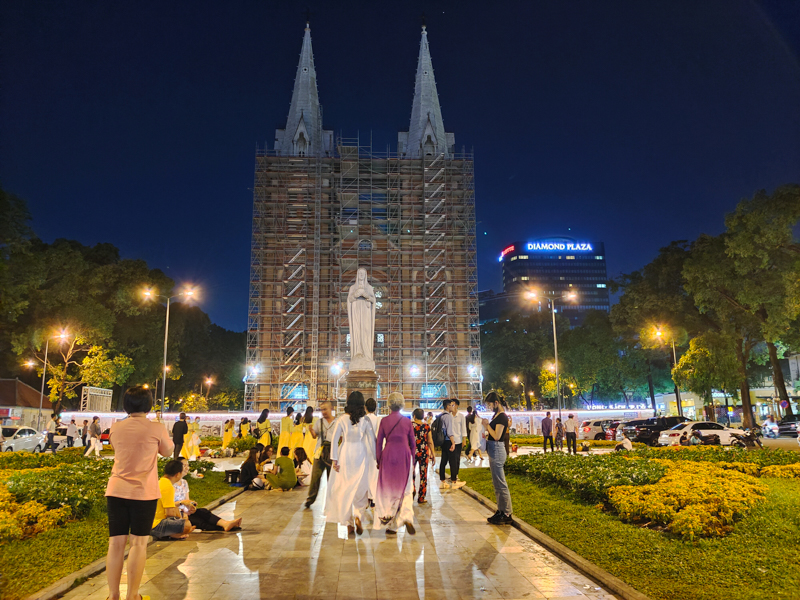 Stopping the car on the side of the road, I used night mode and wide-angle lens to take pictures of night buildings. X60 Pro gives the overall bright enough night photo, some sparkling and detailed buildings. Down the road, the car swept sideways forming a rather poetic look.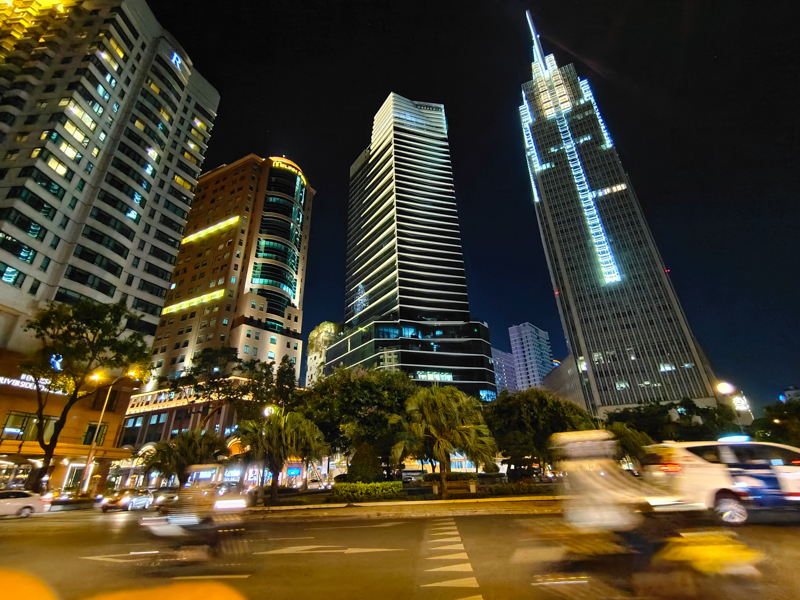 I changed the angle of the shoot a bit, put my friend as the subject, behind was the buildings earlier and the car rushed past.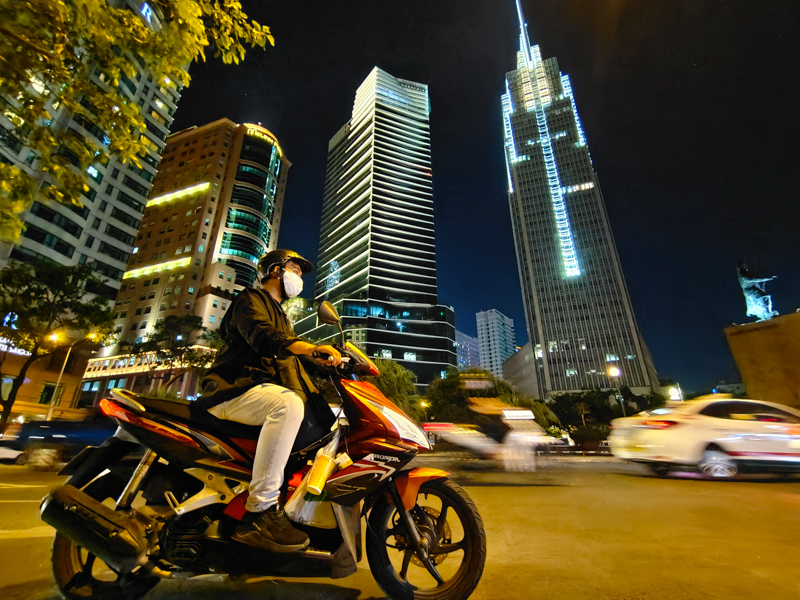 Still the same angle, but I switched to light trails shooting mode. Since I don't have a tripod, I try to keep the phone as stable as possible. Fortunately, thanks to the anti-shake system, even without a tripod, I can also shoot, although a bit out of focus, but the camera has quite good light trails.
This mode of Vivo X60 Pro is suitable for capturing night city photos without spending a lot of time setting parameters, as well as helping novices to take better photos.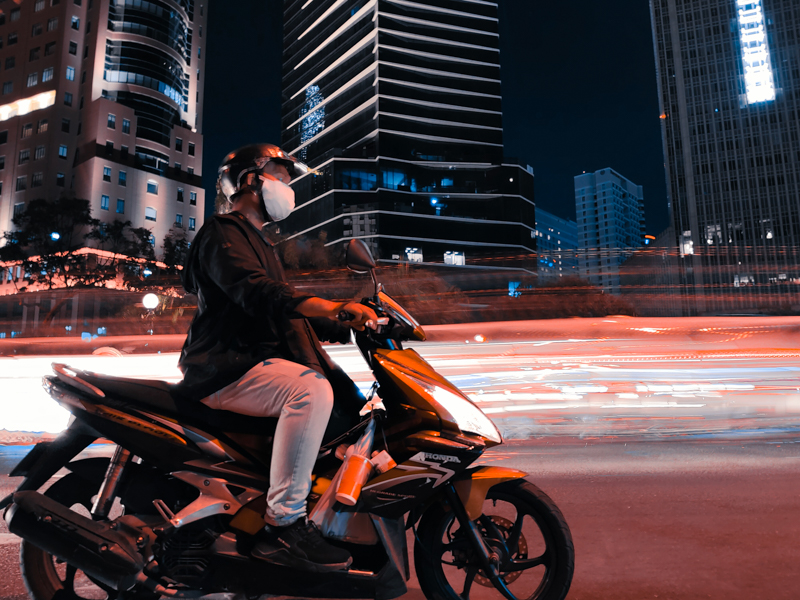 Continue to use that light trails mode, but change the shooting location. This photo is quite overexposed, but it looks quite impressive for a smartphone, so I also accept.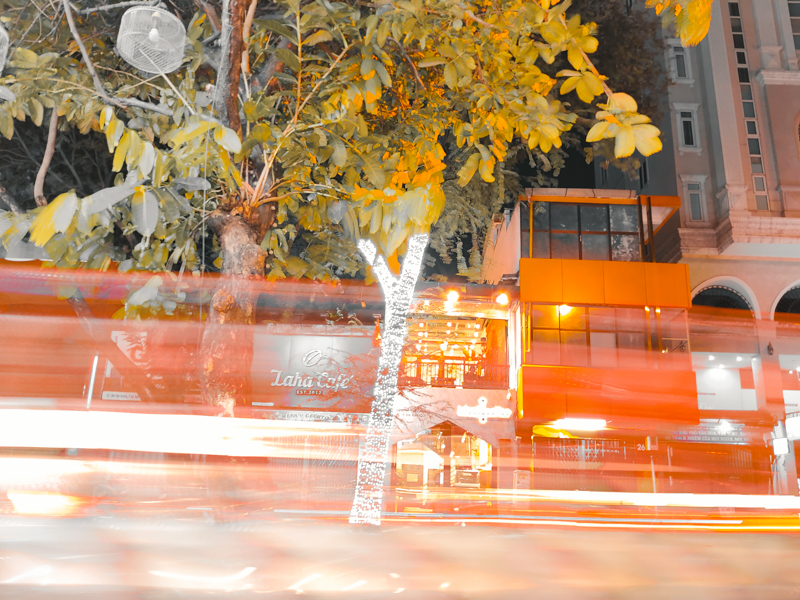 Apartment 42 Nguyen Hue is the nightly destination of Saigon youth. Each frame is shimmering with lights, this is perfectly captured and captured by the Vivo X60 Pro lens.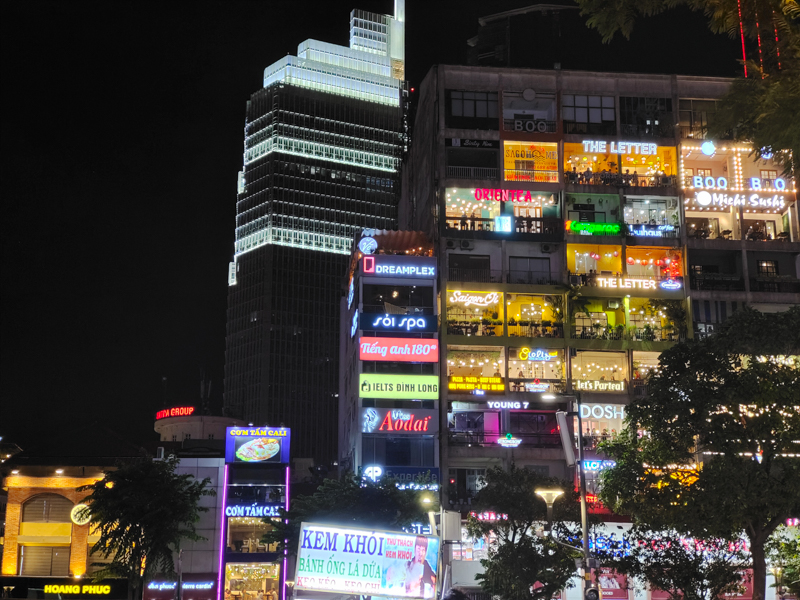 Although the night mode requires keeping the camera still while shooting, I wanted to see how the camera would handle it if the camera was taken while moving. Here are the results …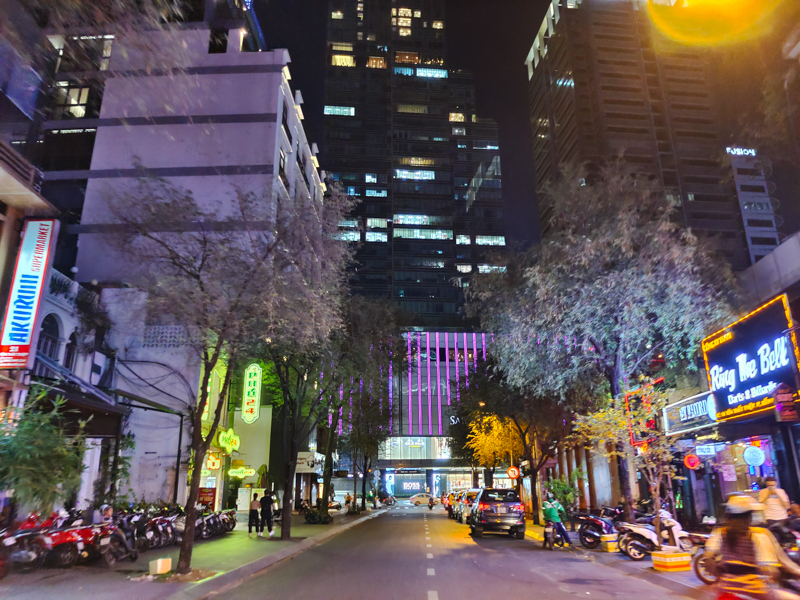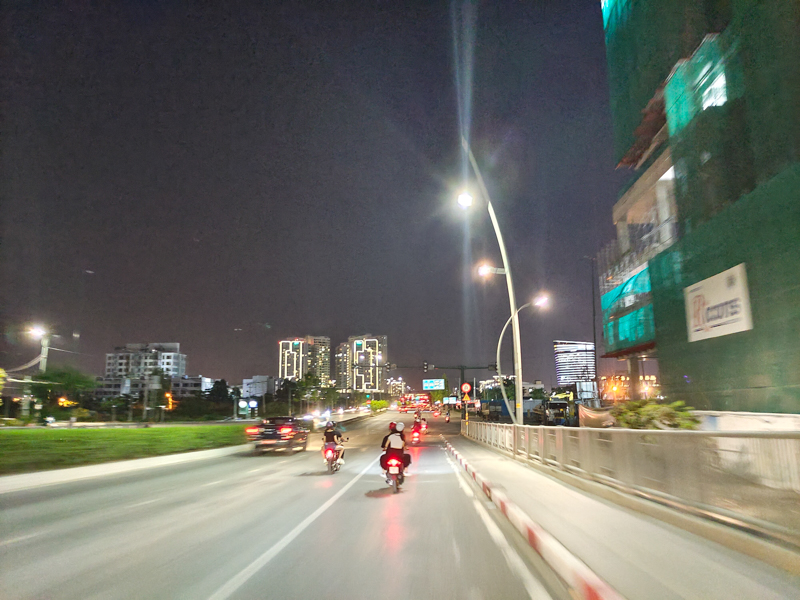 And some other night photos:
After the rain, the sky is bright again, Saigon is fresh under the Vivo X60 Pro lens
The night before the day I went to take photos, Saigon rained so I suddenly thought why not capture the reflection in the puddles of standing water. The idea is there, that's it! After taking the photo, I tried to reverse it to deceive my vision a bit.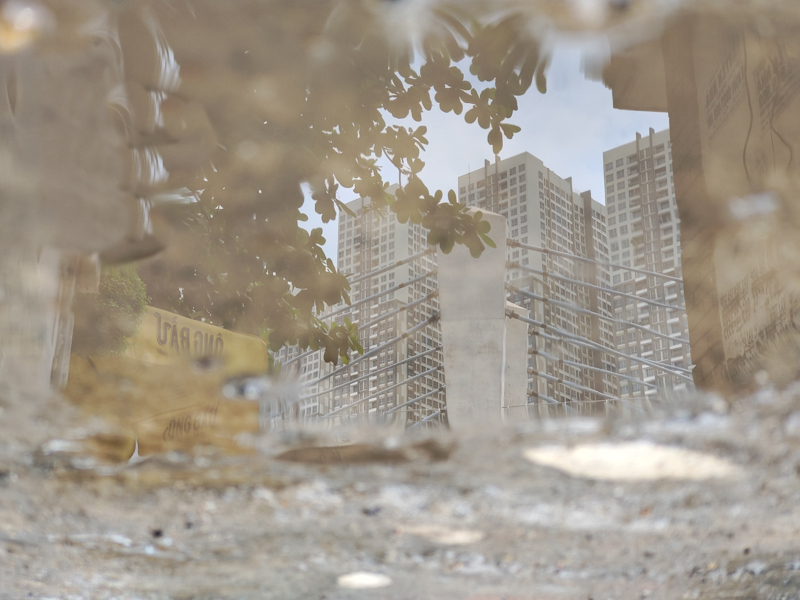 I have an appointment to take pictures with my friends in Thu Thiem, through there I also found a few puddles of water, so I have quite a chill photo. Does the image of Landmark 81 in the distance reflect on the water ball look also spread? I have a compliment when the Vivo X60 Pro reflects the clear and detailed image even though I use 2x zoom.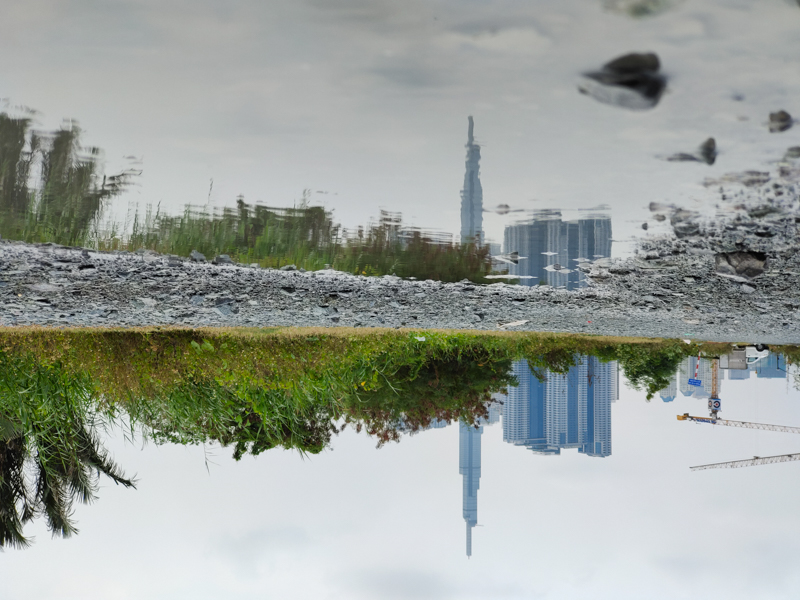 There is a rather large puddle under the bridge, far away is the Sofic Tower reflecting the ball. Once again, I lowered the angle of the camera very close to the water to capture this scene. At this point, I use the default 1x mode only.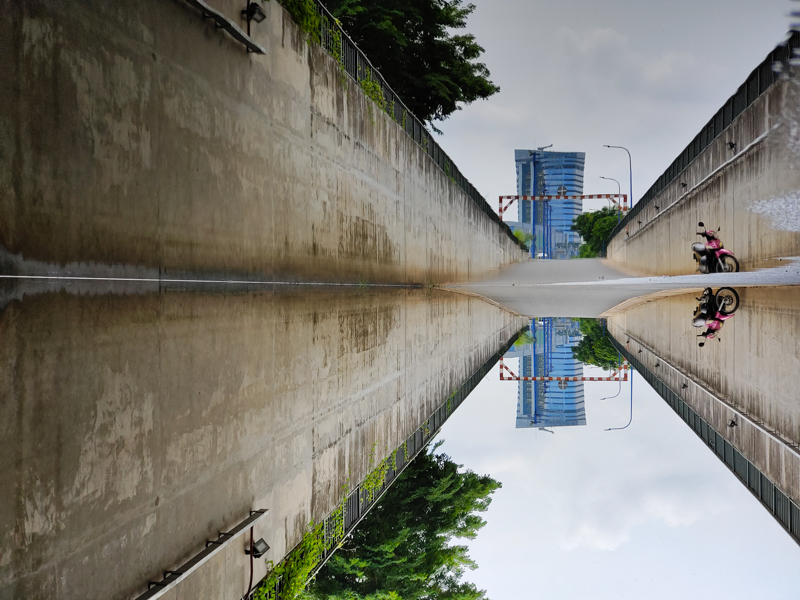 It is not easy to find these stagnant puddles, as well as to find a beautiful setting to make the water balloon look more stable. That's why I only took a few photos.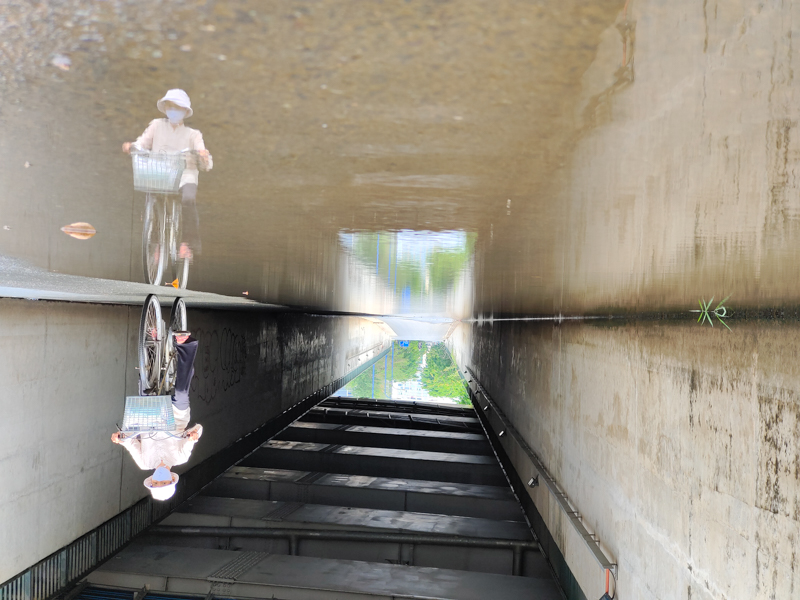 After the rain the night before, Saigon also became cleaner and cooler. That morning I went to take photos, the sky was very blue, not sunny, but still bright enough to help Vivo X60 Pro capture clear pictures.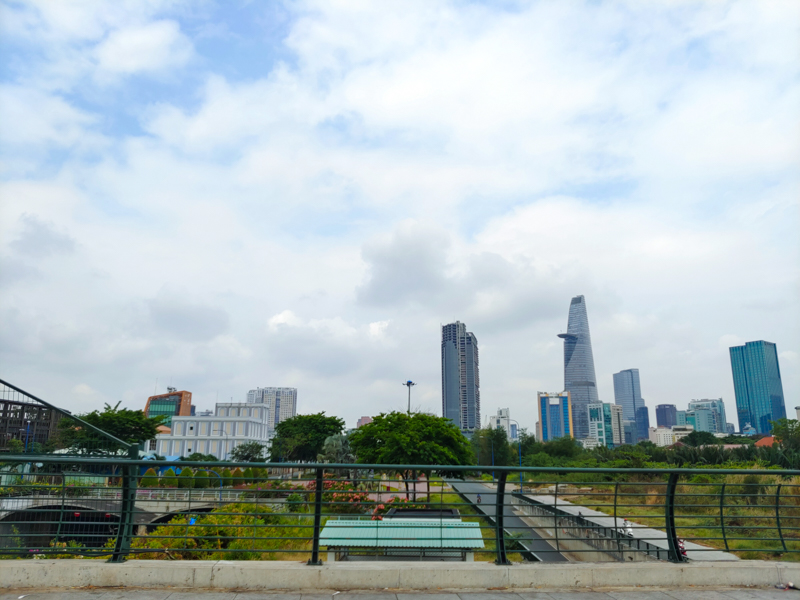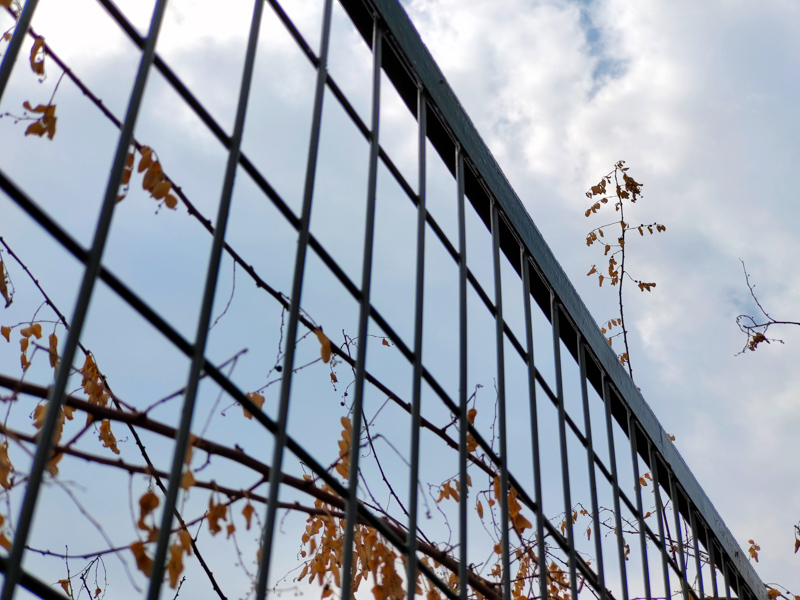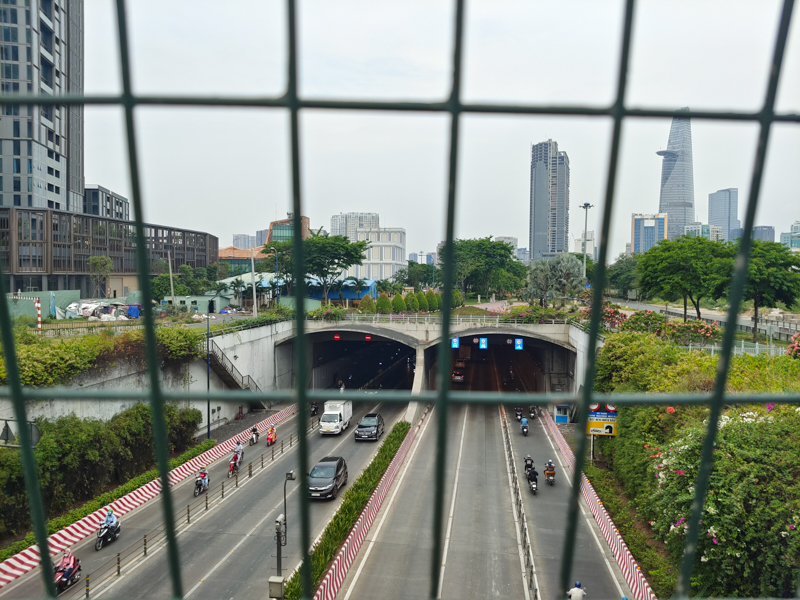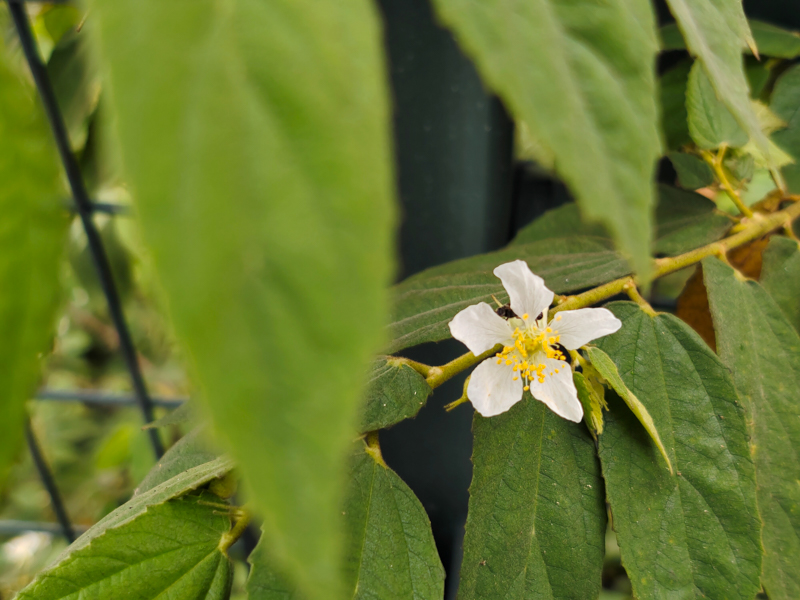 The 2x zoom mode, according to me, still gives very good details and the colors are no different from 1x, so I do not hesitate to zoom. Still have nice pictures.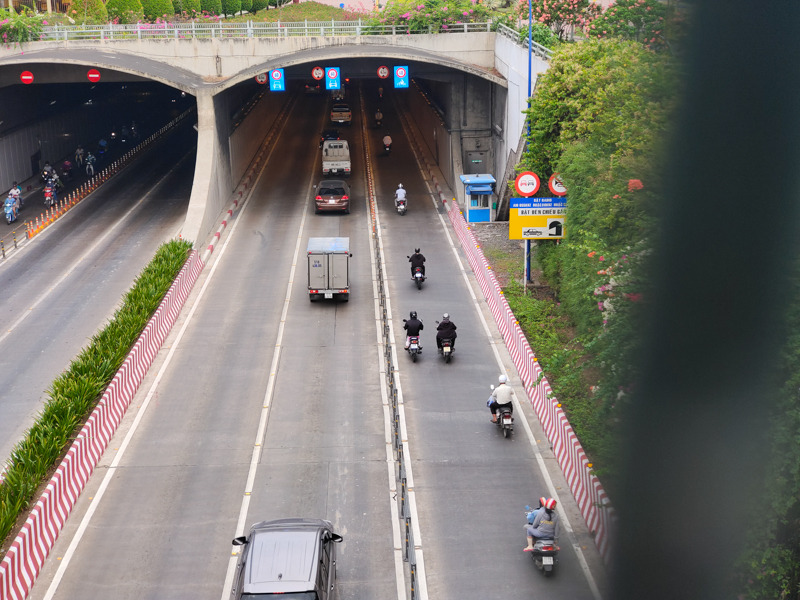 Using ZEISS lenses, the Vivo X60 Pro produces a natural blue sky and smooth eye as the tradition of this lens maker. I like the kind of cloudy sky that the X60 Pro captures, both real, just enough, not too ostentatious.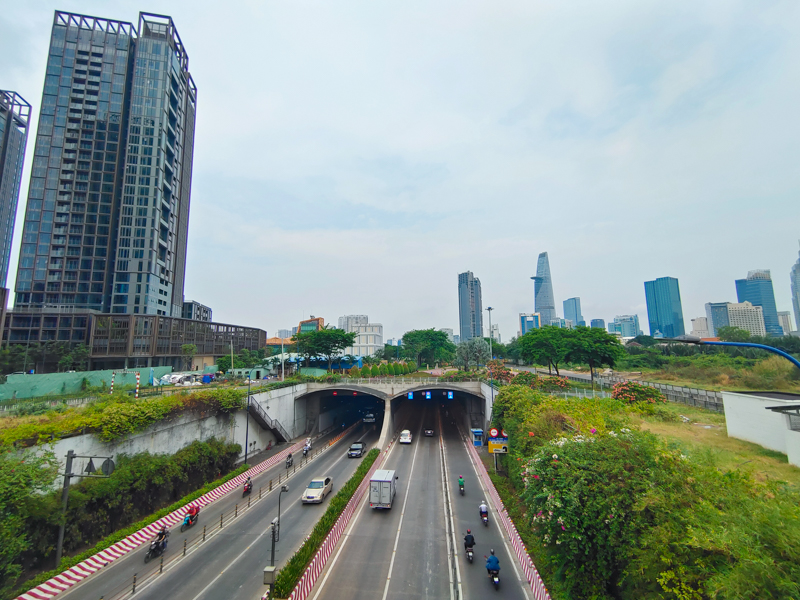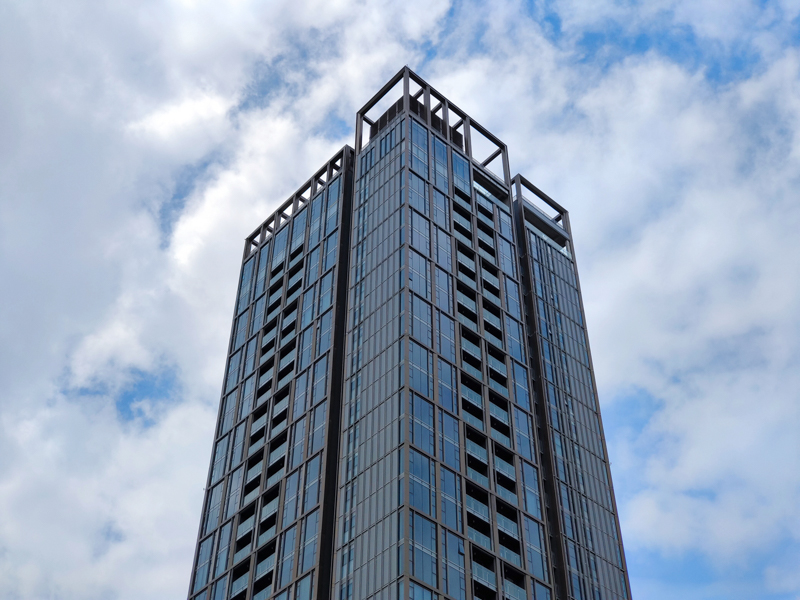 I spotted a dry bush reaching over the fence. I then took a closer shot so that the machine erased the fonts. Actually, I want to shoot closer and more detailed, but the Vivo X60 Pro cannot focus at too close a distance. However, these pictures look pretty "art" already.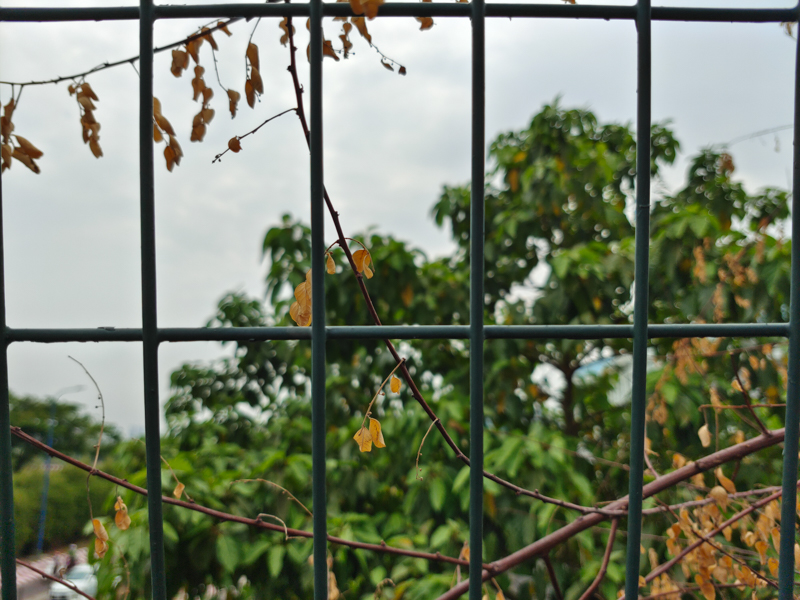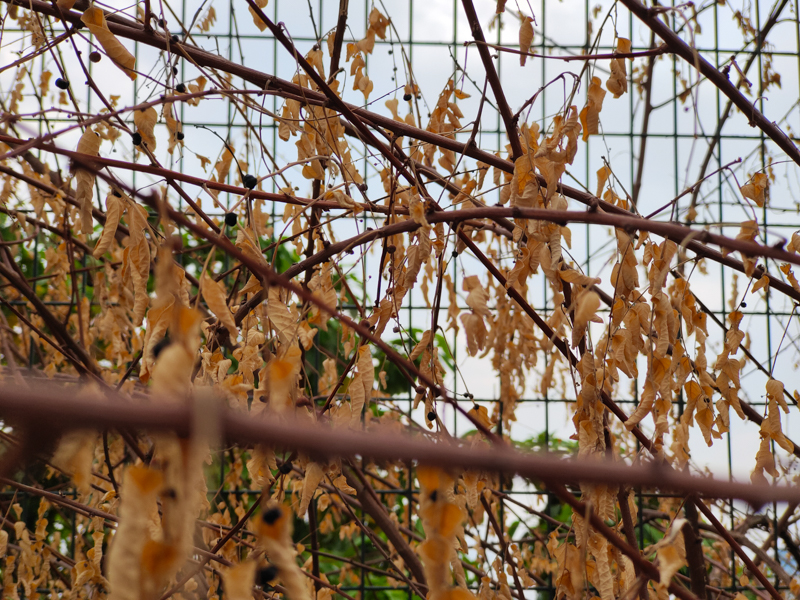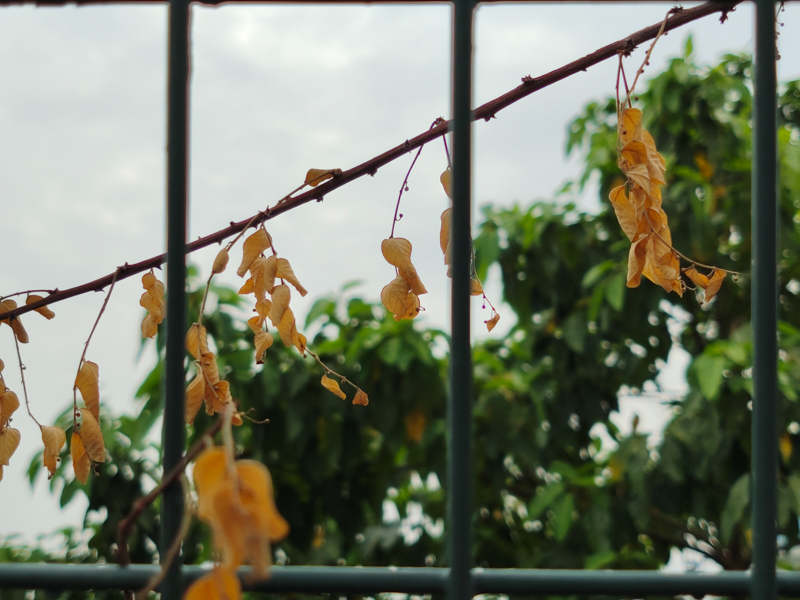 These shots are a bit backlit, but the shadows are perfectly preserved, just enough for my shooting intentions and I quite like them.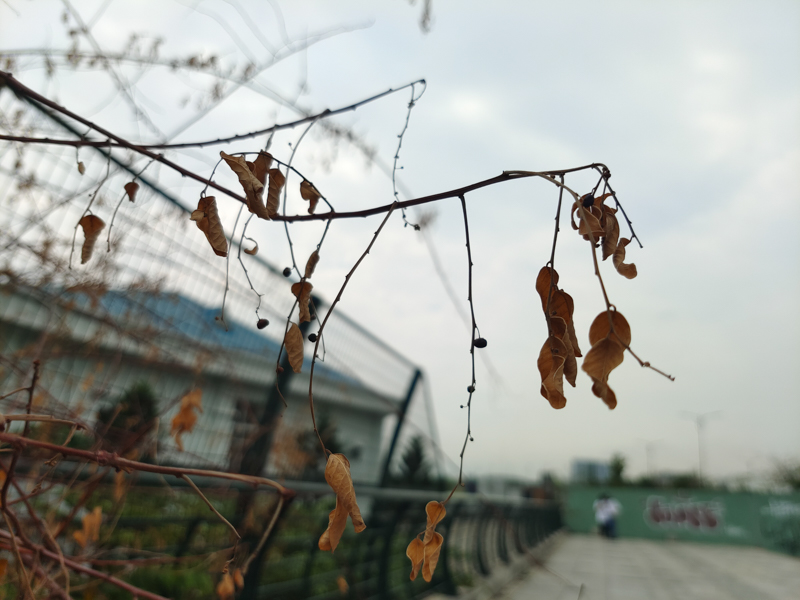 Ready to take pictures, so I took a few photos of my friend too. Vivo X60 Pro's camera reproduces human skin color without yellowing, it seems that the device pushes the white skin up but is not pale, still ensuring the naturalness.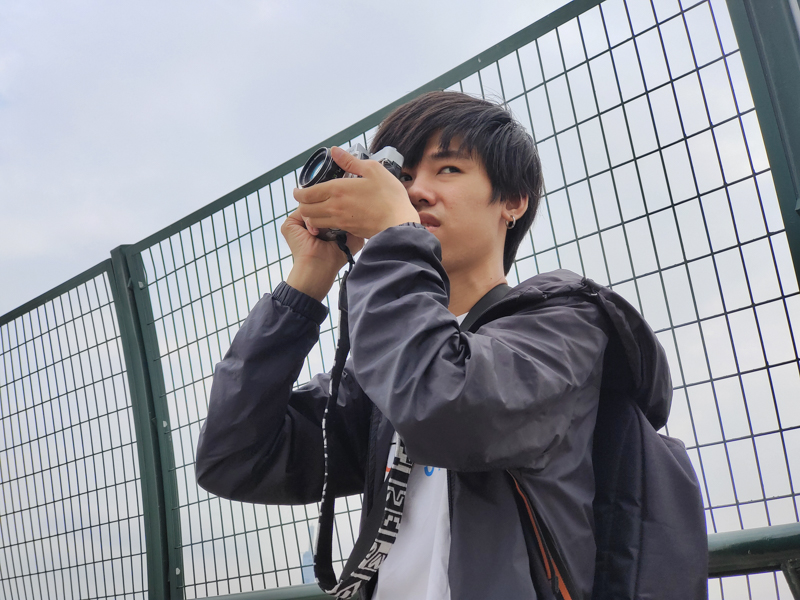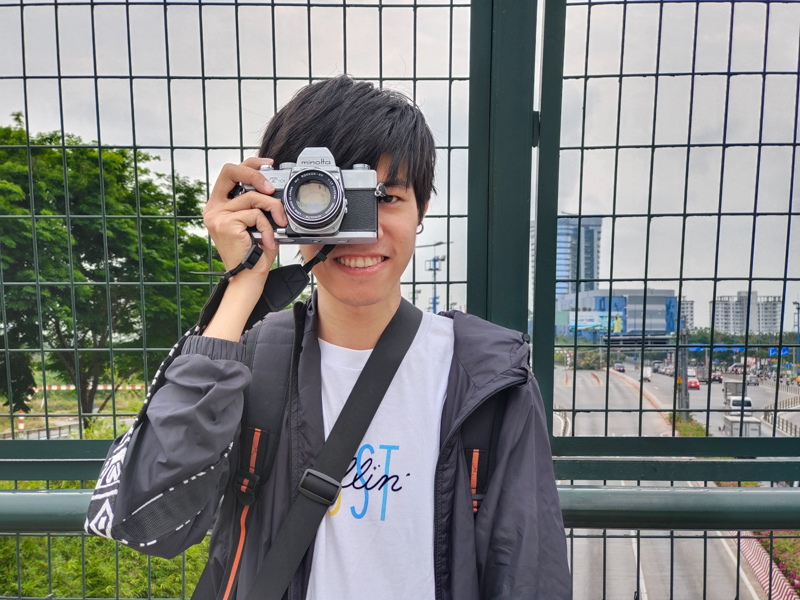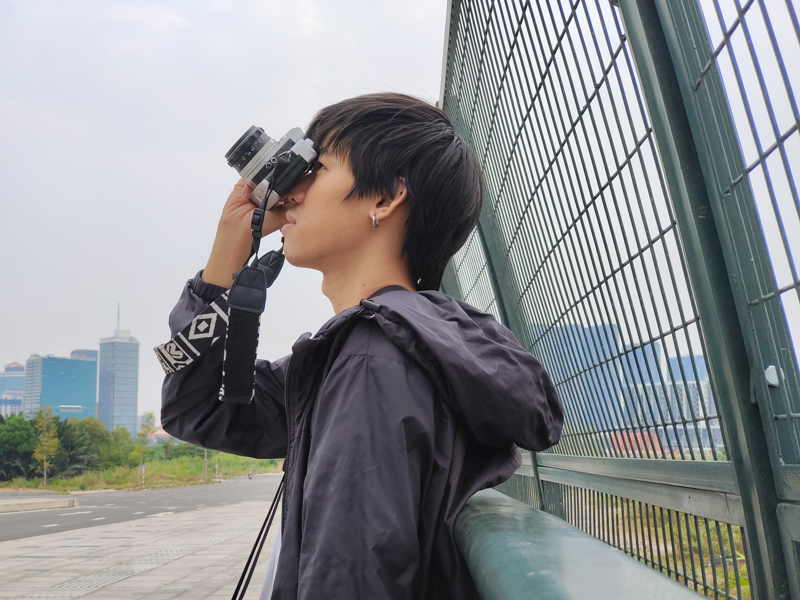 When taking portraits, the skin color is still natural, but the automatic beauty feature is smoother. This is very suitable for girls to shoot freely. Well, the ability to remove fonts when taking portraits of the Vivo X60 Pro is very good, no smudge phenomenon.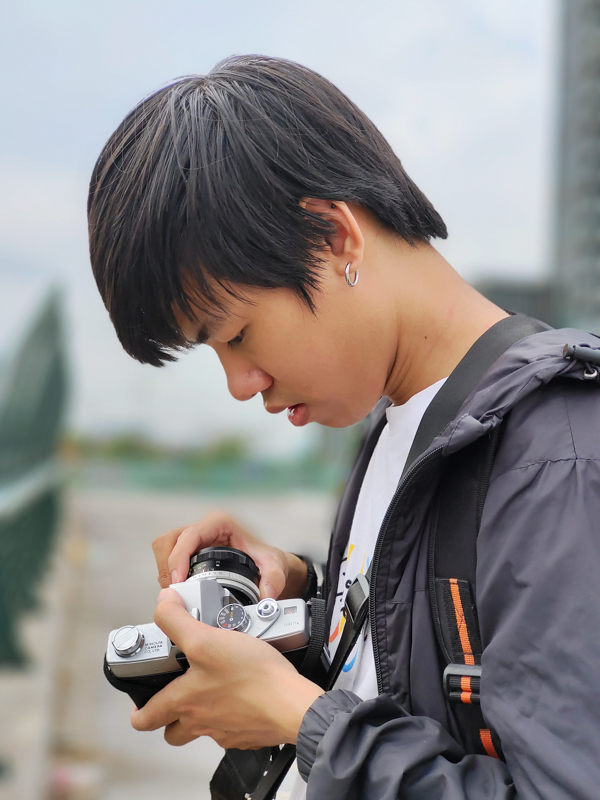 Video recording with good anti-shake support feels like a tripod or a Gimbal
With the support of the anti-shake system, I use Vivo X60 Pro to shoot a few short videos in a variety of conditions such as standing still, running a car, walking or doing some machine movements. Below is a short video of me shooting the Saigon River at sunset, turning on super anti-shake mode and shooting it. At this moment the wind is very strong, making my hand shake quite well but the image in the video is very stable,
I continued to do another scene with the street subject and passersby, the Vivo X60 Pro continued to promote frame stability, although the wind was quite strong, making me unable to keep the camera still, but there was no vibration in the video. let's shake.
I also tried some camera operations such as pan, dolly, zoom in, … to see if these operations were smooth or not, making the scene more vivid. The results show that when performing these operations, the video is still quite "click".
Finally, I did video recording while sitting in the back of the car. The results showed that the video was very stable, the images showed no signs of shaking. This is very suitable for those who want to do street vlogs,
The Vivo X60 Pro camera takes good snapshots
Vivo X60 is equipped with 3 cameras including 48 MP main camera, 13 MP ultra wide angle camera and 2X 13 MP telephoto zoom camera to serve all the shooting needs of users.
After a photo session with Vivo X60 Pro, I noticed that the camera was fast, thanks to the anti-shake system, so shooting while driving still does not lose much focus. Furthermore, ZEISS lenses deliver clear, eye-catching images with high level of detail – what makes ZEISS renowned.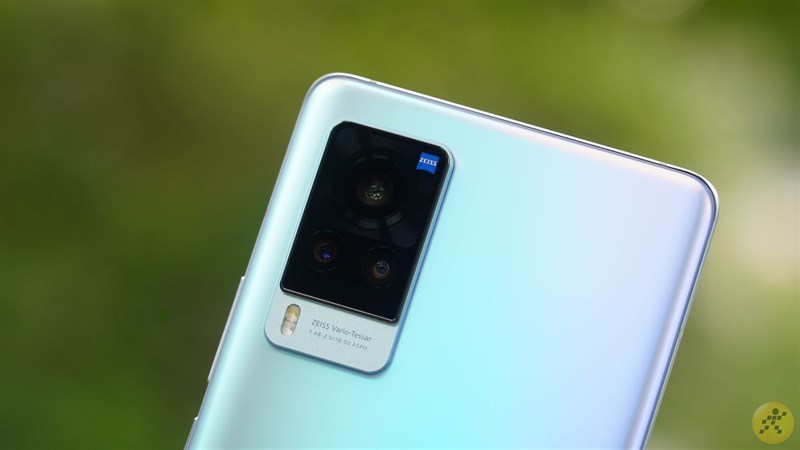 The strong point on the Vivo X60 Pro camera is the ability to take night photos, support many functions of night exposure, super moon capture, galaxy shooting. Through the actual experience when shooting at night, I see the camera fast, clear image, no noise. Although the night mode requires holding the camera steady, the anti-shake system with "AI sister" still ensures that the photo is not blurred, although I shoot quite shaking hands as well as taken when sitting behind the car.
Do not forget that with very good anti-shake video recording, you can completely create more art movies or simply make daily video vlogs very easily.
See also: Vivo X60 Pro + camera detail review: What's the number one Vivo flagship on display in the Zeiss museum?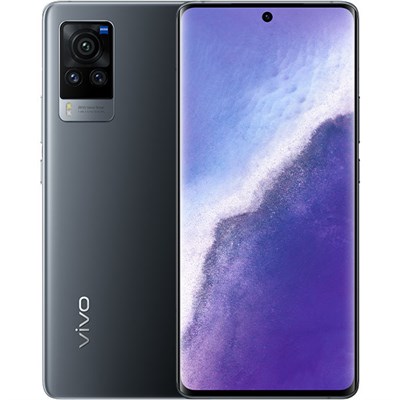 Vivo X60 Pro 5G
Goods coming soon
19.990.000₫
100 instant discount 25% + 0% installment
See details
Edited by Vuong Gia Bao
Not satisfied with the article
1,218 views
Related posts
A day with Vivo X60 Pro: I am pleased that Vivo understands and cares about users in every little detail


3 days ago

On hand Vivo X60 Pro: Powerful minimalistic design with the promising Zeiss camera cluster!


6 days ago

Vivo X60 Pro (domestic) detailed review: Will the Vivo flagship make a big turning point in the market?


24/03

First impressions Vivo X60 Pro 5G: Powerful design, using Snapdragon 870, 120 Hz screen


2




22/03

Vivo X60 Pro 5G unveils promotional poster, will soon launch in Vietnam with a majestic camera cluster co-manufactured with Zeiss


17/03

Vivo X60 Pro + officially revealed: Impressed with two large cameras on the back, Snapdragon 888 chip and bright orange


19/01
.