Not long ago (May 6, 2021), the Vivo V21 5G was officially launched in the Vietnamese market. Personally, I have had the opportunity on hand as well as experiencing her for a while. Indeed, the new Vivo smartphone not only has good camera quality but is also equipped with the Dimensity 800U chip with stable performance.
Note: Normally I will use Perfdog or KFMark application to measure FPS when playing games on the smartphone that I am experiencing. However, my Vivo Y21 cannot use these 2 software, so I can only share the experiences that I have through the article below (there are no data to prove), I hope you understand Thanks for me.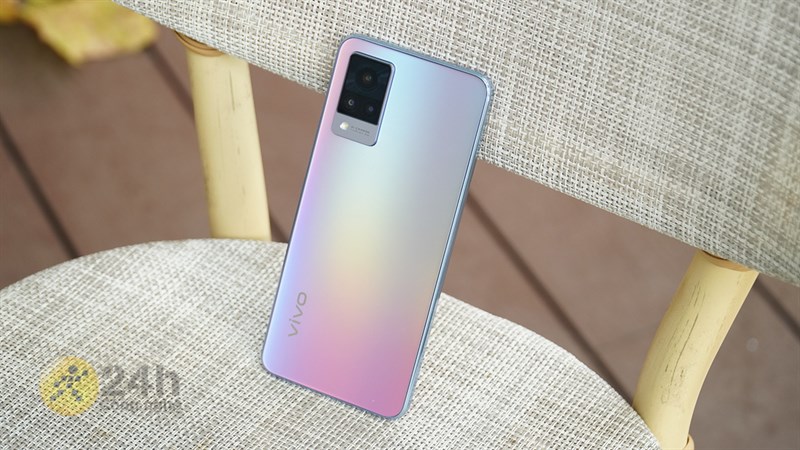 See also: These are the reasons why you will want to buy the Vivo V21 5G right away
Performance specifications of the Vivo V21 5G
Before we go into the performance review of the Vivo V21 5G, I would like to take a look at the configuration parameters of the device, specifically as follows:
Screen: Super AMOLED, size 6.44 inches, Full HD + resolution (1,080 x 2,400 pixels).
CPU: MediaTek Dimensity 800U (7 nm).
GPU: Mali-G57 MC3.
Battery: 4,000 mAh, support 33W fast charging.
RAM and internal memory: 8 GB and 128 GB.
Operating System: Funtouch OS 11.1 (based on Android 11).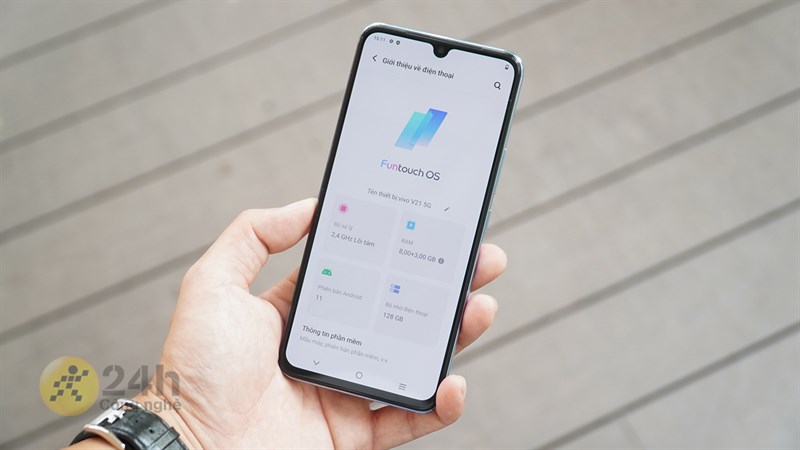 If you do not know, the MediaTek Dimensity 800U is a new mid-range chip that appeared on the market recently and has been equipped on some smartphones such as Realme 7 5G or Redmi Note 9 5G. Before that I had not had the opportunity to test the performance of this processor, but heard rumors that Dimensity 800U had performance not inferior to some Qualcomm's Snapdragon chips. Is this true or not? We go to the next part of the article to learn more.
The Vivo V21 5G's performance score is not in the midst
First, I will conduct the performance score of Vivo V21 5G with familiar software such as Geekbench 5, 3DMark so that you have a more intuitive view. The results I obtained are as follows: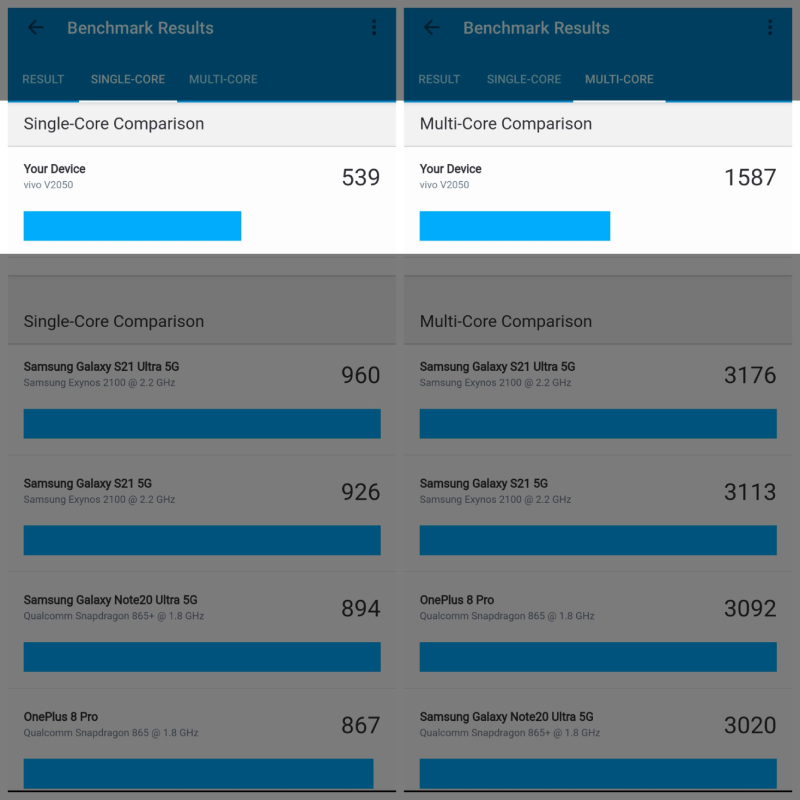 – GeekBench 5:
Single point: 539 points.
Multi-core score: 1,587 points.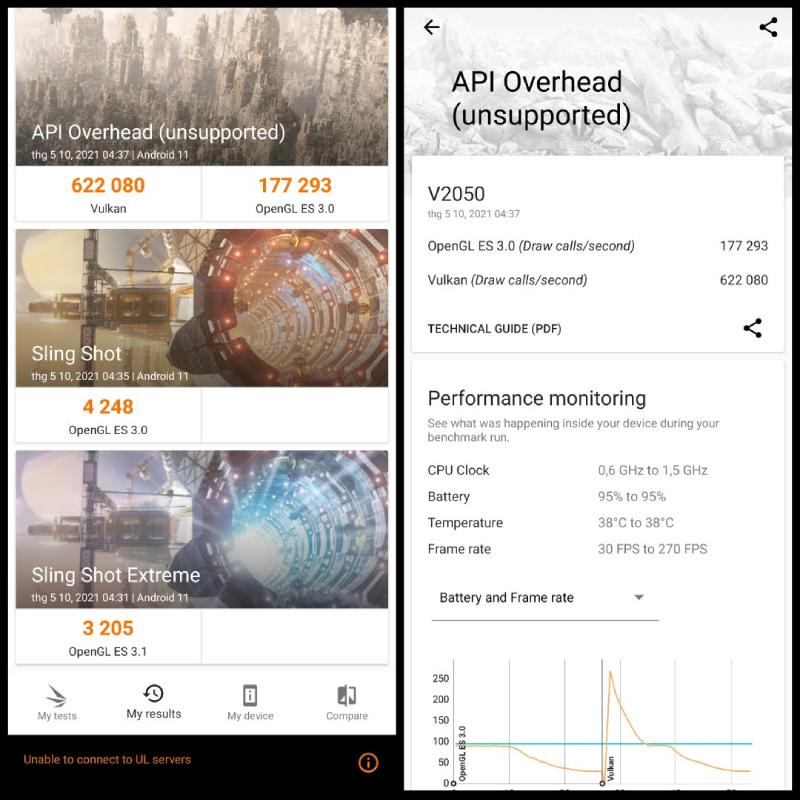 3DMark
2D graphic score (OpenGL ES 3.0): 177,293 points.
3D Graphics Score (Vulkan): 622,080 points.
The results above also show that the Vivo V21 5G scored 539 single-core and 1,587 multi-core points in the GeekBench 5 software test. Realme 8 that I just had a performance review before (namely 533 single-core and 1,697 multi-core points). Thereby, I think that Vivo V21 will definitely deliver smooth and stable performance not inferior to Realme 8.
Experience realistic gaming on the Vivo V21 5G
However, the score only partially reflects the performance of a phone, the most important is the actual experience. That is why I have tested the four most popular games today: Lien Quan Mobile, Speed ​​War, PUBG Mobile and Call Of Duty Mobile so that you can imagine the performance of the Vivo V21 5G. The data such as graphic settings or video screen recording of each game, you can refer to via the link here.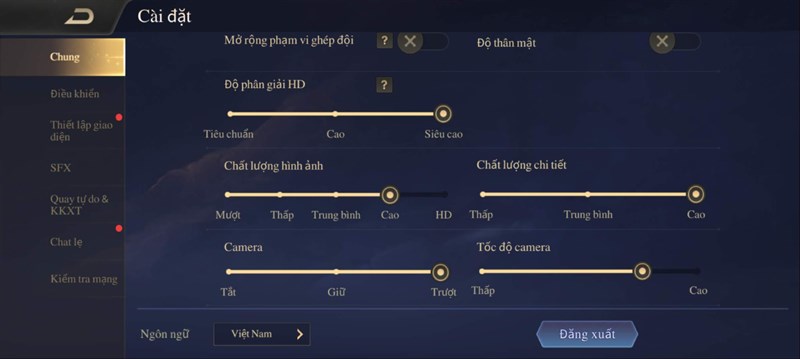 The first is Lien Quan Mobile, Vivo V21 5G can set the graphics at a relatively high level, but unfortunately, the device cannot enable the High FPS feature. This affects quite a lot on my gaming experience when the machine only achieves 30 FPS, which is the maximum. However, Vivo V21 5G always maintains stability, lag phenomenon almost never occurs during my game.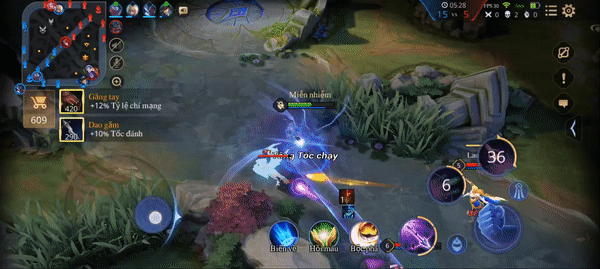 League of Legends: Rapid War
Sang to League of Legends: Speed ​​War, one of my favorite games with stunning images, colors and effects. However, its Vivo V21 5G can completely set the graphics to the highest level (all the items in the image below) and activate some more effects in the game.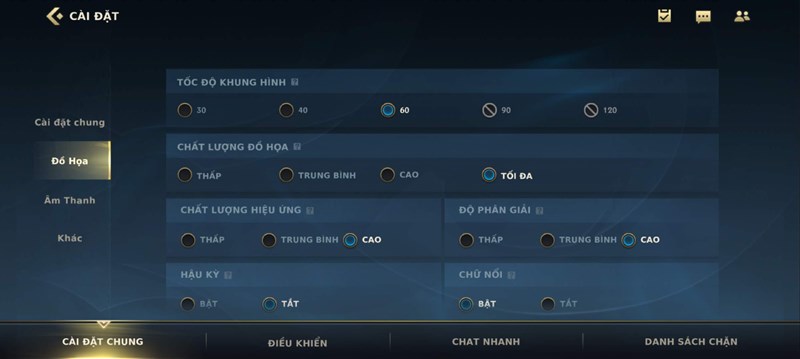 I find it a little confusing when Vivo V21 5G plays League of Legends: Speed ​​can activate 60 FPS and in Lien Quan Mobile does not. Therefore, experience playing League of Legends: Speed ​​War on Vivo V21 5G is extremely smooth, much better than the game above. In addition, the Dimensity 800U on the Vivo V21 5G also has the ability to reproduce very good graphics, realistic skill effects, and moves, interact with characters very quickly, almost no degree. Come on.
In a survival shooter like PUBG Mobile, although Vivo V21 5G can set the graphics at HD, in order to be able to play PUBG Mobile with 60 FPS, I have reduced the balance.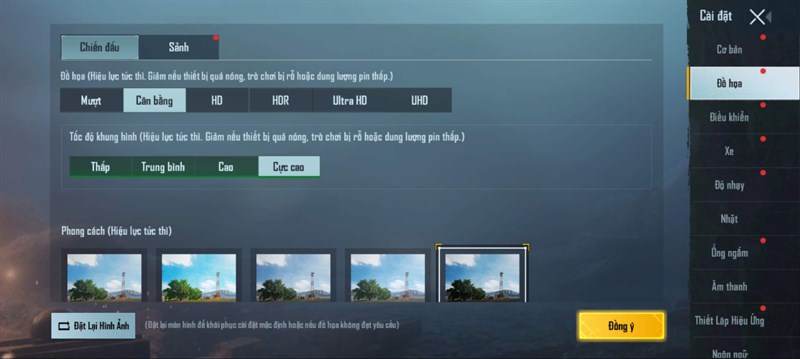 However, because I leave the graphics at the lowest level, the level of detail in the game is only quite, it is difficult to see details far away. In return, the frame rate in the game is maintained steadily and smoothly. The phenomenon of lagging lag or dropping FPS during the game also rarely occurs.
Call Of Duty Mobile
Similar to the PUBG Mobile game, I will also lower the image quality in Call of Duty Mobile to the lowest level to prioritize the frame rate per second. I hope the Call of Duty Mobile experience on Vivo V21 5G will be a little smoother and more stable.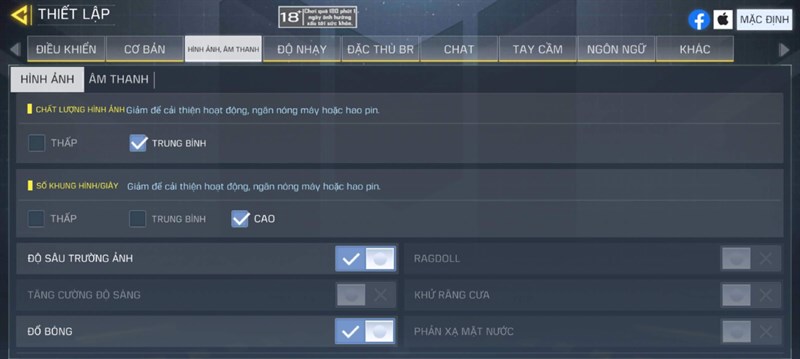 However, contrary to my expectation, the device still often suffers from slight lag, not very stable. Perhaps the smooth play of fast-paced shooters like Call of Duty is not Vivo V21 5G's forte.
Is the 4,000 mAh battery of Vivo V21 5G too weak at the moment?
As I mentioned above, the Vivo V21 5G is equipped with a 4,000 mAh battery, a figure that is not very impressive for a gamer like me. Will the 4,000 mAh battery of the Vivo V21 5G provide long lasting battery life when we play games?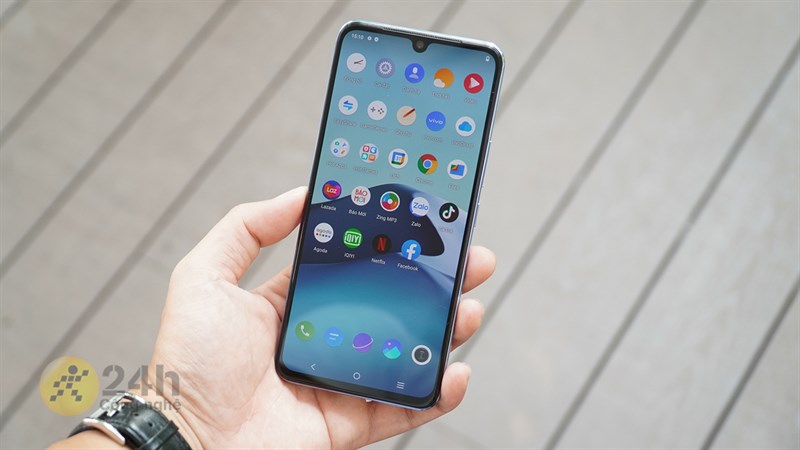 To answer that question, I took a test to play 3 consecutive games Lien Quan Mobile, Speed ​​Chien, PUBG (detailed configuration settings) within 3 hours (each game is 1 hour) to see the device. How many percentage of the battery will be depleted. Surely you are wondering why it is 3 hours, right? The reason is that when we use it in practice, it's very rare that anyone can play the game for more than 3 hours continuously. Personally, I am very buffalo and I can only play 2 hours. Before starting, I would like to share a little about the conditions of this test, as follows:
Play a game for 1 hour.
Brightness: 100%.
Plug in wired headphones and the volume is 100%
Turn on WiFi and social media notifications.
Do not turn on battery saver, screen adaptive, GPS and Bluetooth.
Dot 100%.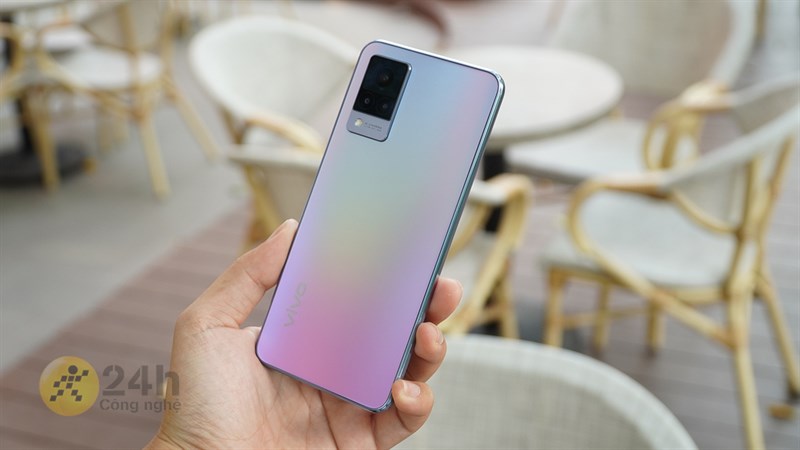 The results I obtained are as follows:

Lien Quan Mobile: From 100% reduced to 90% battery.
League of Legends: Speed ​​War: From 90% reduced to 74% battery.
PUBG Mobile: From 74% to 59%
Thus, after playing 3 games continuously for 3 hours (each game is 1 hour), the 4,000 mAh battery of Vivo V21 5G drops about 41% of the battery (from 100% to 59%), which is almost Half of the total capacity of the battery. Since then, I made a prediction that if we continue to play games like that, the machine will only last for 5-6 hours.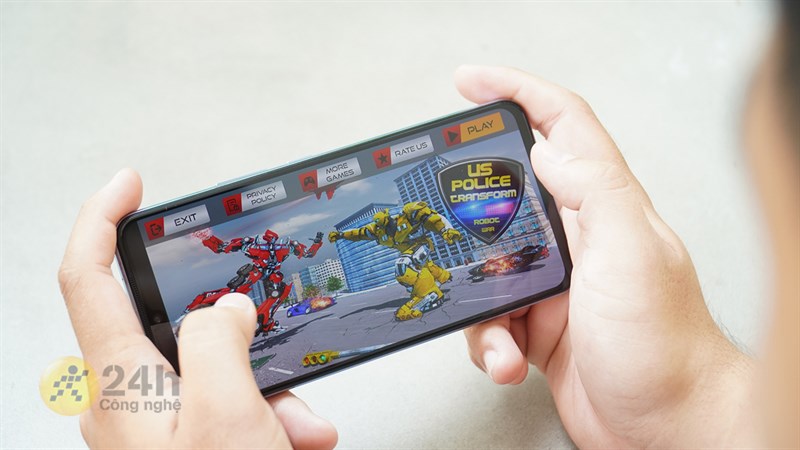 I know that no matter how much they like to play games, few people are free to play games continuously on their phones like that. However, the purpose of the above test is mainly to see the battery life that the Vivo V21 5G brings. In case you do not play games but only use normal tasks for work / study, I think the device can completely be with you for a long day.
Epilogue
Overall, the Vivo V21 5G is a smartphone with relatively good performance in the price segment with the Dimensity 800U chip. However, I feel that this chip is not really well optimized for games. I hope that Vivo can fix this problem with future software updates.
What do you think about the performance of the Vivo V21 5G? Please leave your comments in the comments section and thank you for following my article.
See also: With finance under 10 million, should you choose to buy Vivo V21 5G or Vivo Y72 5G?
I live V21 5G
9.990.000₫
Free Speaker FOOMEE HH17 (Value 1 million) + Instant discount 500,000 VND + TG 0%
See details
Edited by Vuong Gia Bao
Not satisfied with the article
188 views
Related posts
Vivo Y12s (2021) quietly launched in Vietnam: Using Snapdragon chip instead of Helio, 5,000mAh battery, priced at just over 3 million VND


8 hours ago

The good news about the village: Officially pre-order the Vivo V21 5G, come with attractive offers and valuable gifts, instantly deposit


1 day ago

Vivo V21 5G camera review: Truly reproduce the sparkling night scene and the bustle of Saigon in the morning


1 day ago

Vivo Y76s is about to launch, supports 18W fast charging, can be positioned in the low-end or mid-range segment


4 days ago

The reasons you should buy Vivo V21 now: 5G phone, ultra-thin design, impressive colors, significantly upgraded camera, …


1




4 days ago

Vivo V21 5G launched in Vietnam: There is a 44MP OIS selfie camera that takes super beautiful photos, slim and light design, good price


10




6 days ago
.