The virtual money market is quite a suitable place for the "sharks" to comfortably blow prices in the short term. Many virtual currencies can increase in value by a few hundred to several thousand percent overnight, then suddenly plummet without returning days after a few hours.
For that reason, many projects are either created for fun for a long time like Dogecoin, or have just been established, but have helped investors quickly 'puff' through the trend created by the "sharks". . And recently, another trend has exploded, which is the crypto pastry fever.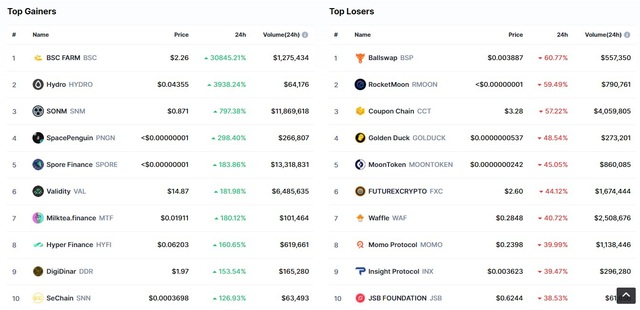 Cryptocurrencies can spike in value overnight, but can also bottom out worthless.
Another exchange, PancakeBunny, also recorded a record deposit of $ 7.2 billion. This is because these exchanges commit huge profits and reward participants with money or tokens depending on the type of investor depositing.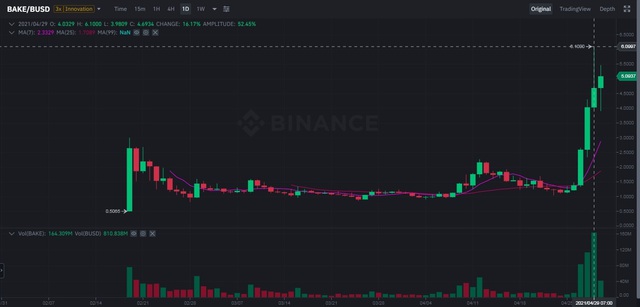 BakeryToken's price increases strongly thanks to the trend of saving money virtual money.
This fever originated from PancakeSwap, a decentralized exchange (DEX) belonging to the Binance Smart Chain ecosystem with virtual currency abbreviated as Cake. Thanks to a series of positive news surrounding the Binance ecosystem, investors flocked to buy Cake to make a profit on this exchange with a total deposit of up to 10 billion USD.
Another coin, Burger Swap, has tripled in price in the past few days thanks to a similar decentralized trading platform like Cake and Bakery.Thanks to that, a number of other cake-following virtual currencies also increased on this occasion. In which, BakeryToken has increased nearly 5 times thanks to a decentralized exchange BakerySwap. This exchange currently receives $ 304 million in deposits from investors with a total capitalization of $ 974 million.
Investors flocked to deposit money in these systems stemming from the fear of Bitcoin plunging on April 23, at one point reaching the $ 48,000 mark, down 20% from the peak.
Bitcoin then recovered to the safe zone, but the money flowed to other alternative cryptocurrencies belonging to the Binance Coin and Ethereum ecosystems. This caused the entire crypto market capitalization to recover at $ 2,100 billion, but Bitcoin holds only 47.9% of the market, the lowest level since the boom in cryptocurrencies earlier this year.