Vietnamese car brand VinFast has officially launched an upgraded version for its first electric motorcycle. Accordingly, the upgraded version of VinFast Klara will be named Klara S with improvements in the battery pack and some other small equipment.
By comparison, the premium version VinFast Klara S retains the same design, like the electric motorbike model VinFast Klara Now with good looking looks like regular scooters today. The car continues to use Bosch electric motors with a capacity of 1,200W, providing the ability to operate similar to the existing 50cc internal combustion motorbike models on the market.
In terms of technology, VinFast Klara S continues to own IP57 and IP67 water resistant, helping the car to operate normally even when submerged 0.5m in 30 minutes. Klara S also has an eSIM, which helps users manage vehicle operation status, remotely locate vehicles via mobile applications thanks to GSM or Bluetooth connectivity.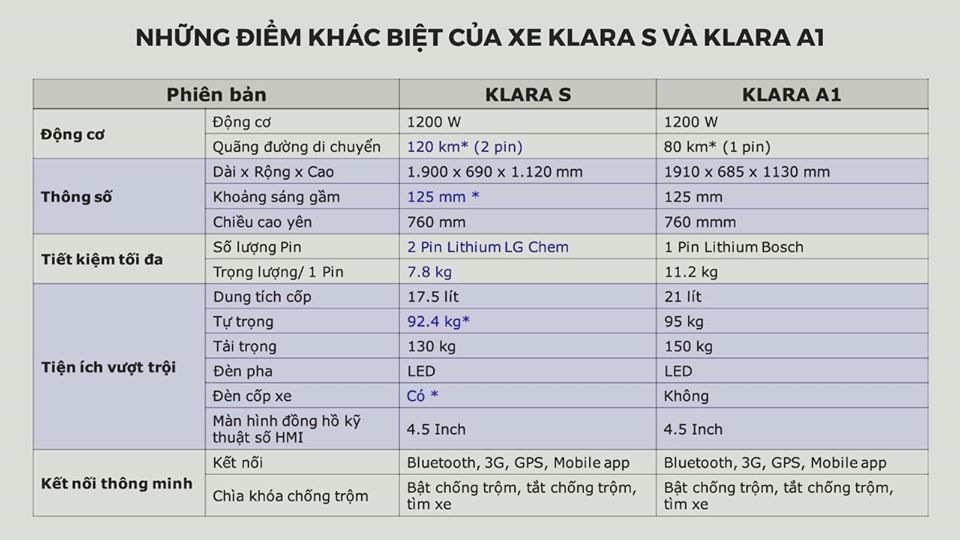 Notably, VinFast Klara S is equipped with two sets of LG Chem Lithium batteries, which increase the maximum travel distance to 120 km (traveling at 30 km / h) on a single charge. In addition to the battery pack upgrade, it seems that the VinFast Klara S saddle has changed a bit, the upgraded saddle seems thicker and the floor is pronounced. The trunk has been shrunk to make room for another battery pack, but there's a trunk lamp.
According to the announcement of VinFast, VinFast Klara S car prices Newly listed at 39.9 million, this price does not include the battery pack of the car. According to a reference from the agent staff, information about the cost of the new battery pack has not been announced by VinFast, so if buying more equipped with 2 sets of batteries, the price of the car will exceed 40 million VND. The battery change in Klara S is VinFast's new solution to apply the battery lease policy that the company will apply to all 3 models Klara S, Ludo and Impes.
Lanzhou
.