Just visit the room Ugly Video provides, you and your friends can view photos, drawings, recipes, even write text messages, … on the white drawing board.
Ugly Video is an interesting service built on the WebRTC platform, so there is no need to install any plugin, as long as there is a browser that supports WebRTC like Chrome, Firefox, Microsoft Edge, … to access and use.
If you want to share, please access Ugly Video first and immediately get the URL of the room. You can copy from the address bar or click Invite ppl! to copy. Ugly Video interface is a blank page, you use your mouse or pen / hand to write and draw on this screen. Content can be sentences, math formulas, …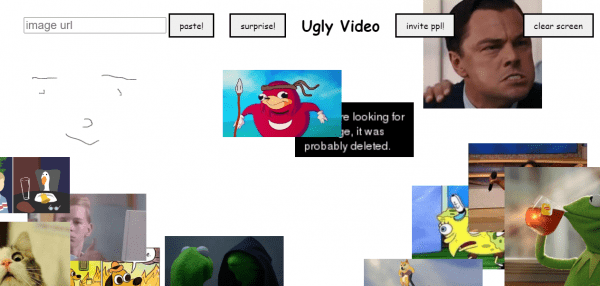 Ugly Video also allows you to share pictures (view only), you paste the image URL in the empty box> click Paste. And when you press the button Surprise fun, saveable images appear (optional Save image as in the right mouse menu). When the screen is full of text, press Clear screen to delete everything.


Hùng Anh