Speccy is a name not unfamiliar to computer users, it is a brother of the same Piriform family with the famous junk file cleaning software for computers, CCleaner. With Speccy, you can know all about the hardware on your computer not only the brand or model but also the temperature, IP address, the state of the components in the operating system, … What Windows Device Manager does not have been.
Speccy is free software so you can use it with peace of mind, not to mention Vietnamese support, so you will no longer have trouble reading hardware information. You enter here to download Speccy (choose the Free version) and install (compatible with Windows XP and above).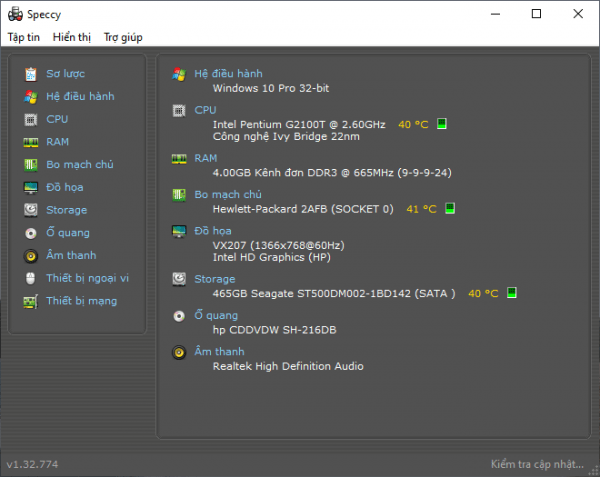 Once installed, open Speccy and the first item appears Summary (Quickview). It displays information about your computer's operating system version, CPU type, RAM, motherboard, graphics card, hard drive, optical drive, sound card, and their temperature. This information will appear after a few seconds.
To see more details, you click on the items on the left edge:
– Operating system: Operating system and related information.
– CPU: Microprocessor and related information.
– RAM: Memory and related information.
– Motherboard: Motherboard and related information.
– Graphics: Graphics cards and related information.
– Storage: Hard drive and related information.
– Optical drives: Optical drive and related information.
– Audio: Sound card and related information.
Peripherals: Peripherals and related information.
– Network: Network card and related information.
You will see a lot of information about the hardware you choose to see, such as operating system you can know which antivirus is on, CPU fan speed, network card server port, …
To make it easier to read, you should switch to Vietnamese, press View> Options> General> Language and choose English> Agree. Speccy can display the CPU, motherboard or hard drive temperature when minimized. You open the card System Tray > tick tick Minimize to tray > Select the hardware you want to see the temperature at Output > press OK.
Speccy also allows you to save hardware information and share them on the web:
– Save information: Press File> Save snapshot > set a name and choose where to save it. The file will save in * .speccy format and you can in Speccy by double-clicking or clicking File> Load snapshot.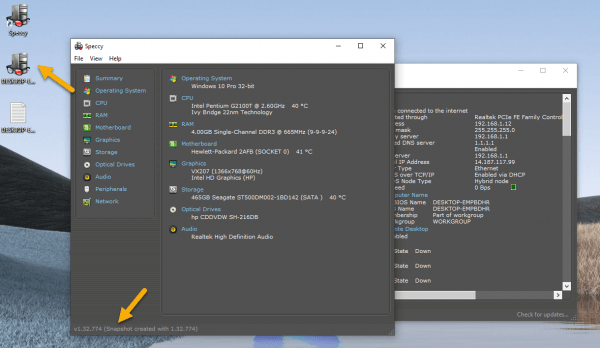 – Post hardware information on the web: You can share your computer hardware information on the Piriform website by clicking File> Publish snapshot> Yes and copy the link or open it in the default browser.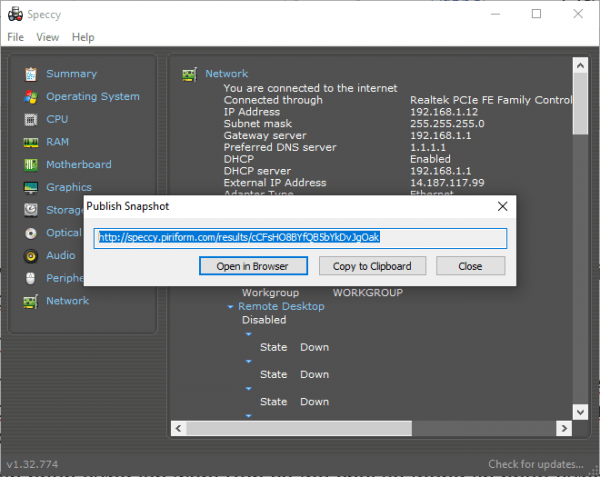 – Other forms of saving: You can save hardware information to XML, TXT, and print it in File.


Hùng Anh