Half a century ago, the regions of Vietnam, when they were in the spring, had a strange, poetic and gentle look. Let's admire that beauty through the typical works of modern Vietnamese art.
Silk Painting Mother and Child (2008) – Artist Nguyen Thu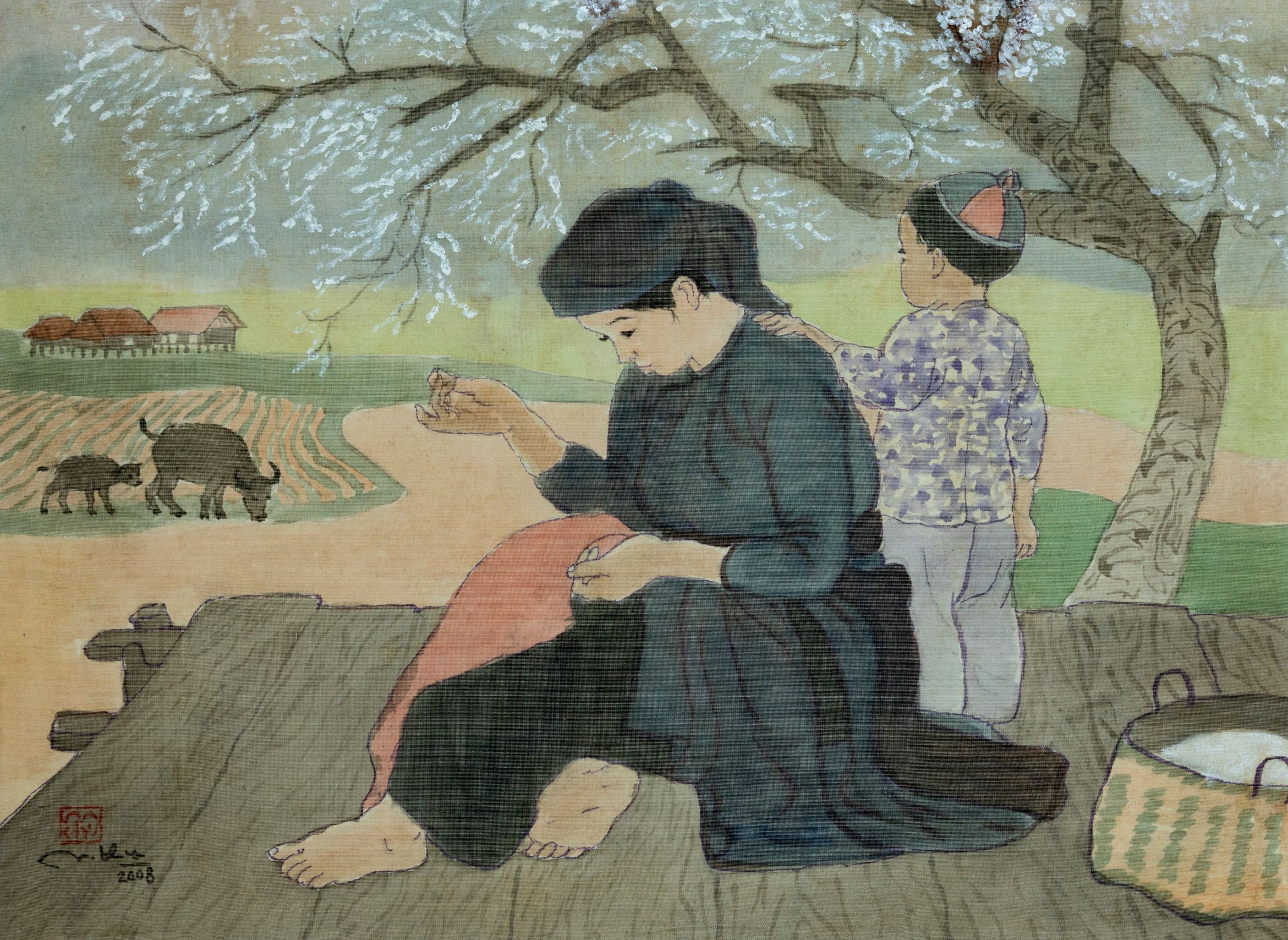 Artist Nguyen Thu is one of 15 students of the first course (1957-1962) at the Vietnam College of Fine Arts (now Vietnam University of Fine Arts). He is also one of the few painters who has devoted his entire career to researching, researching and creating many techniques to develop the silk painting field in Vietnam.
In particular, painter Nguyen Thu has always had a special affection for ethnic minorities in the northern mountainous region. Silk painting title Mother and daughter showing a unique style, straightforward yet emotional drawing about the mother and daughter of ethnic minorities welcoming spring.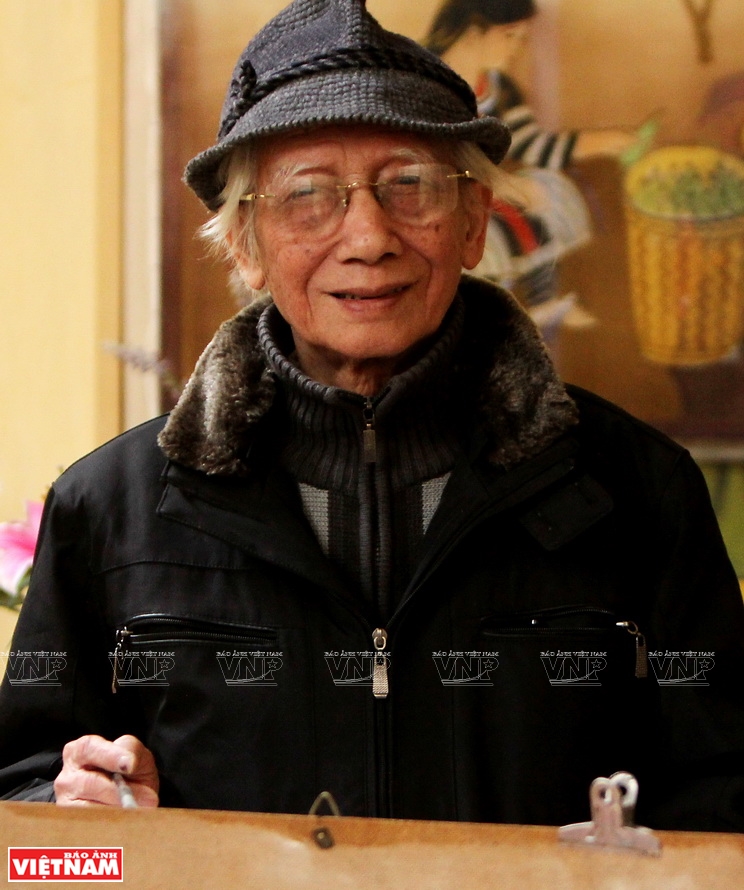 His silk paintings appeal to international professionals. Artist Nguyen Thu's paintings often have a simple, rhythmic layout, harmonious colors, condensed content, and the most outstanding and subtle expression is the unique technique that he uses on silk. . Through his creativity, the talented artist creates a poetic and fanciful space and overcomes most of the common weaknesses of the silk genre.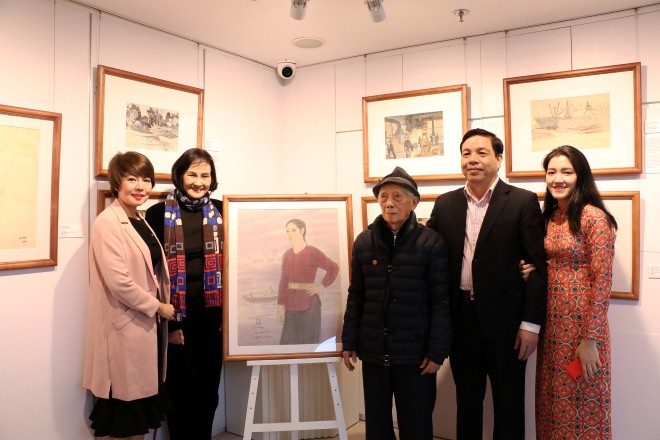 Thanks to his works, the art of silk painting in Vietnam has reached a new level. The dedication, enthusiasm and love of the profession make painter Nguyen Thu become an indispensable name in the history of domestic and international art.
Lacquer painting of New Year's Eve at Hoan Kiem Lake (1957) – painter Nguyen Tu Nghiem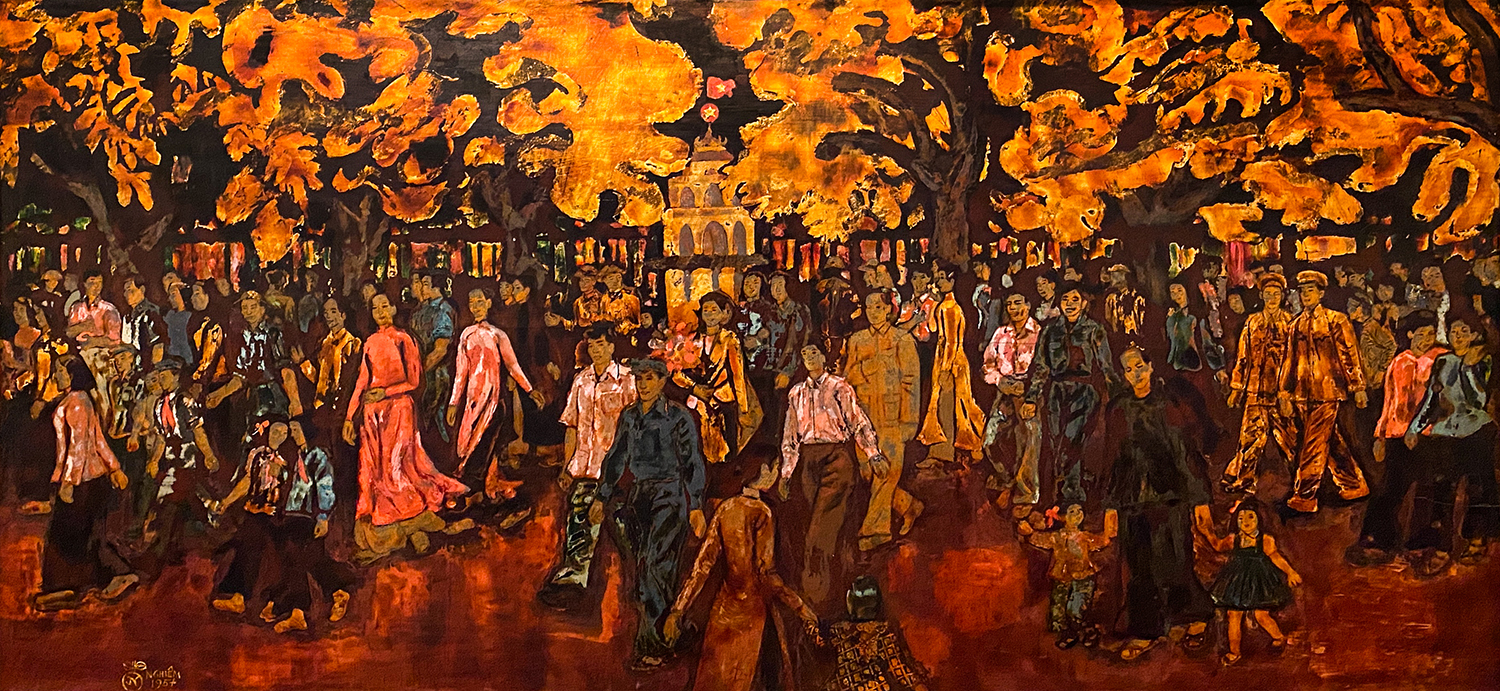 Since he was a student at Indochina College of Fine Arts (now Vietnam University of Fine Arts), painter Nguyen Tu Nghiem soon showed his talent and distinctive style with his oil painting. Temple guard. After graduating, he devoted all of his energies, intellect and affection to painting.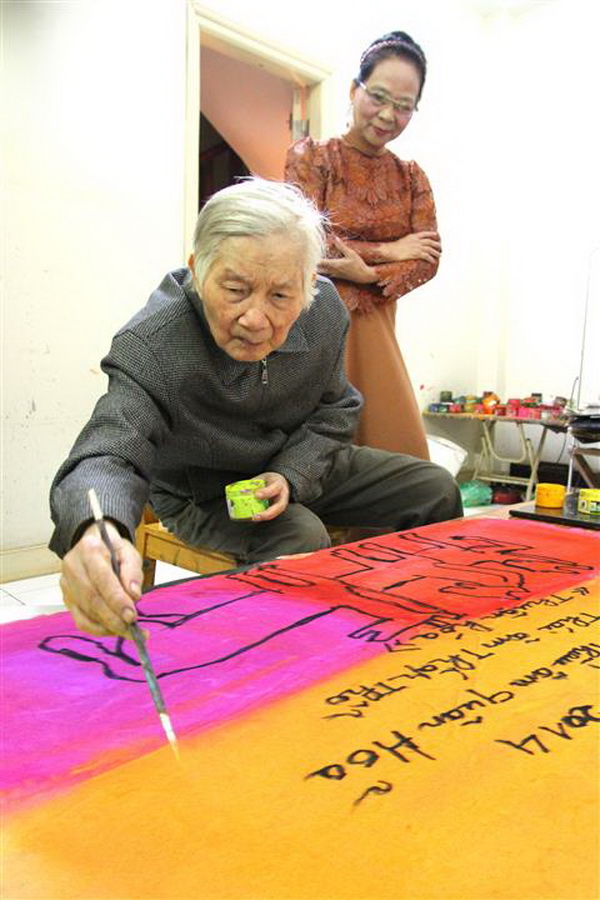 Painting lacquer work New Year's Eve at Sword Lake, composed in 1957, is considered to be the most prominent work of the artist in realizing socialist realism through an authentic and impressive perspective.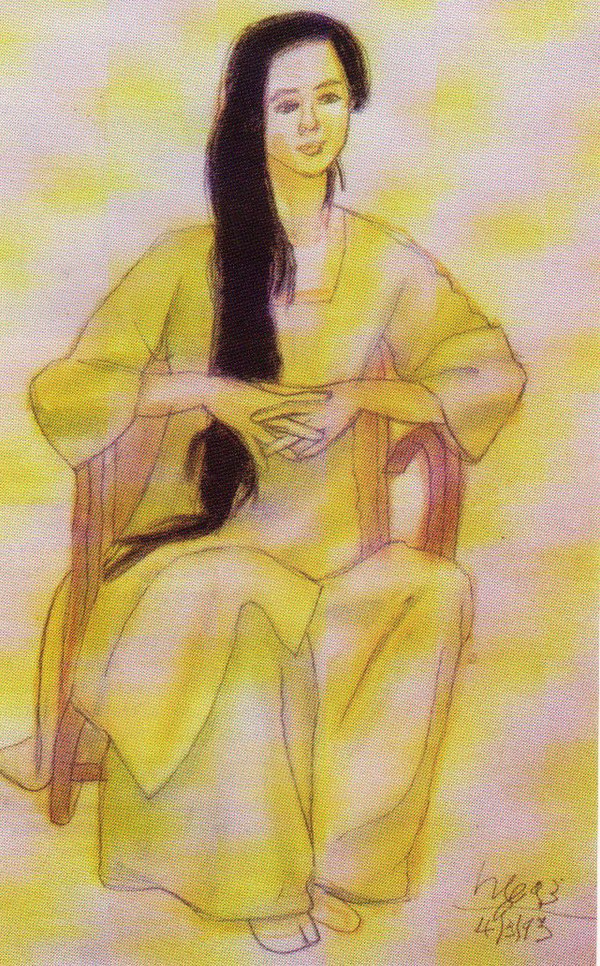 His works are appreciated for the enormous amount of information, rare aesthetics and unique expression style, full of personality that no one can copy. With a deep understanding of traditional culture of Vietnam and the East, combined with his belief in modernism, painter Nguyen Tu Nghiem impressed with works with strange structure, showing on the background original colors often seen in folk paintings. It is this subtle aesthetic that brings his name and his works across national borders, contributing to making the mark of Vietnam in the international painting map.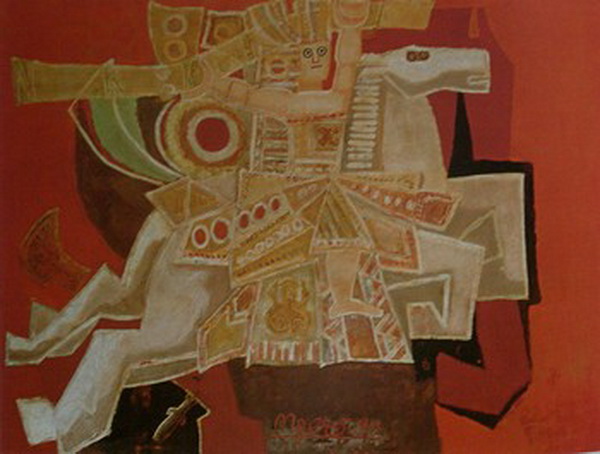 Along with contemporary painters such as Duong Bich Lien, Nguyen Sang, Bui Xuan Phai, painter Nguyen Tu Nghiem is a talent in the four masterpieces Nghiem – Lien – Sang – Phai and a person with many important contributions to the development of Vietnamese art.
My Hanoi wood carvings (1985) – Artist Dinh Luc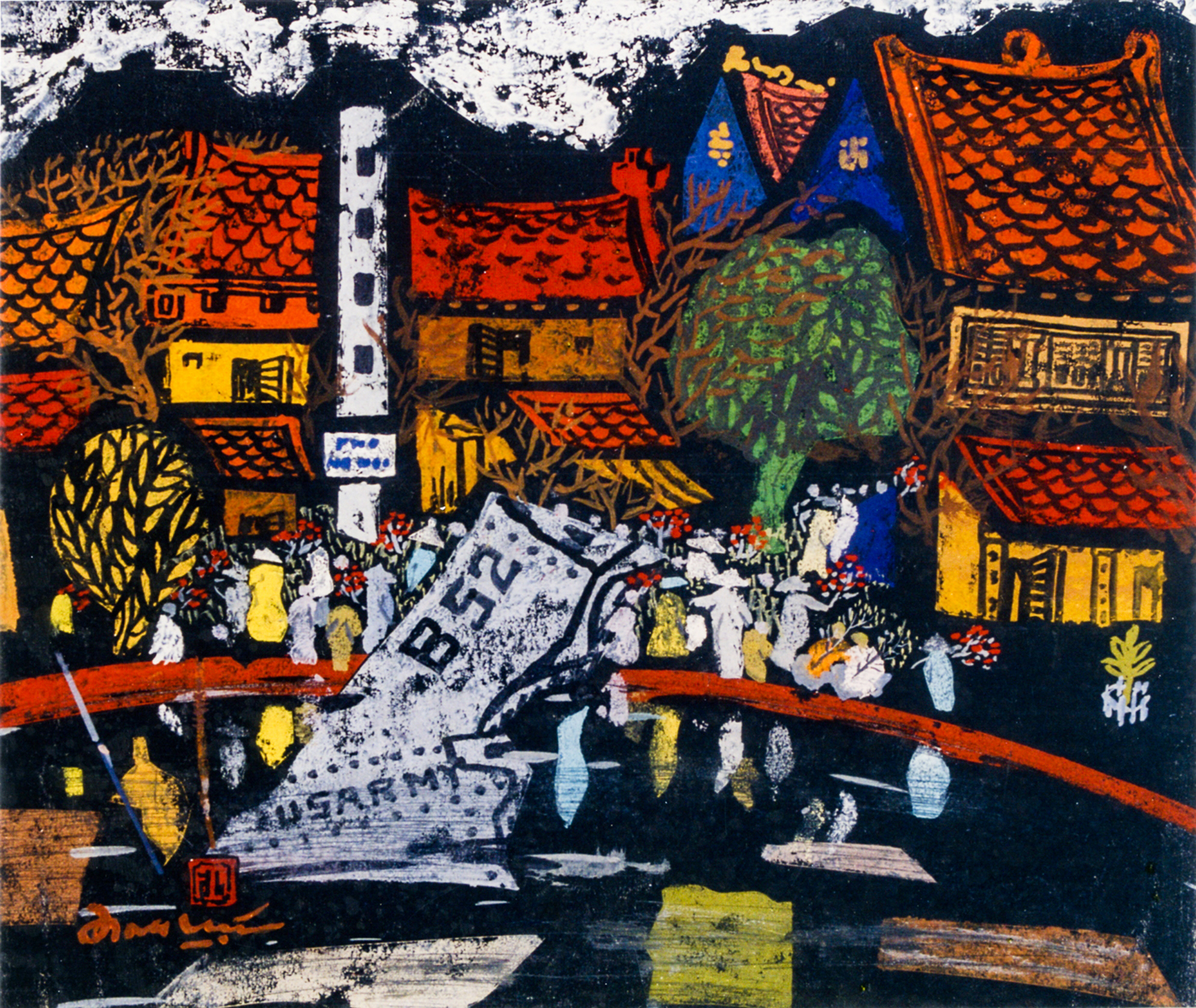 As a child of Ha Thanh land, right after deciding to follow the painting career, painter Dinh Luc chose his own path in the field of graphics and wood carving. In particular, the throughout themes in his works are the old town and people of Hanoi. His love for the place where he was born and raised, combined with modern senses and aesthetics influenced by European art makes his paintings boldly personal but still full of emotion.
Wood carvings My Hanoi born in 1985 depicts the bustle and bustle of buying flowers on the banks of Huu Tiep lake. Surrounding it are the houses with the typical ancient architecture of the capital. The American B52 plane is placed in the middle of the frame to create an impressive contrast in colors, lines and expression.
It is known that, in addition to the passion for researching wood carving techniques, painter Dinh Luc also constantly learns about ancient traditional culture. He always pays attention to putting folk cultural materials, customs and habits of regions into his works in the form of stylized patterns or content expression. As a result, the artist plays a huge part in promoting Vietnamese culture, traditions and people to international friends. It can be said that painter Dinh Luc is a defining character in the history of the country's painting, greatly contributing to the development of the modern wood carving field.
Lacquer painting for New Year's Eve (1958) – Artist Le Quoc Loc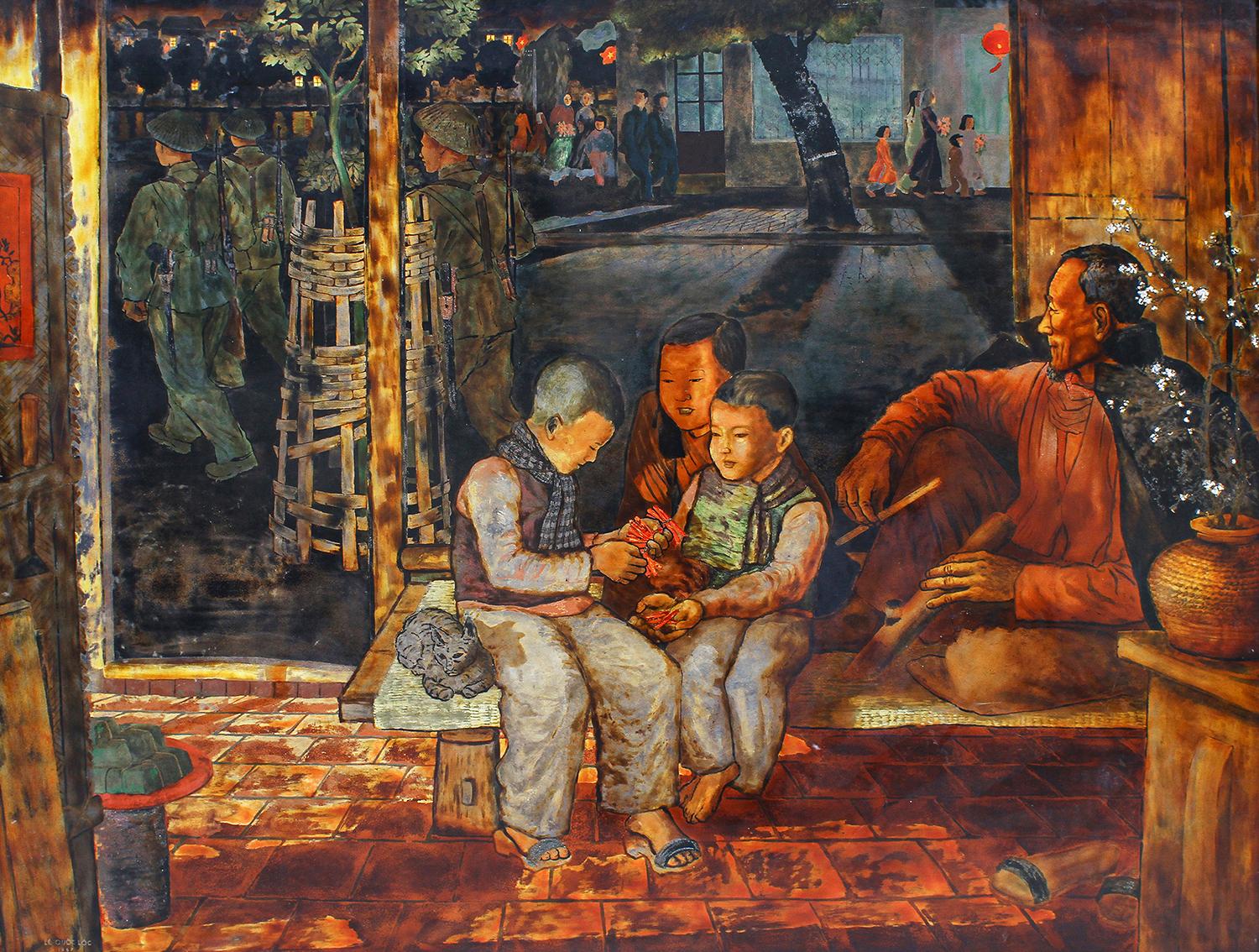 Considered one of the important talents in the golden period of the country's lacquer art, painter Le Quoc Loc has works that are highly appreciated by domestic and international professionals. He has extensive knowledge of traditional handicrafts but is always diligent in researching, exploring and developing new expression techniques and topics in composition.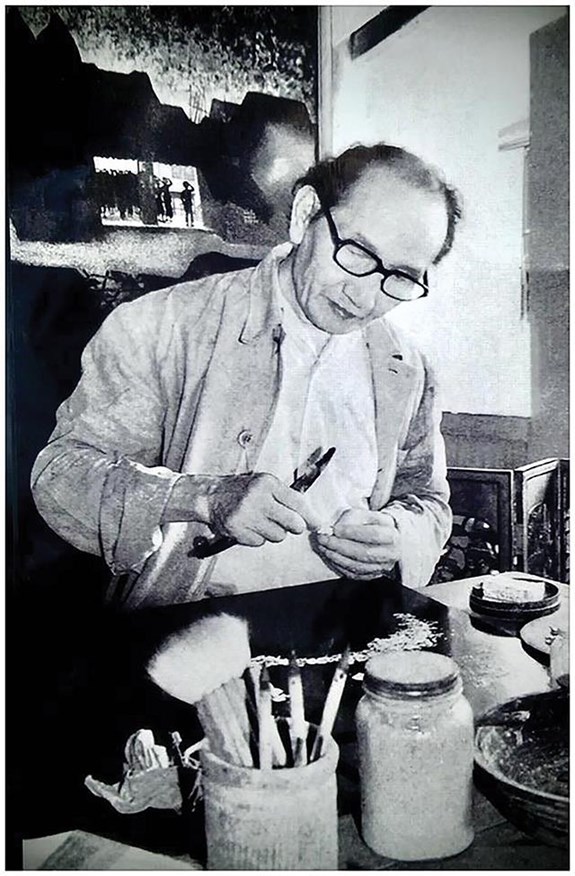 Common topics in his works are resistance and revolution. The artist has for a long time observing and accumulating knowledge, experience and feelings towards the life of the resistance. Lacquer painting New Year's Eve His 1958 drawing showed compositional creativity when placing groups of characters, content consistency and creative effort on lacquer techniques. With overlapping light patches of color, yellow is used a lot on the work but does not evoke uncomfortable glare, but creates a subtle depth of space.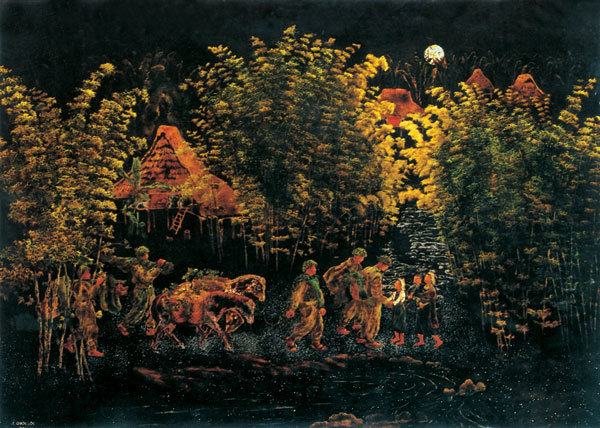 Artist Le Quoc Loc almost devoted his entire career to composing lacquer painting. As a result, for many decades, Vietnamese lacquer painting art has had unique works, contributing to promoting the development of the country's fine arts.
Spring engraved paintings on the Central Highlands (1962) – Artist Tran Huu Chat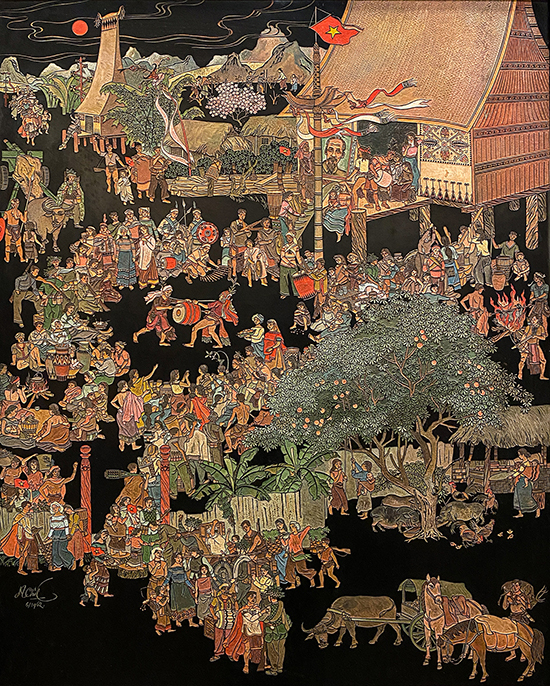 Once a student at the Vietnam College of Fine Arts, painter Tran Huu Chat then spent a lot of time studying abroad. Common topics in his works are the revolutionary war, traditional culture, festivals of ethnic minorities in different regions of the country.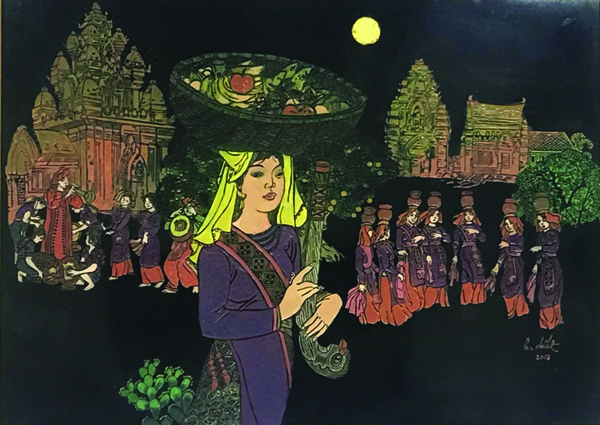 His engraved paintings are notable for their delicate lines, neatly combined with vibrant colors. It is known that engraved painting, an art form with a long history in Vietnam, is a highly demanding genre of artists, especially the concentration right from the sketching, composition and composition stages. light and dark patches. Every small detail (in millimeters) needs precision, meticulousness and meticulousness. Therefore, an engraved painting will often take a year to be completed.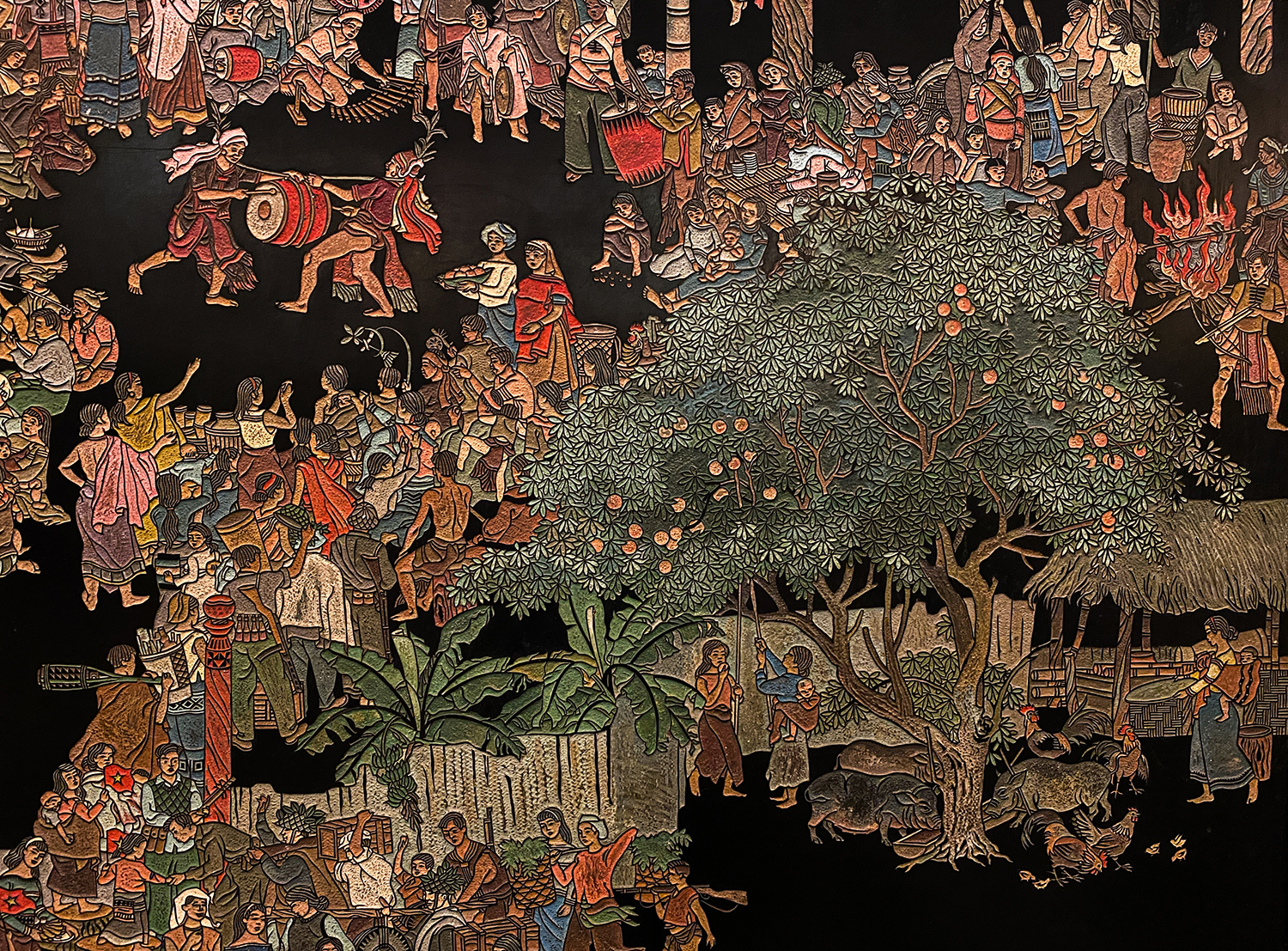 Work Spring in the Central Highlands shows painter Tran Huu Chat's efforts to portray a bustling scene, with lots of activities by the upland characters. In addition, he also has many outstanding paintings, giving the artist the 2011 State Prize in Literature and Art. This is a tribute to his contributions to the painting background. country.
Article: Gau Truc.
Source: vnexpress, tapchimythuat, wiki.
Carl Mehling – Artistic tracing in urban pavement marks
Learn about the age-old Kamishibai street storytelling culture, the premise of the first manga writers in Japan
Agnes Pelton: 'All my abstract paintings have to do with light, because light is all this life.'