During the Bitcoin craze and global scarcity of semiconductors, the prices of computer components and especially video cards are skyrocketing. The fact that buyers have to pay one and a half, even two or three times the amount before to buy video cards is happening. It is the fact that VGA price has not stopped making many gamers unable to afford, or not be able to own, a graphics card for gaming. Many gamers are very "craving" graphics cards to the point where they have lost their appetite and waited for Bitcoin to plunge in value to be able to buy "buffalo VGA".
However, life is not like a dream, when Bitcoin is still extremely hot recently and owning a cheap "VGA buffalo" is completely impossible. To "quench the cravings for VGA", some gamers have found new unique ways to withstand this stormy period. Like player Pha Hoang below, this gamer created his own "RTX 3090 limited edition" card made of carton for viewing.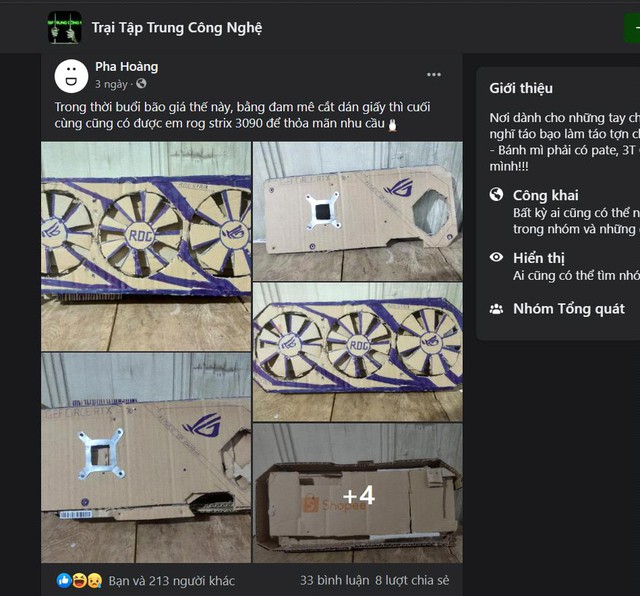 Specifically in the Tech Concentration Camp group, a gamer named Pha Hoang shared the image of the "RTX 3090 limited edition" graphics card made of his extremely unique carton, making everyone in the group. Everyone must admire the ingenuity of this gamer. It's hard to believe, but the cartons that are often thrown away after people take out the contents can also make the most powerful and powerful graphics card today. With his skillful hands, this Vietnamese gamer has made everyone ecstatic about the unique homemade RTX 3090 "cardboard" graphics card.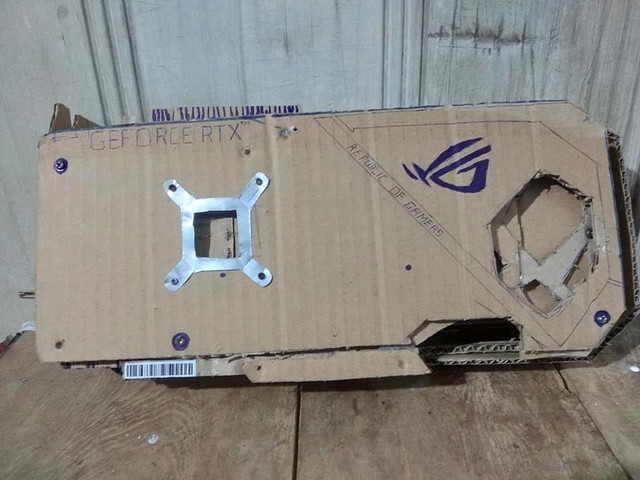 According to gamers Pha Hoang, because this is the time of storms, it is difficult for Hoang to own a real RTX 3090 graphics card to play games, so Hoang spent a lot of time working on ideas. and made this RTX 3090 "cardboard card" card to satisfy my indulgent passion. Minh spent a lot of free time drawing, cutting, and joining pieces of carton together to complete this unique graphic card. After being shared, Hoang's article quickly attracted the attention of other gamers in the Tech Concentration Camp group, everyone praised Hoang's work.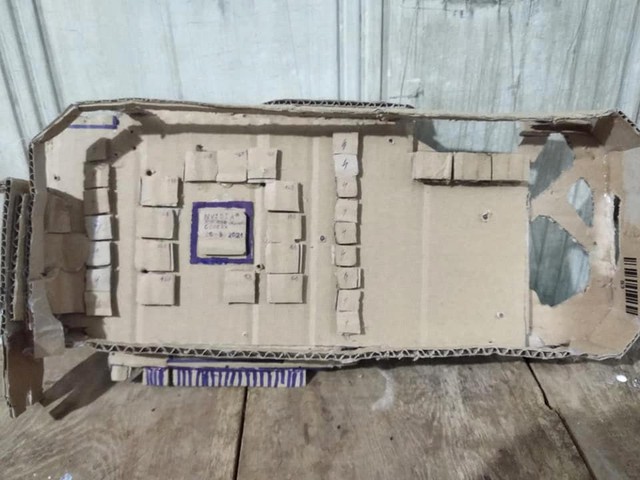 Through the pictures taken of this homemade RTX 3090 "made of carton" graphics card, gamer Hoang skillfully created and installed each component part cut out by Hoang from Shopee's box. It must be said that our main character is extremely skillful as well as capable of imagining, drawing, and arranging extremely well to be able to himself RTX 3090 graphics card "made of carton" very complicated like this. .
Through the above work, it can be seen that the creativity of gamers is unlimited. With passion, gamers can do many great things or at least it is very interesting and memorable.