Using USB Disk Security, protecting the USB, computer data is one of the methods that people who use USB to copy data often perform. There are many dangers through the USB connection port and USB Disk Security software is a powerful assistant to help you feel secure when plugging the memory card, USB into your computer.
Related posts
Turn on and off USB Disk Security automatically starts with Windows on the computer
Install and use USB Disk Security to protect USB safely
Uninstall and delete the USB Disk Security software on Win 7, 8, 10
Set password to protect USB with USB Flash Security
Instructions for creating Kaspersky Rescue Disk USB, computer virus
You want to protect your computer from virus programs spreading via removable storage devices such as removable hard drives, USB drives. The following article will guide you on how to use USB Disk Security to protect your computer data.

User manual:
– To use the best software, you should install the latest software version on your computer. You can download the latest version of the software here: Download USB Disk Security (See how install USB Disk Security )
After the installation is complete, you open the software up, the program has the interface as shown below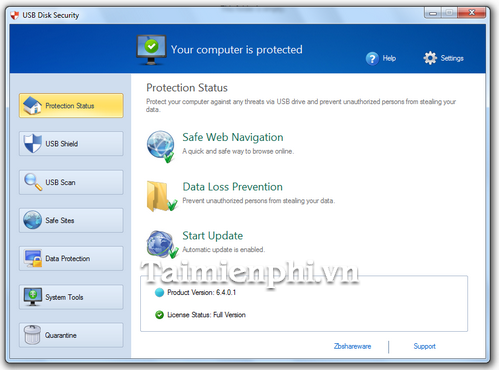 * At USB Shield:
When you use a USB device or removable storage device to connect to your computer. the program will automatically detect viruses and notify you via USB Shield card. If it detects a virus, the software will automatically warn.
Want to delete the virus you click Delete All to destroy found dangers.
Alternatively, you can press the button Safe Open to access the data on the USB in safe mode. In this mode, any virus is hiding on the USB will have no chance to spread and destroy your system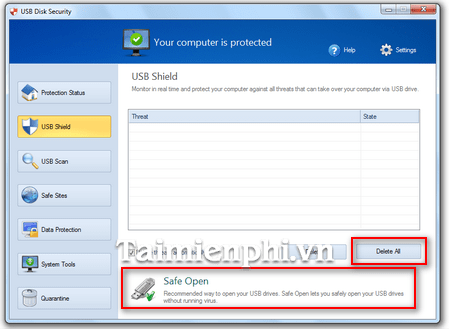 * At USB Scan:
– To scan for viruses on the entire USB, you select the card USB Scan on the left then click Scan. After the scan is complete, press Delete All to kill virus (if any).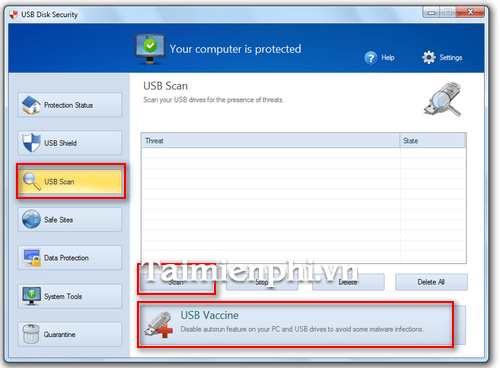 -If you want to protect your device against the dangers of Virus, please use this feature USB Vaccine. This feature allows your usb to avoid being penetrated by Viruses. In USB Vaccine there are 2 modes Vaccinate Computer and Vaccinate USB.
Vaccinate Computer lets create a shield that protects your computer.
Vaccinate USB is the mode that protects the USB device from viruses and spyware.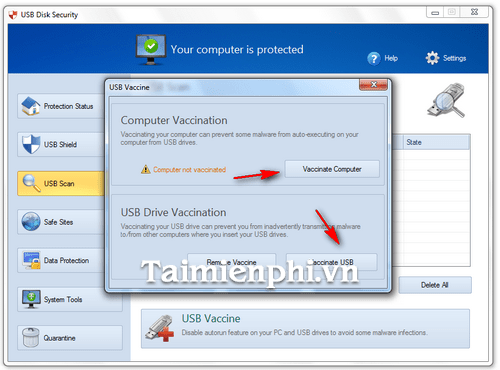 At Data Protection: Allows detection and prevention of viruses spreading via USB.
Feature Data Protection There are two USB protection modes USB Access Control (Create USB protection by preventing access) and USB Drive Control (disable USB port on the computer).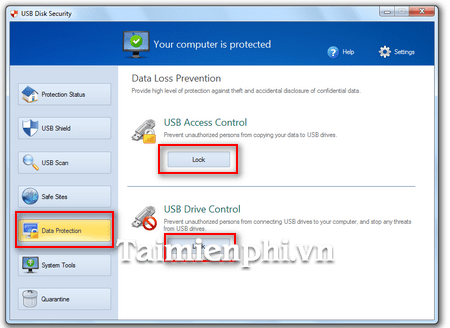 To set a password for the USB device, click USB Access Control or USB Drive Control, A small window appears. This window asks you to enter the password to protect. Please enter password protection in the box New password and Confirm password then press OK is to be.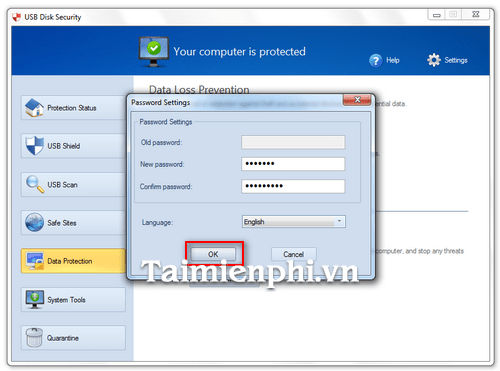 When you want to disable either feature, select the card Data Protection then press the button Unlock.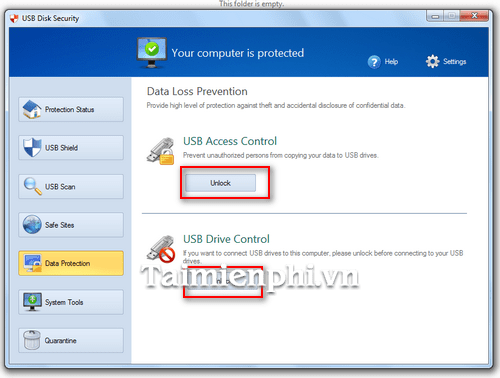 Then, a small window appears asking you to enter a password. Please enter the password you set up initially in the box Password, press OK and remove the USB from the computer.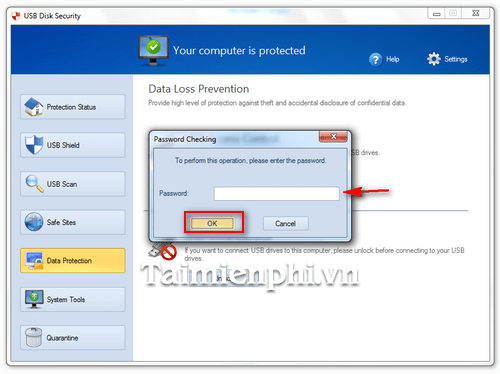 When the USB Access Control feature is enabled, data from the computer cannot be copied to USB, but data can still be copied from the USB to the computer.
USB Disk Security provides users with the ability to detect and remove viruses spreading from USB-connected devices. The software is built with rugged protection that includes many high-security features to help you protect your computer from unpredictable threats. In addition, this software also allows you to work in parallel with other anti-virus software to protect your computer better.
Hopefully, after this article, you know how to protect your computer against the spread of malicious software viruses and spyware spread through USB-connected devices.
https://thuthuat.taimienphi.vn/cach-su-dung-usb-disk-security-bao-ve-du-lieu-28n.aspx

.