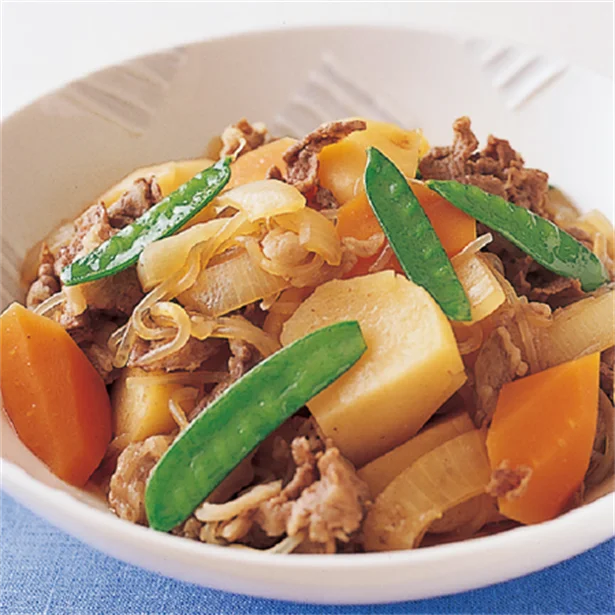 Short working hours!Taste meat potato
Meat and potatoes
Spicy meat potato
Easy meat potato
Taste meat potato
Nikujaga with a delicious taste that is soaked in the ingredients. Do you avoid making busy days because it takes time? So this time, I will introduce a time-saving trick that makes it easy to make meat and potatoes. You can make meat and potatoes that go well with rice without having to simmer them carefully!
Short working hours!Taste meat potato
[Materials for 2 people]
Potatoes … 2 pieces (about 300g), thinly sliced ​​pork … 150g, onions … 1/2 pieces, shirataki noodles (without sardines) … 150g, combined seasoning (soy sauce … 2 and 1/2 tablespoons, sugar, mirin … each tablespoon 1, salad oil)
[How to make]
1. Wrap the two potatoes together with plastic wrap and heat in the microwave for about 7 minutes. When the bamboo skewers pass through, soak the plastic wrap in water for about 10 seconds, remove it, and peel it. Cut the onion into a 1 cm wide comb and cut the shirataki noodles in half. Cut the pork into 5 cm widths.
2. Heat 1 teaspoon of oil in a frying pan over medium heat, add pork and fry until the color of the meat changes. Add onions and shirataki noodles, fry quickly, add seasonings and mix. Add 1 cup of water, cover and simmer for about 3 minutes.
3. Cut the potatoes into 4 to 6 equal parts, add and simmer for about 2 minutes until the broth is low.
(488kcal for 1 person, 3.3g salt)
* In this recipe, the microwave oven is based on 600W. Please heat 1.2 times for 500W and 0.8 times for 700W. Also, there are differences depending on the model, so please heat while watching the situation.
If you heat the potatoes in the microwave in advance, the stew time will be shortened. Simply entangle Hokuhoku potatoes in the broth and you'll have a delicious Nikujaga that is soaked in flavor.
..