Smart TV products branded LG, Samsung, Sony are all being discounted by electronics supermarkets, the decrease of up to 50% makes users surprised.
This discount campaign aims to stimulate consumer demand at the end of the year. Specifically, the LG 4K 86-inch smart TV model is currently offering a 53% discount. After applying the above discount, LG 4K 86 inch smart TV is only 69.9 million dong. The 77-inch LG 4K OLED Smart TV also offers a 45% discount to VND357.5 million.
Similarly, the 75-inch Samsung 4K smart TV model is being discounted by 45% to 28.9 million dong. And the 85-inch Samsung 4K Smart TV QLED TV has a 35% discount to VND 64.9 million. Next is the 82-inch Samsung 4K Smart TV QLED TV, down 35% to 49.9 million.
Sony TV models are no exception. Most of Sony's TV models are also discounted more or less. In particular, Android TV Sony 4K 75 inch is being discounted to 44.9 million, or 10% down from the previous month (49.9 million). Or Android TV Sony 4K 75 inch is also discounted 1 million VND to 34.9 million VND.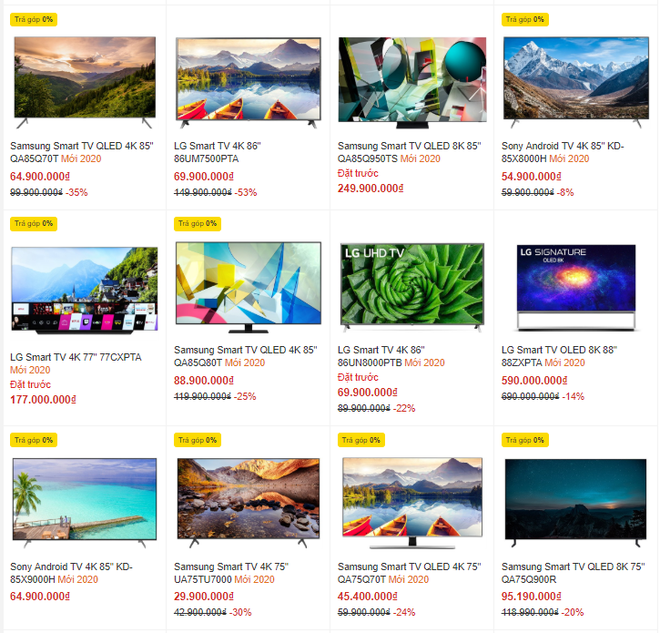 Many TV models hit the floor price.
In addition to direct discounts on products, users who buy TVs at this time also have the opportunity to receive attractive gifts up to several million VND.
Mr. Nguyen Trung Thanh – owner of an electronics store at Nguyen Luong Bang said: "In order to stimulate consumer demand as well as discharge inventory and import more new models, my store decided to lower the price of many luxury TVs to low prices so that everyone could buy.
Although the offer is attractive, it seems that customers are not very interested. Some sales staff at the electronics supermarket said that on average, the store only sells 1-2 units per day. Sometimes it can even be sold a week.
Currently, the global QLED TV market, led by Samsung, is expected to reach 2.44 million units, up 83.9% from a year earlier. The global OLED TV market, dominated by LG Electronics, is expected to grow 35.7 percent from a year earlier, reaching 904,000 units.
.