We have so many web browsers to use, but it is surprising to know that even some popular web browsers cannot handle download management. Often, users hate the lack of resume when downloading, which is one of the reasons why you should use effective download software.
There are many other reasons such as increasing download speed, the ability to manage multiple downloads without affecting the browsing experience, etc.This article will list the top download support software for Windows.
11 most effective antivirus software for Windows 2020
Discover great free software
9 best free download managers for Windows
1. Free Download Manager
2. Ninja Download Manager
3. EagleGet
4. Download Accelerator Plus
5. JDownloader
6. uGet
7. Xtreme Download Manager
8. iDownload Manager
9. Free Rapid Downloader
1. Free Download Manager
Free Download Manager – commonly known as FDM – is a combination of an easy to use interface and a set of powerful features. In addition, FDM is a great alternative to Internet Download Manager. Using the Free Download Manager software, users will find the download speed significantly improved. The pause and resume download feature at any time is a very useful feature for people who use Chrome. In addition to HTTP and FTP, FDM also supports fast torrent downloads like other tools out there.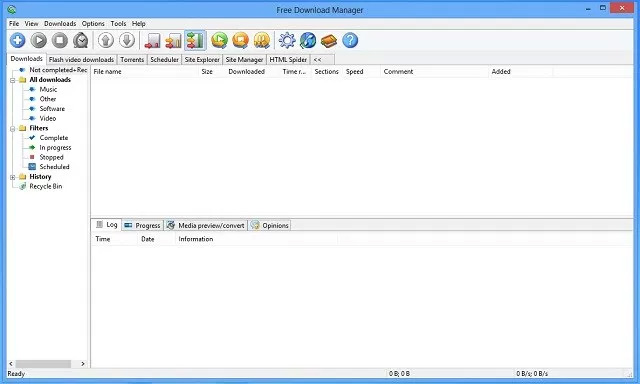 One of the other notable features of Free Download Manager is the ability to store different files in different folders, making it easy for users to manage files. In addition, FDM has an integrated media player that helps you view downloaded files without opening another tool. Free Download Manager has a Lite version and this version includes features that can work smoothly on low-profile computers.
Free Download Manager is simply a great download management software for Windows, especially for those who like a free, open source software, ad-free user interface.
2. Ninja Download Manager

Ninja Download Manager is an option that allows users to extend Chrome to get some advanced capabilities when downloading. This tool is actually an extension of Download Ninja, this is a full software download support for personal computers. By installing this extension in Chrome browser, users can download Ninja Download Manager with just one click. All of its features are excellent.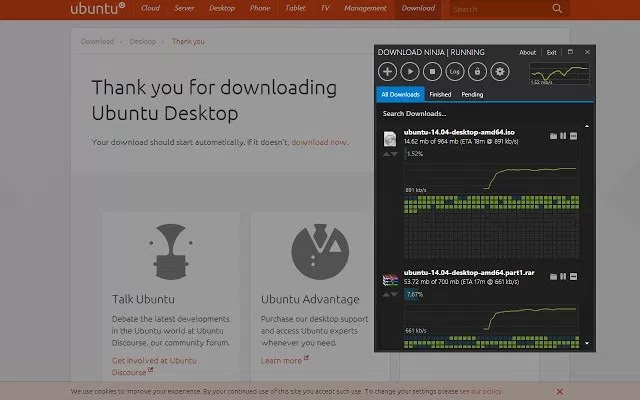 In addition to stopping and continuing to download content, it also has features such as queuing downloads, speed limits, support for multiple languages, themes, and the ability to edit the theme according to your preferences and needs. . If you consider all of this, Ninja Download Manager is really a great Chrome extension that you should have.
3. EagleGet

EagleGet is a smart, modern download management software that helps to download all types of media files easily. It boasts download speeds, automatic malware checking, batch downloading and a lot more.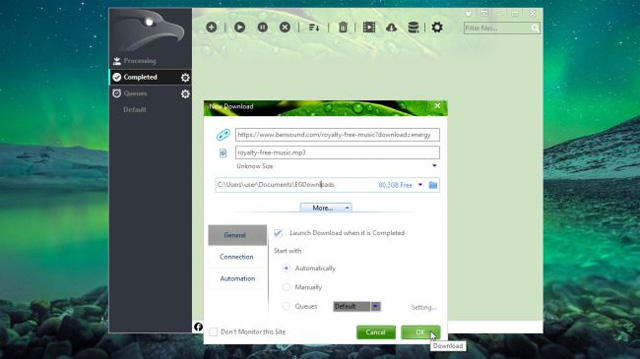 EagleGet's browser extensions work with Chrome, Firefox, Opera and Internet Explorer, identify downloadable content on pages, and allow it to be retrieved with just a few clicks.
4. Download Accelerator Plus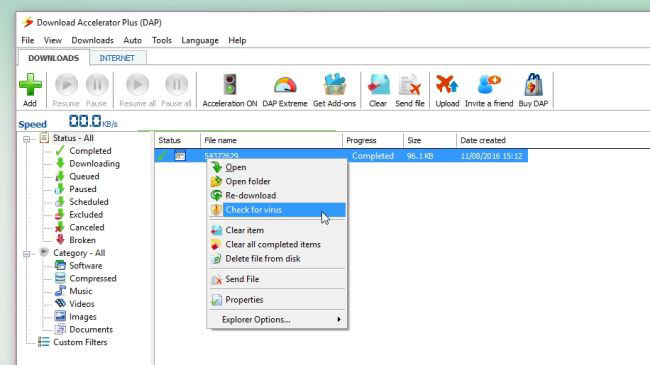 The free version of Download Accelerator Plus is a shortened version of the premium option, but it is not only a demo but contains all the necessary features you need for a fast, reliable download.
The free version lacks DAP Premium's privacy protection, but includes a link checker, video preview, file converter, secure download, and multiple connections to speed up downloads.
Download Accelerator Plus can help you avoid issues like slow servers and Internet congestion.
5. JDownloader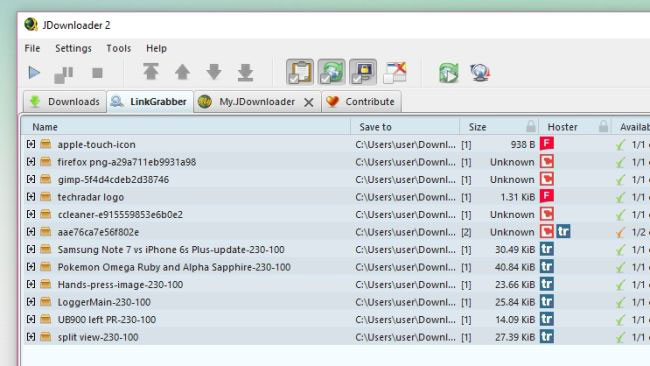 JDownloader is a free, open source download tool with a large developer community, available for Windows, Linux and Mac.
This is really an application for advanced users, with the support of more than 300 decoding plugins, automatic RAR extraction, password list search and OCR to complete some capturing images. "I'm not a robot" you encounter on download websites.
You will need the Java Runtime Environment to run it and be careful when installing. The installer contains adware, which will be bundled with the download manager if you don't specifically deselect it. Also, beware of fake Download buttons on your site; The actual download link is a line of text.
6. uGet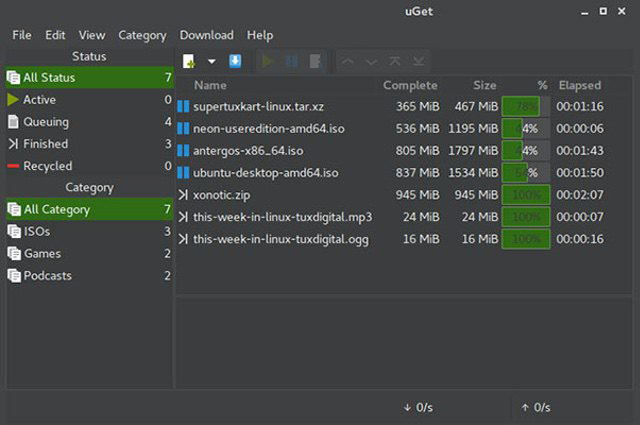 uGet is another open source download support tool for Windows, completely free to use. It offers features like multi-connection download, using file splitting to speed up downloads, batch downloading with file queues, and the ability to resume or pause downloads without having to start the download again. from the beginning.
The application will automatically adjust the interface based on the color scheme and icons of the operating system installed on it. In addition to the usual light and dark themes, uGet comes with many different themes, really making this app stand out from the rest of the options.
7. Xtreme Download Manager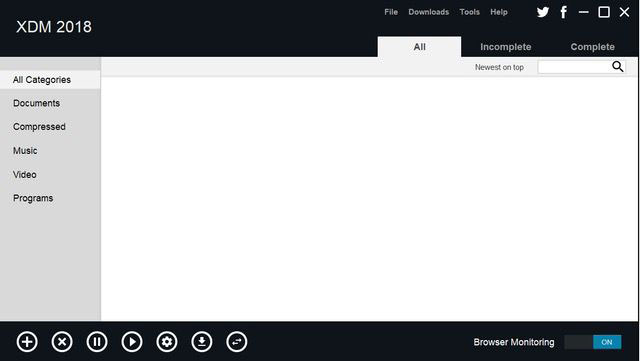 Xtreme Download Manager is one of the oldest download support tools available for Windows and it works very well. This application is best suited to handle video content downloads because it supports link analysis for most major video platforms, including YouTube, Dailymotion, Facebook, Vimeo, Google Video and more than 1000 other websites. .
That's not only good when downloading videos. Like all other download managers on this list, Xtreme Download Manager works with all file types. One of XDM's favorite features is the ability to download entire playlists from YouTube without the need for an input link for each video.
8. iDownload Manager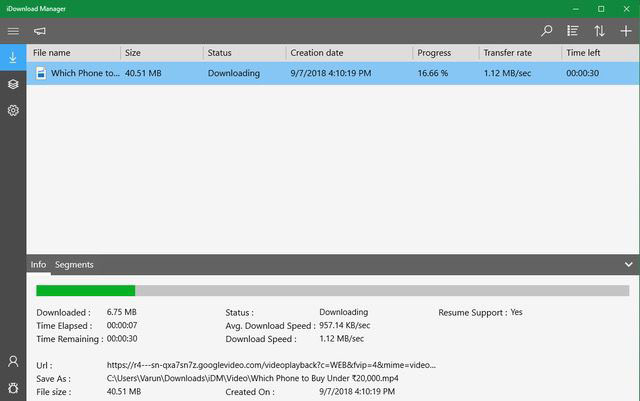 iDownload Manager is a small but powerful download management utility for Windows. The best thing about iDownload Manager is that it is available on the Windows Store and you don't have to go through the setup process or anything. Just click the install link and it will be installed on your computer.
Even if you are using a Windows S version (limited edition users only use Microsoft Store applications), you can still use this application. When it comes to features, iD Download Manager provides all the features that users expect from a good download support tool.
9. Free Rapid Downloader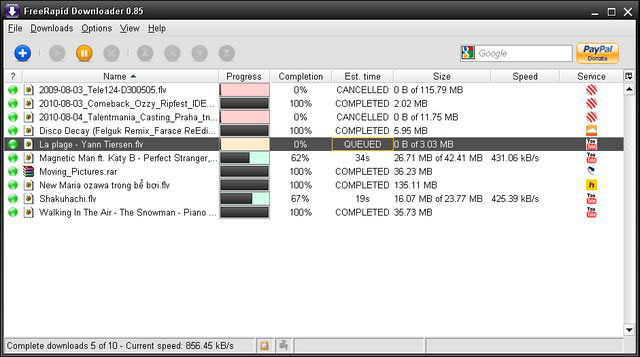 The last download manager application for Windows on the list today is Free Rapid Downloader, a pretty good download support tool with all the important features. It is an easy-to-use Java downloader that supports downloading files from Rapidshare, Youtube, Facebook, Picasa and other file sharing services.
Other features of the app include support for simultaneous download from multiple services, file download with proxy list, support for video or image streaming, smart clipboard monitoring, etc. If you download Lots of files from file sharing websites, this is the best support tool for you.
.