For social networking sites, to attract the attention of people there are many ways and among them are animations or photos with animation effects. This type of image is easy to catch the eye, increases the visibility, likes and comments interactively.
If they are experts, they will probably choose Photoshop software to create animation effects for images. However, this is a tool that takes time, patience and a few skills. For amateurs and want to create animations, it's best to choose an easier tool. In this article I will give you the online applications and tools for creating simple animations and effects much more than Photoshop.
Recently I have shared an article on how to create animations from Youtube in great detail that you can refer to if you want to create animations from popular video sharing platforms such as Youtube, Vimeo, …
content
Application to create animations on the phone
These softwares are capable of deleting and adding details other than your original photo. Whether you are a professional photo designer, photographer, or casual person, the following applications are available.
PixaMotion application
Price: Free.
PixaMotion is a leading free, powerful animation app. It is an application with a nice interface, easy to use and navigate to the functions. You can add effects, sound, and motion to your photos and there's a gallery for you to do, of course, indispensable photo filters.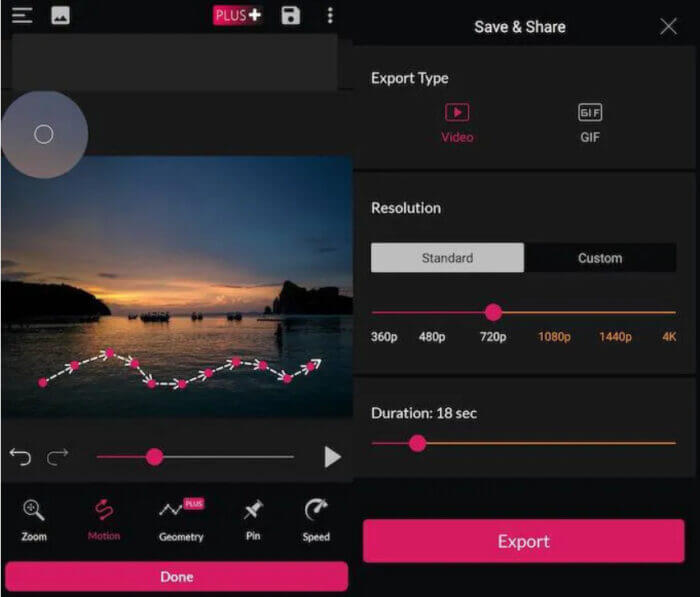 When designing, you have a choice of different animation modes. Usually we animate the whole picture, otherwise you can specify certain elements, adjust the direction of motion or keep them still as you like.
The output image of PixaMotion application is saved as GIF animation or as a short video. The great plus of this software is that it is free with no other conditions, so that you can download images without inserting the service developer logo.
Download: For iOS, Android.
Plotagraph application
Price: There is a free version, or a premium plan, starts at $ 19.99 per month.
If you do not want to pay fees to use Plotagraph's services, then use its free version. For even more add-ons, an unlimited media inventory, spend $ 19.99 per month or $ 99.99 per year (with a free 30-day trial).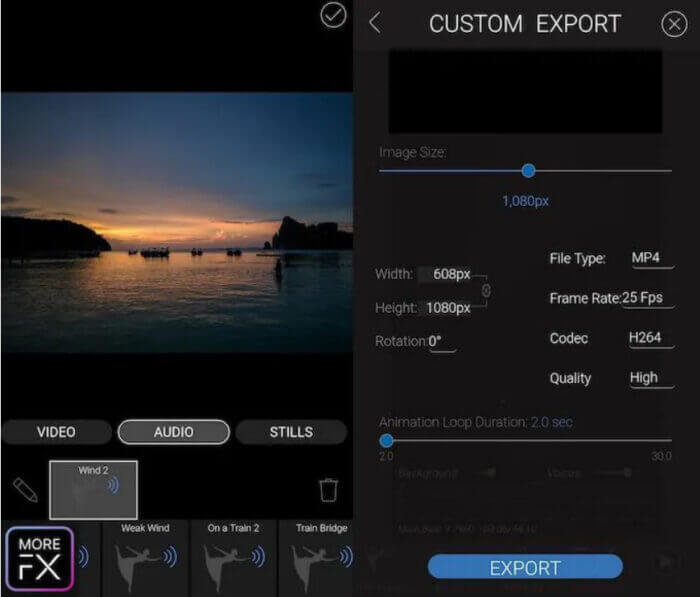 In Plotagraph you can apply a few different animation modes, along with other tools that will help you completely adjust the direction and speed of the animation. These include tools such as strangers, filter images, roofing and add sound from the program's library to create animations.
Plotagraph's biggest drawback is that it only allows exporting animations in video format. However this is not a problem as you can convert to simple GIF format.
Download: For iOS, Android.
Movepic – Photo Motion application
Price: Free, premium subscription starts from $ 1.99 per month (7-day free trial).
As a beginner, you will probably love this Movepic animation software. This is an application that supports standard features such as motion orientation, speed adjustment of animations …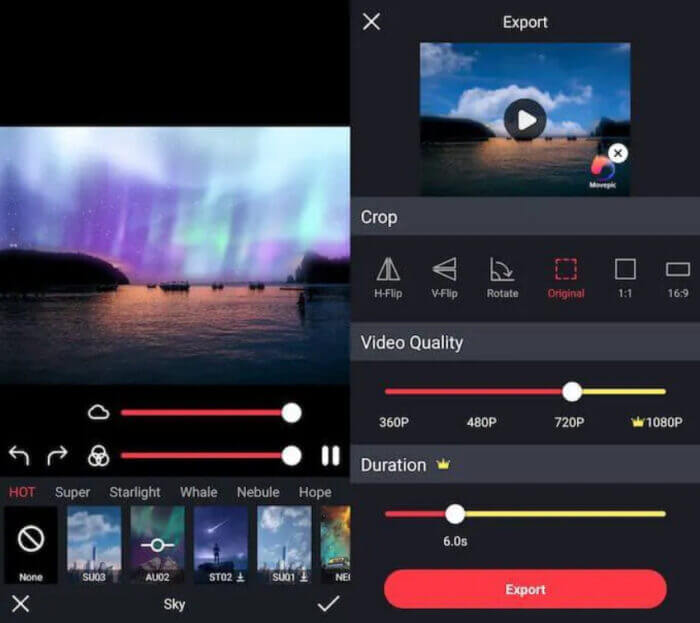 Movepic stands out from other applications, it is a huge library of effects, many available collections will give you many ideas for designing your own animations. Besides, this software has the ability to detect sky, water surface and use some filters to turn the scene into a new world.
The only downside of the Movepic app is that it shows the developer fuzzy logo when you export the image in the free version of the app.
Download: For iOS, Android.
StoryZ application
Price: Free, paid subscription starts at $ 1.99 per month.
Although it looks a bit less stylish, the StoryZ offers all of the Movepic-like functionality. You can use the camera's motion tools, choose the animation direction, as well as add photo effects, filters, and overlays to transform your photos.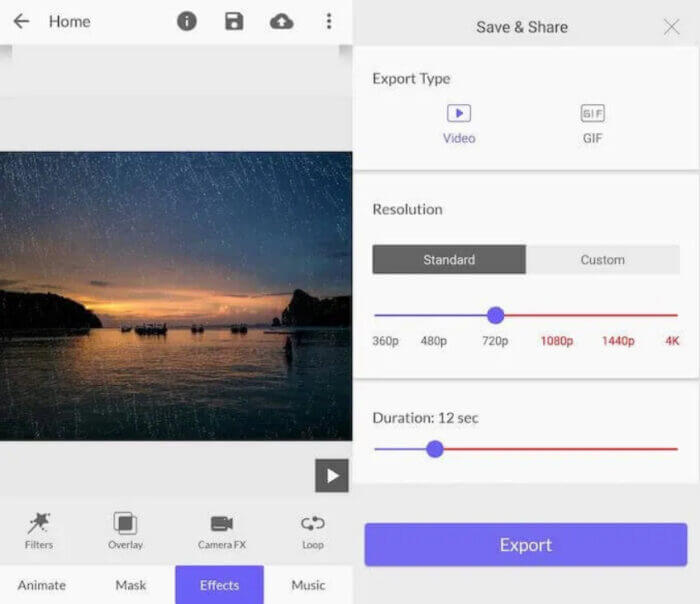 Unlike Movepic, StoryZ allows you to save your animations in both video and GIF formats. Alternatively, if you're willing to go through a short ad, you can remove the manufacturer's logo watermark when exporting your image.
Download: For iOS, Android.
Online animation tool
If you do not want to install the application on your phone, you can use the web-based online tool to create your own animations.
GIFMaker.me tool
Price: Free.
GIFMaker.me allows you to create online animations for stills as well as turn videos into GIFs.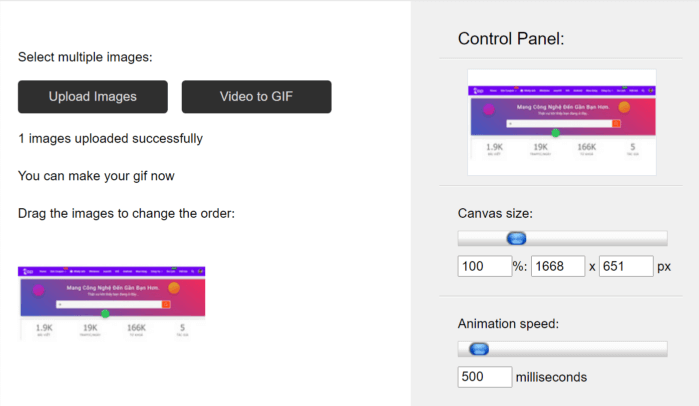 Compared to the other apps on this list, GIFMaker.me is simpler. The app requires you to upload individual frames (or images) to create an animated GIF. The maximum number of images you can upload is 300.
After you've uploaded all the elements to create the GIF, choose the desired image size (canvas size), animation speed, how many times you want the loop to be repeated (0 = infinite loop) and click Create GIF Animation. Alternatively, you can upload audio from the URL to add music to your GIF.
3Dthis engine
Price: Free.
3Dthis is a unique animation platform that comes pre-installed with a number of different tools for creating 3D animations and models. You can create 3D images from human faces, 3D panorama …
From creating 3D models of human faces to animating – this 3D has an app to turn any of your images into 3D images and add sound to any object on your image.
This online software has a slightly outdated interface, but with the help of 3D you can design your own free 3D animations.
Epilogue
Some images are fine and don't need to be turned into GIFs or looping videos. However, if you are running out of content to share on your social networks, the online tools and apps from this list can be very helpful. Animation software can easily create the most boring photos on Instagram.
Hopefully this article will help you find a suitable animation tool for you and if you have any other questions or suggestions related to the article, do not forget to leave your comments in the section below.
Wish you all success!
The post Top 6 ways to create GIF animations online or by application appeared first on Computer Tips – Informatics for you.