Speaking of electric cars, everyone thinks of these as cars that are quiet, smokeless and seem to be the inevitable trend for the change in the industry of two-wheel vehicles to protect the environment and preserve resources. In Vietnam, the electric motorcycle market has become more exciting than ever when only in 2019, a series of electric vehicle manufacturers have launched new products as well as entered our country's market.
With names like Pega, Vinfast, MBI or even Honda participating in this market, we can completely believe that in the future, electric cars will partly replace gasoline-powered motorcycles in the market. with usability and power no less edge.
Here are the top 5 electric motorcycles that have been launched in Vietnam in 2019.
1. Pega NewTech
Right from the beginning of 2019, Pega has launched a breakthrough product with the name Pega NewTech. This is an electric motorbike with a pretty scooter style and many utilities.
Electric motor Pega NewTech
Pega NewTech is equipped with Pega engine block of BOSCH like on the car Vinfast Klara with a power of 1,500W and can reach 2,250W. With this engine block, according to manufacturer specifications, the vehicle is capable of reaching a maximum speed of 60km / h.
This electric motorcycle impresses with a range of up to 90 km when fully charged, a maximum speed of 70 km / h and has a selling price at the time of launch of VND 25 million, competing strongly with Klara's Vinfast.
2. Honda PCX Electric
After the launch of Pega NewTech at the beginning of the year, in March 2019, Honda officially embarked on the implementation of the research project "The trend of moving by electric vehicles in Vietnam" and the means to implement the project. This is the model Honda PCX Electric electricity is quite spectacular.
Honda PCX Electric was brought back to Vietnam to study electric vehicle trends
According to information published by Honda, the electric PCX model can operate continuously for 60 km with a maintenance speed of about 30-35 km / h. The time to fully charge the vehicle is about 6 hours with the standard charger.
Honda brought the PCX Electric motorbike model to Vietnam for the purpose of researching and evaluating the possibility of using electric motorbikes in the future in Vietnam until 3/2022. Therefore, the price as well as the time when the car is officially marketed has not been announced.
3. Vinfast Impes and Vinfast Ludo
Officially launched and marketed by Vinfast on September 15, 2019, the electric couple for students, Vinfast Impes and Vinfast Ludo students with compact design is the latest member of the tram family. from Vinfast.
Couple Vinfast Impes and Vinfast Ludo
Specifically, VinFast Impes carries a compact, sporty design, but has a fairly high payload of 130 kg. The car uses Bosch's electric motor with a capacity of 1,200W, powering this electric motor is the LG Chem Li-ion battery pack, which helps the car have the ability to travel 68 km on a single charge.
Electric motorbike Vinfast Impes
Still with Vinfast Ludo with personality, also has a compact appearance similar to the electric motorbike models that are used by students today. VinFast Ludo's load is announced at 140kg, can carry two people at a speed of 35 km / h.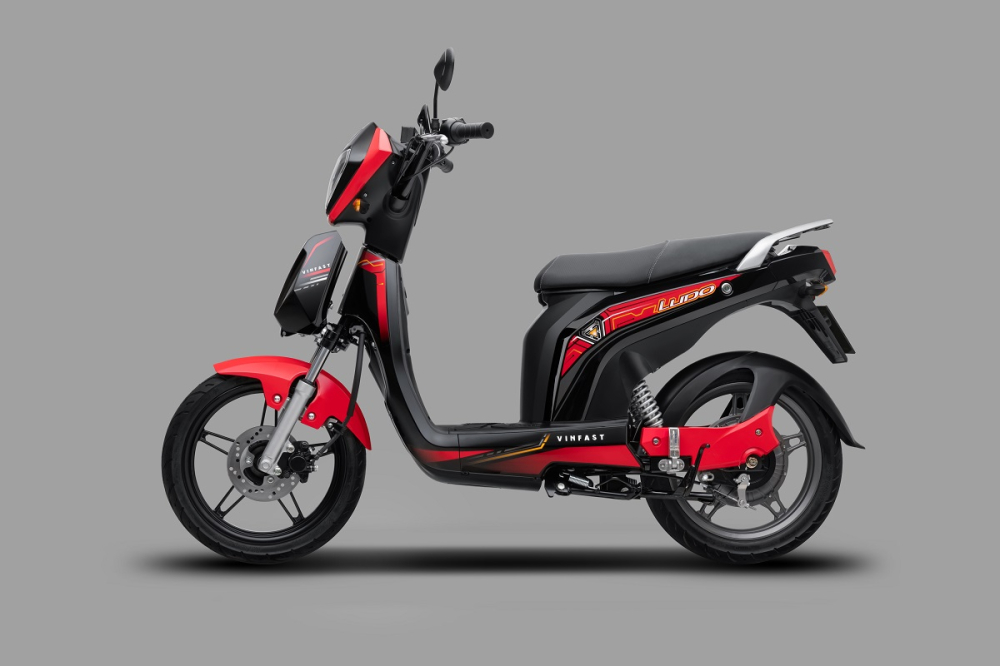 Electric motorbike Vinfast Ludo
VinFast Impes car price is listed at VND 21.99 million while VinFast Ludo car price is at VND 20.99 million.
4. Electric motorcycles MBI
MBI is a multinational technology corporation from South Korea, with a history of more than 25 years of development and research on the "Transmission Unit". At the end of September 2019, this group was present in Vietnam and introduced to our users a set of three great electric motorcycles and many promises.
Electric motorcycle manufacturer MBI appeared in Vietnam
The models introduced by MBI are full of features such as a gasoline engine, an internal combustion engine with the ability to operate equivalent to a motor vehicle with an engine capacity of 110 – 125 cc. The ability to run at a maximum speed of approximately 110 km / h, double the operating parameters of electric vehicles available on the market.
MBI electric motorbikes have many features and highlights
Three models of MBIX, MBIS and MBIV were launched within the event and announced the selling price in Vietnam market of 39.8; 49.5 and 59.5 million.
5. Yadea G5 electric motorbike
Most recently, the appearance of an additional electric motorbike with a spectacular debut and the release of a music video featured many famous singers and producers such as Rymastic and Phuong Ly. Yadea G5 from China has caught the attention of young people with its modern design, minimalist style and compact size.
Yadea G5 electric motorbike launched in Vietnam
G5 electric motorbike uses rear wheel drive motor, 1,200W capacity for 19 Nm of torque, minimum rpm at 660 rpm. It has two driving modes including Eco with a maximum speed of 38km / h and Sport of 52km / h. The maximum speed of VinFast Klara is 50 km / h. According to Yadea's test results, G5 can travel 65km on a single charge.
Sold in Vietnam at a price of about 40 million VND, Yadea G5 will compete directly with Vinfast Klara in Vietnam market.
Above are the 5 most prominent and "hot" electric motorbikes launched in Vietnam in 2019, these electric motorbikes all have their own unique advantages and competitive advantages in the market. However, the construction of a charging station and battery exchange system has not been completed by any car company to create peace of mind for users. Let's wait for the new year 2020 with more choices for Vietnamese in the very popular electric motorcycle segment in our country.
Kuro
.