To create a Video clip, you don't have to use high-end software like Adobe Premier Pro or Pinacle … There are many direct tools that can help you do that. ElectrodealPro will introduce to you 5 best tools for making videos.
Related posts
Top video cutting software on Mac OS
How to sign up for the latest Adobe account
Top best video editing software
Top best online video joiners
How to create PNG, JPG images in Photoshop
On anniversaries, or friends' birthdays … making a video clip, with commemorative photos to give to the other party will be great. But to do that, you need to spend a large amount of money to buy specialized software like Adobe Premiere Pro or Sony Vegas Pro. Sony Vegas Pro Professional video creation software with in-depth features.
Another software that is also easier to use is Proshow Producer, ElectrodealPro also posted instructions Make video with ProShow Producer pretty simple. But the downside of these software is that they consume RAM, and easily hang the computer when in use.
Top 5 best online video creation tools
1. WeVideo
This is a cloud-based Video editor, with a powerful feature set and a simple, easy-to-use interface. To use you access HERE
Using a free account, you get 2GB of free space, create 720p video, use 50 songs, upload 5-minute videos. Share directly to Facebook, YouTube and Twitter. WeVideo allows you to sync edited videos to Google Drive. Because it is not the full version, you will be limited to a few basic editing features.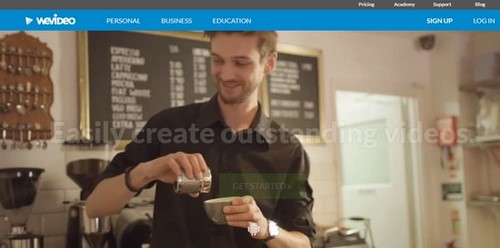 The price for 5GB of storage space on WeVideo is $ 10, you can use all the advanced features of this tool. But this price for the Vietnamese is probably a bit high. WeVideo is also available on two operating systems, Android and IOS, but it is more limited than the desktop version.
2. Loopster
This is a video editor for amateurs, but it also has a lot of professional features. With a simple interface, Loopster is very user friendly. Access HERE
Better than WeVideo, 1 Loopster's free account has 3GB of space. However, the resolution is only 480, 10 minutes on the timeline. This software does not limit the number of published videos, and is good enough to make a video for friends and relatives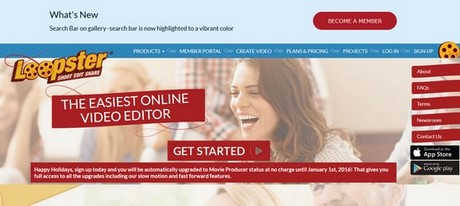 Loopster has packages for users:
2 individual levels include:
Plus ($ 4 per month): 10 GB of cloud space and 20 minutes on timeline
Movie Producer ($ 8 per month): 20 GB of cloud space and 30 minutes on timeline.
2 levels for business, company:
Education ($ 80 per quarter)
Business ($ 130 per quarter).
These packages have 720 resolution, and unlock advanced features.
3. Magisto
This is a quick and amateur video creation tool, the operations are simple to the maximum and you do not have to do any complicated editing. To create videos you visit HERE
How Magisto works: Upload video to Magisto, choose a "theme" for it, and choose background music for this clip. Despite the fact that you have very little control over it. But anyways, Magisto's results are quite impressive. As mentioned, you just need to do simple steps to upload videos. The rest of the work Magisto will complete for you. Magisto software will analyze the clip you upload and choose the best part, cut all the boring parts. The video you receive will then be shorter than the video you uploaded.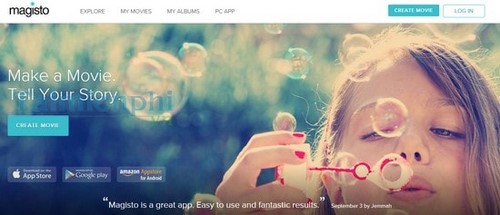 This software is quite simple, convenient, suitable for those who are afraid to manipulate and do not have much skills in video editing.
You can upgrade Magisto to Premium version, it costs 5 dollars per month, you are allowed to upload videos about 2.5 minutes long. Especially, Magisto also links and helps you to upload Videos to Youtube, Facebook, and Twitter.
4. Wideo
Wideo is an animation video maker. All settings, images in the Video you create are in Wideo. Your job is to arrange, edit those images into an animated video. You access the website HERE. In Video: includes animations, transitions, and text effects. Also you can upload your own sounds or images. Except for Video clips.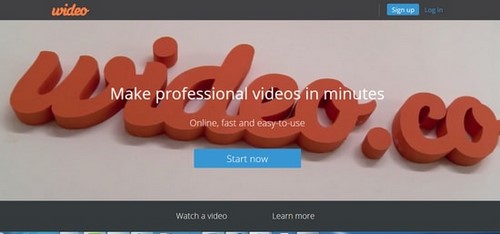 This is the best choice for making videos of promotions, marketing for a product on a mobile phone or a business presentation full of charts and data. Wideo comes with dozens of advertisements, tutorials … will speed up your video making.
The free version only allows you to create 30s of video length. Wideo also has VIP packages for you to upgrade:
– Plus version, you will have to pay 9 dollars per month
Pro version is $ 19
Agency edition is $ 39 per month
These packages help you increase the video length limit, increase the quality of the video, and use all of the video support.
5. PowToon
PowToon is also a well-reviewed tool similar to Wideo, often used for presentations and animations.
The free version of PowToon is also packed with animations and basic slideshow features. However, this version cannot download Videos, the maximum length of the clip is 5 minutes, and is limited in sound. To create videos you visit HERE
The simplest software, but the price to pay for PowToon is also the most expensive:
Pro account will cost you $ 229 per year
Business accounts will cost quite a bit up to $ 708 per year.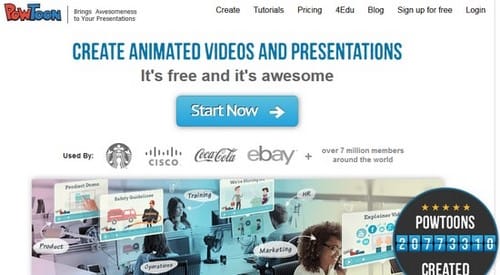 It will have advanced features, better video resolutions, more music and style options, and longer video length. However, with prices up to nearly 15 million VND. This will be difficult software to survive in Vietnam. ElectrodealPro recommend that you only use the Free version of this software.
The 5 tools above are all tools to help create videos quickly and effectively for simple Video clips. If you want to use professional software to make commercial Video clips, or make Movies, it is imperative to use software such as Adobe Premiere Pro, Sony Vegas Pro, Pinacle …
https://thuthuat.taimienphi.vn/cong-cu-tao-video-truc-tuyen-5296n.aspx
To reduce costs when using the professional software mentioned above, you can also use ProShow Gold. See how Install ProShow Gold Create videos from photos on your computer to make videos professionally and free.
.