The list of top 5 best Excel file readers for iPhone today is a collection of applications that help users read Excel files, even edit and create Excel files directly on the iPhone without having to touch your computer. .
Related posts
Summary of Excel functions is only available in Office 2016
The quotient function in Excel
How to rotate the paper size in Excel
How to make a electricity bill in Excel
How to create charts, graphs in Google Sheets
Of course, this list of top 5 best Excel file readers on iPhone only specifically summarizes the applications that read Excel files on iPhone that are appreciated and trusted by the community of users. Readers can still use many other Excel file readers on other iPhones if they want, as long as they meet personal needs.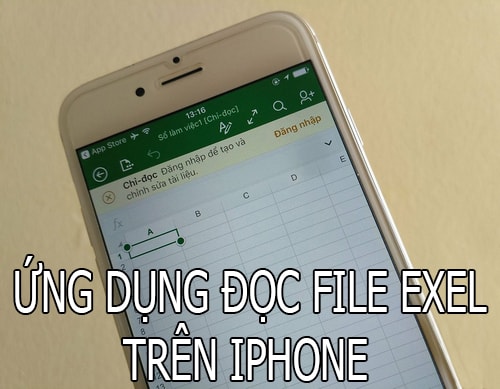 These softwares, by reference, can meet or approach all functions of the current Microsoft Excel 2003, 2007, 2010, 2013 or 2016 software.
Top 5 best apps to read Excel files on iPhone
1. Microsoft Excel for iPhone
Is a spreadsheet specialized tool from Microsoft for iPhone and iPad users. Tools Microsoft Excel for iPhone provides almost all the features that users can see on the PC version. In addition, the working interface and features are also intelligently designed to suit mobile users.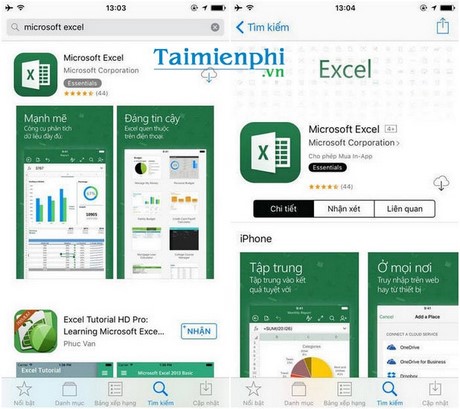 However, to fully utilize all features including editing or exporting files or converting to other office tools, readers need to purchase Office 365 subscription subscription from Microsoft.
2 . Google Sheets for iPhone
Is a popular online Excel file viewer and editor, and nowadays Google Sheets for iPhone appeared to meet the needs of users to edit Excel files. Users can create, edit, view or work with many people at the same time in the application and perform calculation functions like Excel easily.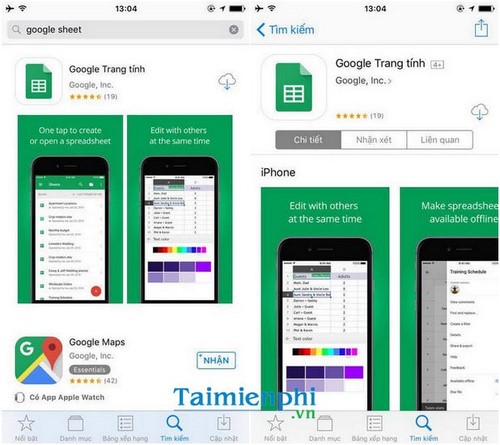 All user work files on Google Sheets for iPhone will also be synced with Google Drive to cloud storage. In particular, Google Sheets for iPhone can work offline anywhere.
3. Citrix QuickEdit for iPhone
Application Citrix QuickEdit for iPhone is a free Microsoft Office file editor. Users can create, view, and edit all Microsoft Office files as well as PDF files.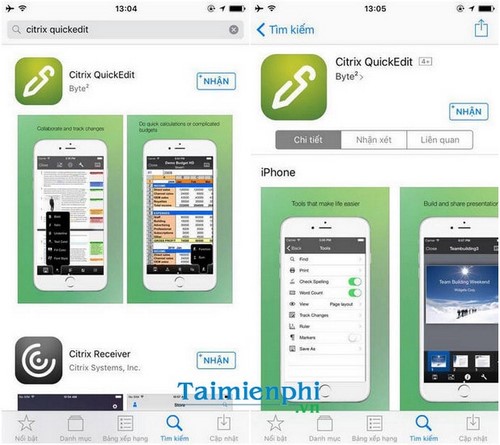 In addition, users can easily save edits, send files via email, access files anytime, anywhere thanks to support for cloud storage, file protection, … You can even present Office files including: Excel to the presentation screen, print PDF files via wireless connection, …
4. iSpreadsheet Free (Mobile Spreadsheet)
The application to read Excel files on the iPhone has a name iSpreadsheet Free It is one of the free spreadsheet applications for mobile, allowing users to create spreadsheets that are compatible with applications and programs such as Excel (Windows) and Numbers (Mac OS). In particular, iSpreadsheet Free application flexibly supports all generations of iPhone, iPad from old to new.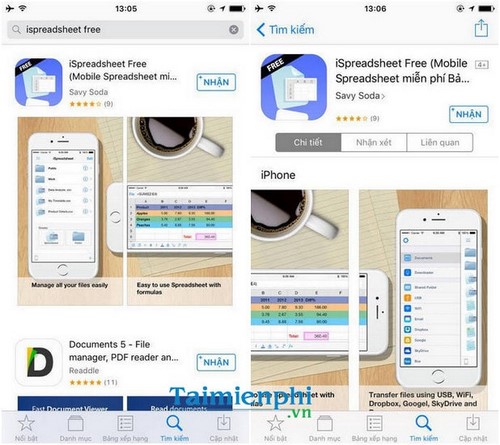 Users have the option to transfer and store files in online storage like OneDrive, Google Drive or Dropbox easily. The iSpreadsheet Free application also supports many formats and calculation formulas in Excel, and users can manage files offline anytime, anywhere.
5. OfficeSuite Free
Other than the above applications, OfficeSuite Free is a collection of tools for many other small office applications including text readers, spreadsheets and slideshows. As a result, users can not only view, create and edit Excel files on the iPhone, but also be able to perform various tasks on the application.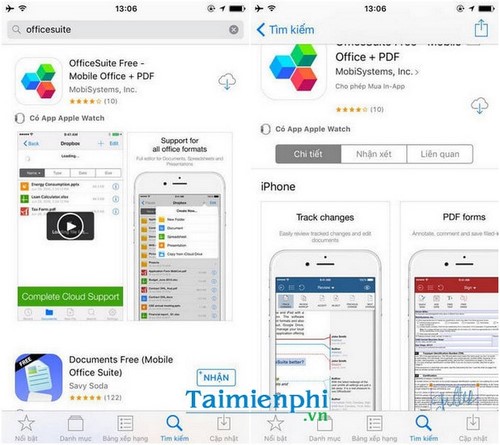 As an all-powerful tool, OfficeSuite Free even supports reading and editing PDF files within the application easily, applying to the version. OfficeSuite Free (paid for the fee).
In general, Excel is a form of file specializing in calculations with complicated spreadsheets and figures, even when using Excel 2013, 2003, 2010, 2007 or 2016, users also need to master excel shortcuts to perform the tasks. Calculating and editing files is faster, the Excel keyboard shortcuts are generally quite simple and easy to remember, so any office worker needs to remember it.
In Excel, users also have to practice using many SUMIF functions, Vlookup functions or calculation functions to calculate data faster, especially in salary calculation or job summary problems, the calculation function is for example. The SUMIF function or the Vlookup function is used quite a lot and thoroughly supports speeding up information retrieval.
In addition, ElectrodealPro also hope that through this article, readers can grasp how to open Excel files on iPhone or how to create Excel spreadsheets on iPhone with the best software available today.
https://thuthuat.taimienphi.vn/top-ung-dung-doc-file-excel-tren-iphone-tot-nhat-12358n.aspx
Good luck!
.