Currently, there are a lot of software that support users to find and remove passwords for Word and Excel text files. However, not everyone knows to choose the most suitable software for themselves.
Related posts
Top 3 tools to remove password / Password file * .PDF most effective
How to remove PDF password on Windows 10
How to password protect Word & Excel documents
Break Excel password, remove Sheet password in Excel
Create password for word 2013, 2016, word 365 files, set Word file password
Users often use the way to password password Word, Excel files to secure the content inside, to avoid being read by others. However, for many reasons, you may forget the password to open them. The following article will introduce to you some free and widely used Word and Excel file finder and password removal software.
However, your excel file is only password for the sheet and you do not want to use the software, please refer to the article Break Password Sheet Excel, remove password, delete Pass Sheet in Excel also very convenient without installing additional software, note This way only applies to sheets, not the password of the whole file.

Top 3 software to find and remove password of Word and Excel files
first. Word and Excel password Recovery wizard
Word and Excel password Recovery wizard is password recovery software for Word, Excel files for free rated as the best available today, with the advantage of being free. It can recover passwords for word files with a maximum length of 8 characters. However, there is a limitation that Word and Excel password Recovery wizard cannot recover the password for DOCX format.
The interface of the software:
Word and Excel password Recovery wizard takes a long time to find the password. However, if Word and Excel files are password protected, it may not be detected or it may take a long time with the free version.
See instructions on how Retrieve passwords, passwords for Word, Excel with Word and Excel Password Recovery Wizard
View detailed information and download Word and Excel password Recovery wizard here.
2. Guaword (Guaranteed Word Decrypter)
Guaranteed Word Decrypter is free software used to password crack Word files, with no limit on the length of the passwords. However, Guaranteed Word Decrypter detects passwords for a long time. If the password is difficult, this software may have to be searched for days, but rest assured, every password will be found.
The software is very simple to use, just drag the file to remove the password into the file "Guaword.exe" and wait until the program completes, the password will be found. Guaranteed Word Decrypter has a "Command line" interface.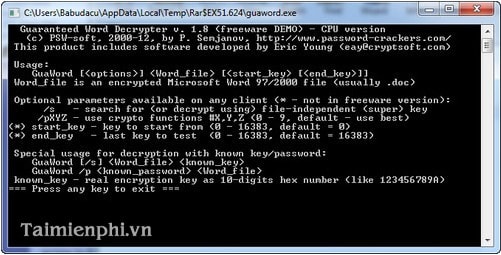 View details and download Guaranteed Word Decrypterhere.
3. CrackIt
CrackIt is less optional than Word and Excel password Recovery wizard and Guaword. However, using the software is quite simple: You just need to specify the file containing the password, choose an alphabet (capital letters, lower case letters, numbers) and press Crack. CrackIt will crack, help you easily open the desired document
Software interface: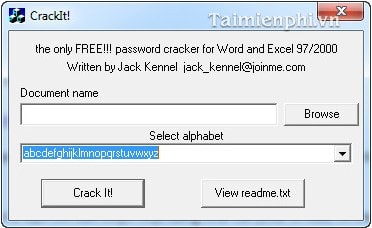 See details and Download CrackIt here
So we have just introduced to you 3 best free and best software to find and remove passwords for Word and Excel files. With these 3 software, you can easily remove the password to access the desired Word and Excel files.
https://thuthuat.taimienphi.vn/phan-phem-go-mat-khau-file-word-excel-1415n.aspx
In case, you Excel file security But when you reopen, forget the password, you can refer to the above software to remove the password of the Excel file.
.