In a PC, many of your personal information can be accessed without authorization. That's because Windows data is stored publicly on drives that aren't encrypted or protected by encryption software so anyone can access your confidential and private information. And to protect your privacy, you need encryption software to ensure data security. This article will introduce you to some of the best encryption software for encrypting files and folders on Windows.
What is the best encryption software for Windows?
1. AxCrypt software
2. DiskCryptor software
3. VeraCrypt software
4. Software Dekart Private Disk
5. 7-Zip software
6. Gpg4win software
7. Windows 10 Device Encryption
8. Bitlocker software
9. Symantec Drive Encryption software
10. Rohos Mini Drive software
11. Challenger software
12. AES Crypt software
13. SecurStick software
14. Folder Lock software
15. Cryptainer LE software
16. CertainSafe software
17. CryptoForge software
18. InterCrypto software
19. LaCie Private-Public Software
20. Tor Browser
21. CryptoExpert 8
22. LastPass
23. File Lock Pro
1. AxCrypt software
This is one of the best tools for encrypting all the files on your computer. AxCrypt is the leading open source file encryption software for Windows. It integrates seamlessly with Windows to compress, encrypt, decode, store, send and work with individual files.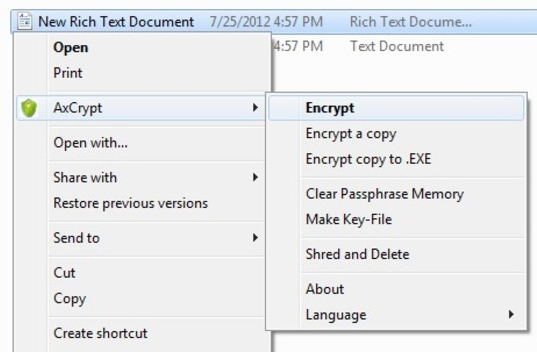 Download: AxCrypt
2. DiskCryptor software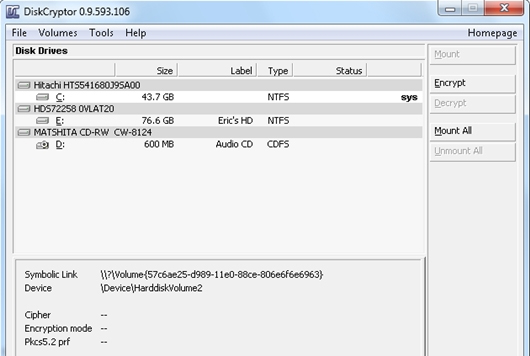 DiskCryptor is an open source encryption solution that encrypts all drive partitions including system partitions. The standout feature of this software is that there is no need to format the drive to perform encryption work. The simple and easy to use interface is one of its attractive features.
Download: DiskCryptor
Use DiskPart to format and clean your mobile hard drive in Windows 10
3. VeraCrypt software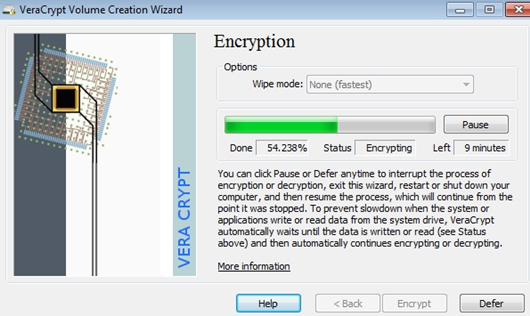 Another great tool for encrypting files is VeraCrypt. The software enhances the security of the algorithms used for system and partition encryption, keeping it unaffected by ever-growing brute-force attacks.
Download: VeraCrypt
Instructions to encrypt USB with VeraCrypt
4. Software Dekart Private Disk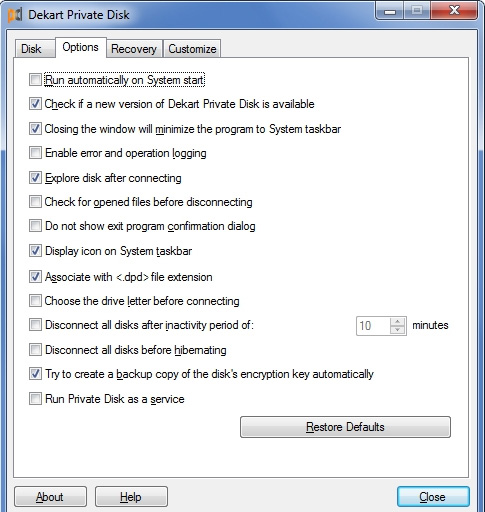 Disk Firewall provides excellent protection against viruses, spyware and trojans without slowing down the system like antivirus software and can access data anywhere, even if you do not have administrator rights.
Download: Dekart Private Disk
5. 7-Zip software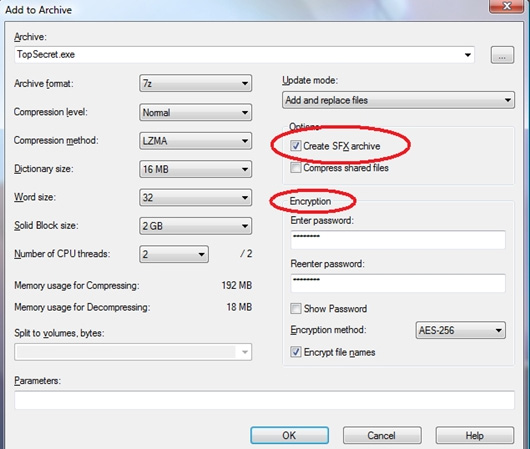 Many people already know 7-Zip as a file compression tool, but it is also a useful encryption tool. With this software, you can compress files, then protect them with a password.
Download: 7-Zip
How to use 7Zip to encrypt files and folders on Windows 10
6. Gpg4win software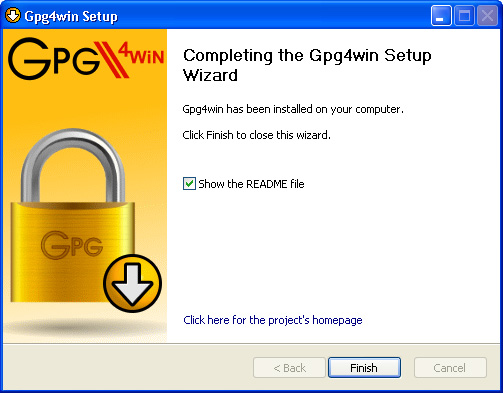 Gpg4win allows users to transfer emails and files securely with encryption and digital signatures. Encryption will protect content from being read by others. Digital signatures ensure that the content is not modified and identifies specific senders. Gpg4win supports both OpenPGP and S / MIME (X.509) encryption standards and is the official GnuPG distribution for Windows.
Download: Gpg4win
How to encrypt emails on Microsoft Outlook
7. Windows 10 Device Encryption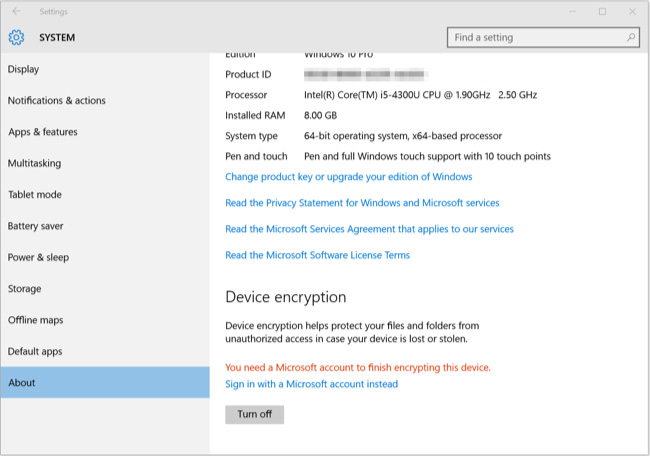 This is a feature built into Windows 10. To encrypt a drive, you need to sign in to Windows with a Microsoft account. The recovery key is automatically uploaded to Microsoft's server. You can navigate to System> About and search for Device encryption.
8. Bitlocker software

BitLocker is a full disk encryption feature included with the selected version of Windows. It is designed to protect data by encrypting the entire volume. By default, it uses the AES encryption algorithm in CBC block chain link mode or XTS mode with a key of 128 bits or 256 bits. CBC is not used on the entire drive, it only applies to each sector of the drive.
Download: Bitlocker
How to use Bitlocker to encrypt data on Windows 10 (Part 1)
9. Symantec Drive Encryption software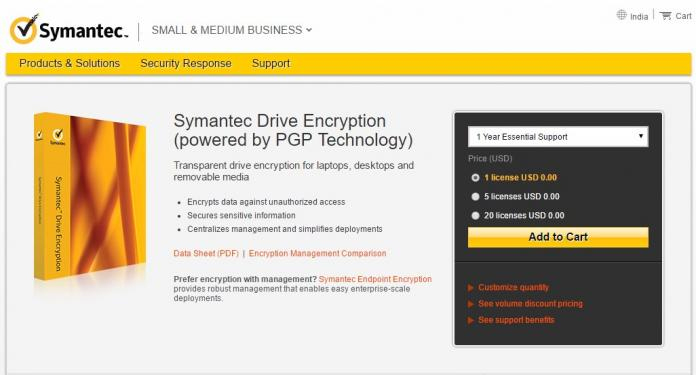 Symantec Drive Encryption is a transparent drive encryption tool for laptops, desktops and mobile devices. It encrypts data to avoid unauthorized access, protecting your sensitive information. In addition, the software offers many features such as passwords, machine recovery, one-time tokens, and other recovery options.
Download: Symantec Drive Encryption
10. Rohos Mini Drive software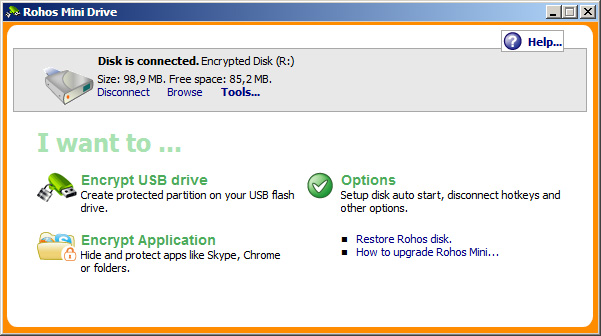 This software has the ability to create hidden and encrypted partitions on USB flash drives. If you have lots of private files on your USB drive and want to keep them a secret, you can protect them with a strong password and encryption with Rohos Mini Drive. This portable version allows you to work on an encrypted USB drive partition on all PCs.
Download: Rohos Mini Drive
Create data security partition on USB
11. Challenger software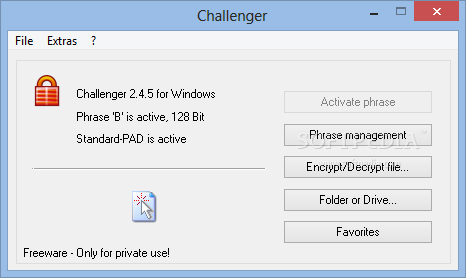 This is a free tool that works on Windows and has some special features like mobile encryption, cloud storage encryption and many other features. Challenger has two versions for personal computers, so you can choose the free version or the full version that offers some extra features.
Download: Challenger
12. AES Crypt software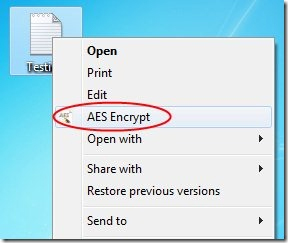 AES Crypt is a file encryption software on some operating systems that uses the Advanced Encryption Standard (AES) to easily encrypt files safely. When using Windows, right-click on the file you want to encrypt and select AES Encrypt or AES Decrypt, enter the password and AES Crypt will do the rest.
Download: AES Crypt
13. SecurStick software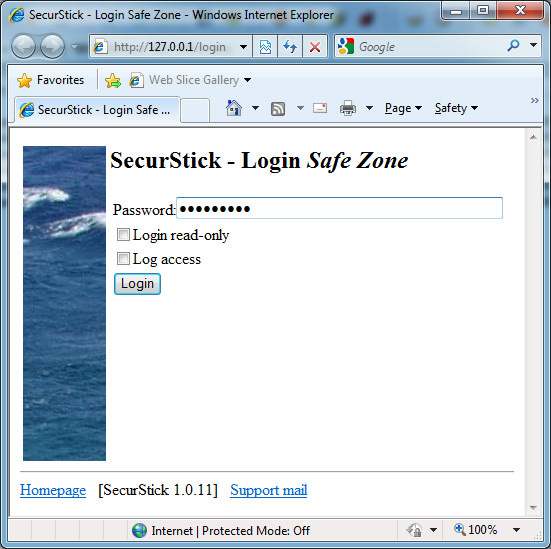 This is another media encryption tool that uses AES-256 to secure all data stored on USB drives or other removable devices. You do not need to be an administrator to use SecurStick and it works on Windows, Linux and Mac operating systems.
Download: SecurStick
14. Folder Lock software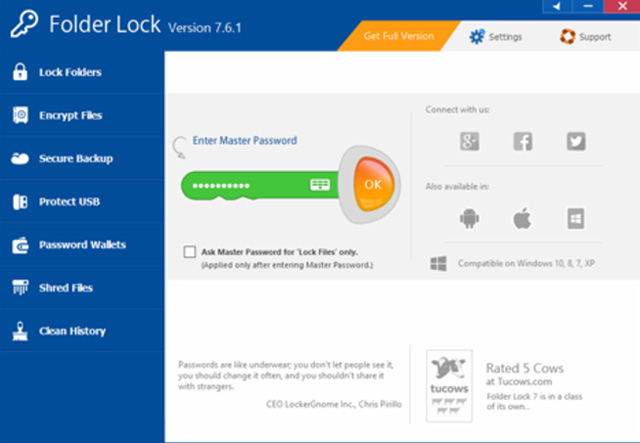 Folders have the highest file locking standards, allowing you to create password to protect folders and encrypt confidential files and folders. It also protects your drives with passwords, real-time backups, file deletion, drives and history.
Download: Folder Lock
Create password protected File and Folder on Android
15. Cryptainer LE software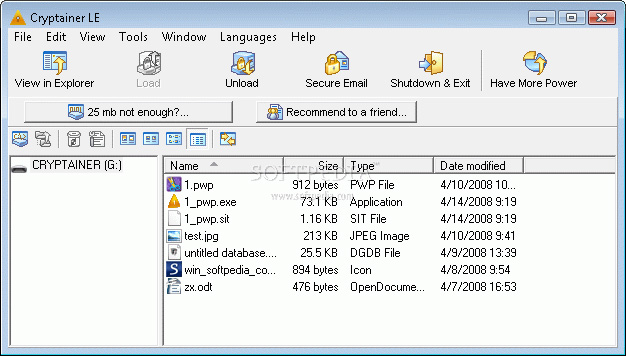 Cypherix's Cryptainer LE will keep your data secure and ensure your absolute privacy. It uses strong 448 bit encryption, creating multiple 100 MB encrypted drives on the hard drive. Encrypted drives can be loaded and unloaded as needed.
Download: Cryptainer LE
16. CertainSafe software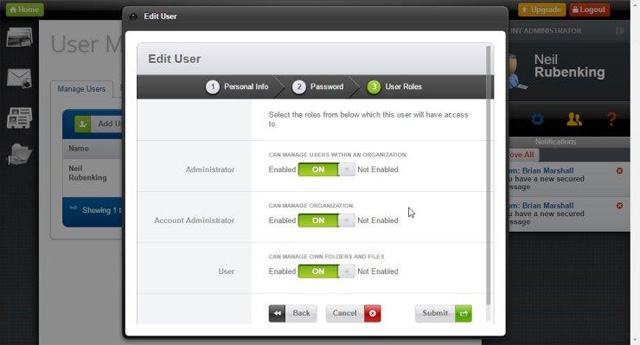 Certainsafe is basically a multi-tier security tool, encrypting files and dividing them into blocks. Each block will be stored on different servers.
Download: CertainSafe
17. CryptoForge software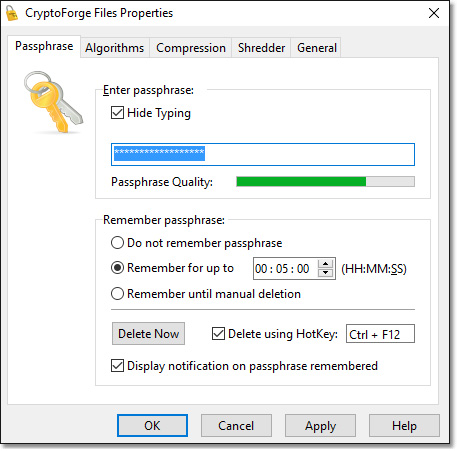 CryptoForge encryption software solution allows individuals and organizations to secure their sensitive data with professional encryption. You can secure files on your computer, upload encrypted files and folders to the cloud.
Download: CryptoForge
18. InterCrypto software
InterCrypto data encryption tools can encrypt individual files and create self-decoding versions of your files. InterCrypto can perform full media encryption using CD Encryption Software or USB Flash Drive encryption software.
Download: InterCrypto
19. LaCie Private-Public Software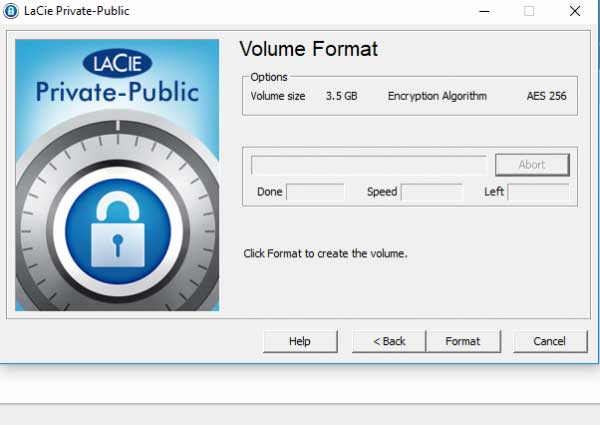 Lacie Private-public is a tool that supports AES-256 encryption algorithm. This is one of the best open source encryption tools. The tool is basically less than 1 MB in size and allows users to store personal data by creating an encrypted drive. The most outstanding feature of LaCie Private-Public is that it has a portable version and can run on the system without installation.
Download: LaCie Private-Public
20. Tor Browser
This tool is not like the above coding software. It is a web browser that allows users to access anonymously. Tor stands for The Onion Router directing your web traffic by encrypting the IP address from where it came from.
Download: Tor Browser
Instructions to install the Tor Browser for Windows
21. CryptoExpert 8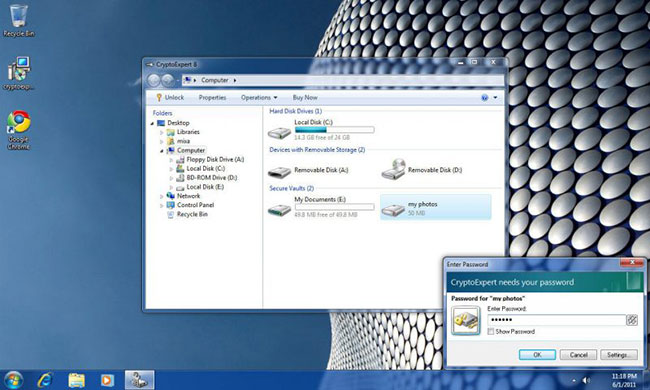 CryptoExpert 8 is one of the best Windows encryption tools you can have on your computer right now. It provides a secure place where you can store all your important files and folders (called vault). Not only that, it also provides many backup options. You can back up files, certificates, folders, etc. Security Vault uses the AES-256 class encryption algorithm to secure users' files.
Download: CryptoExpert 8
22. LastPass
LastPass is a password management tool that can help you keep your passwords and personal data secure. This encryption tool is completely free and allows users to save passwords. Not only that, LastPass also provides an extension for Google Chrome and Firefox browsers, making the password management process much easier. So LastPass is another great security tool that you can use right now.
Download: LastPass
23. File Lock Pro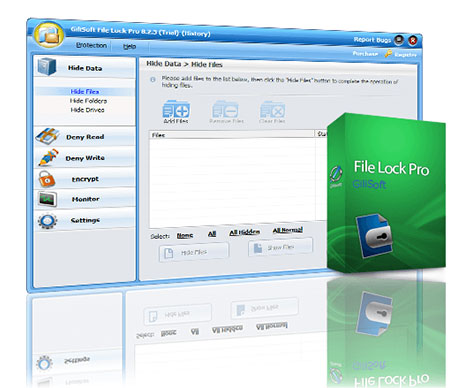 GiliSoft File Lock Pro is a military-grade encryption tool for confidential files, available in 7 languages. This tool uses different levels of data protection. The main functions are hiding data, reading and writing keys, encryption.
This applies to files, folders and drives from a local drive or an external USB drive. Such files can become completely invisible to anyone or any program even in Safe Mode of Windows.
The software also secures shared folders online, but the free trial version can only be applied to files.
Download: File Lock Pro (trial version)
Above is a list of the best encryption software for Windows, hopefully you will choose the appropriate tool to encrypt your privacy protection.
See more:
Instructions to set password protect files and folders in Windows
File and message encryption software for privacy protection
Software to encrypt data in removable hard drive
.