Top 10 websites for making animated GIFs online best today that ElectrodealPro recommend to readers will surely bring great choices when you want to create gifs on your computer and then share or download to computer.
Related posts
Create animations online, online with Makeagif
Create animations online, online with Gickr
Top 5 software for creating animated images, GIF best
Create animations from videos with Video To GIF online tool
How to create animated images, make GIFs with GIF Movie Gear easy and fastest
GIF images are gradually becoming a popular format not only while chatting and communicating on social networks, many users often post gifs to Facebook with funny content to make friends laugh, and also people. add text to gif images to create cool and creative gifs.
As ElectrodealPro once introduced the top 5 animation software, Beautiful GIF on computer, with this article, we continue to introduce to you how to create animations, gifs online with the best websites today.
Top 10 websites for creating animated images, best GIFs online
1. EzGIF – Visit here: http://ezgif.com/
EzGIF is one of the leading online gif image creation services today, not only free, but also provides users with many tools to create animated images, online GIFs as well as professional gif editing. like GIF Maker, Video to GIF (convert video to gif), GIF Resize (resize) or GIF Crop and GIF Optimizer (Crop and compress GIF images), …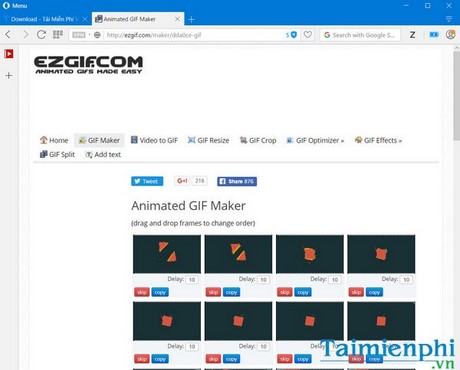 – Pros: Free, many support tools, easy to use.
– Cons: Maximum limit for uploading GIF images for editing is 20MB, maximum for each image is 5MB and a total of 80MB when creating gifs with Ezgif.
2. GIFS – Visit here: https://gifs.com/
Also a tool that integrates the ability to create animations and edit gif images at the same time, GIFS brings a whole new color to users when creating animations on the computer. You can even create animations, set titles, add additional effects such as blur, add stickers, crop, … The interface for creating gif images is quite professional and like a video editing software. true meaning.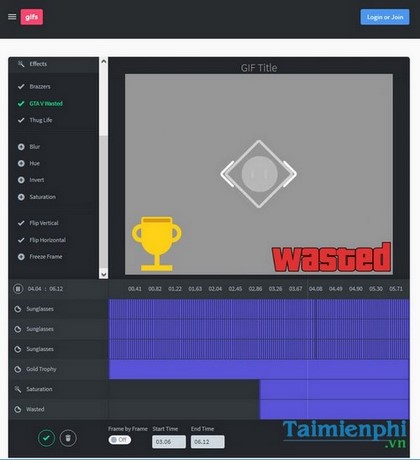 – Pros: easy to remember website name, professional interface and many features.
Cons: Could be difficult for novice users of the gif photo creation and editing features.
3. Giphy – Visit here: http://giphy.com/create/gifmaker
As one of the giant and most popular gif archives today, GIPHY also provides users with tools to create gifs. However, GIPHY is limited to YouTube, Vimeo, Vine or other video links, and does not support creating gifs from images.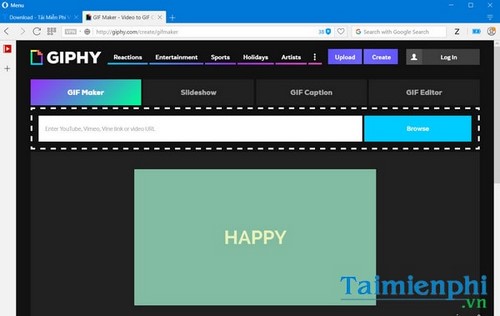 – Pros: Beautiful and professional interface.
– Cons: Not many tools to edit gif images, only support videos.
4. GIFPAL – Visit here: https://www.gifpal.com/
The GIFPAl tool offers a unique way to create GIF images by supporting GIF images by webcam or images. After uploading photos, users can edit gifs like editing a video, quite interesting.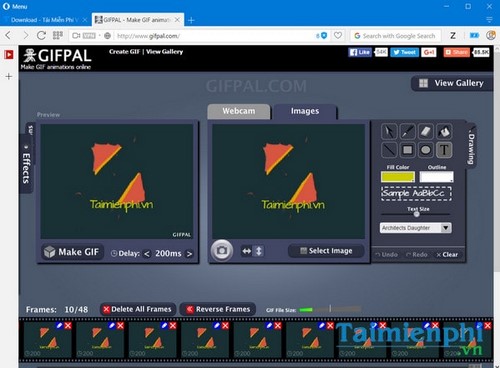 – Pros: Professional working interface, a bit film-oriented.
– Cons: A bit difficult to use because there are many hidden features.
5. imgflip – Visit here: https://imgflip.com/
Very rarely do websites have as many diverse functions as imgflip. Users can not only create gifs from photos and videos, but also create memes, pie charts or movie posters. There are many options for editing GIF images besides that the user can do by themselves such as crop, select frame, size, title and tag.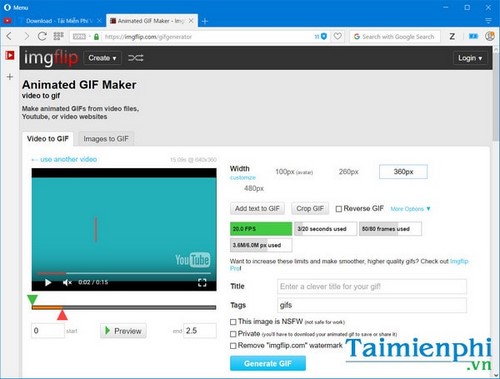 – Pros: Multifunctional, the functions are displayed intuitively and easy to grasp.
– Disadvantage: GIF creation and editing interface is still a bit complicated in some places.
6.makeagif – Access here: http://makeagif.com/
The makeagif page supports many different functions to create gif images from photos, videos, YouTube videos, webcams or from an available gif image. You can adjust the parameters of time, audio and subtitles in the image easily. For premium users, paid will be able to use more interesting editing features.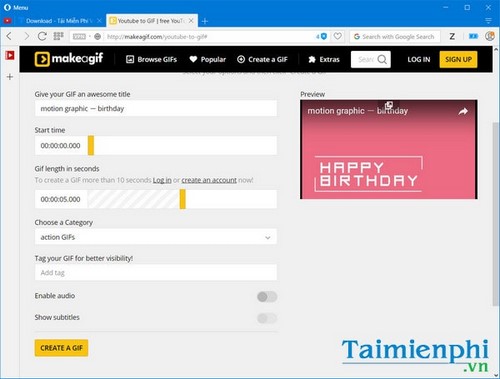 – Advantages: Supports a variety of sources for creating animations on the computer
Disadvantage: Free account or unregistered users will have limited features.
7. Free GIF Maker – Visit here: http://freegifmaker.me/
Website Free GIF Maker supports many different types of gif image creation, in which, users can drag and drop photos into the canvas, edit speed, add interesting effects for animated gifs. Free GIF Maker also supports users to create GIF images from YouTube easily.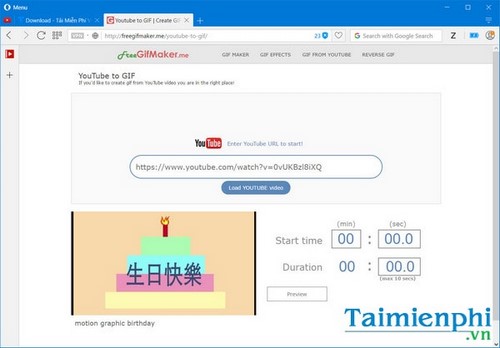 – Pros: This service is free and has many interesting effects.
– Disadvantage: The interface is quite simple and there are some errors in the process of uploading image files.
8. GIFUp – Access here: http://gifup.com/
This is a website that specializes in creating animations and avatars, readers have quite a few ways to create gifs including taken from webcam, from computer, flickr, …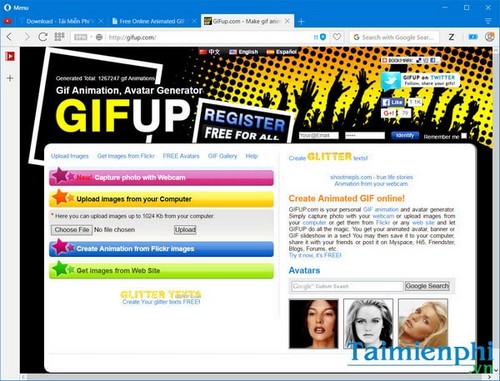 – Pros: You have many options to create professional-looking gifs and avatars.
– Cons: The interface is a bit flashy and difficult to see if you are not used to it
9. GIFMaker.me – Visit here: http://gifmaker.me/
In addition to the ability to create professional gifs, GIFMaker.me is also a tool that allows you to edit, create slideshow files or video animations with a supported audio system without having to register.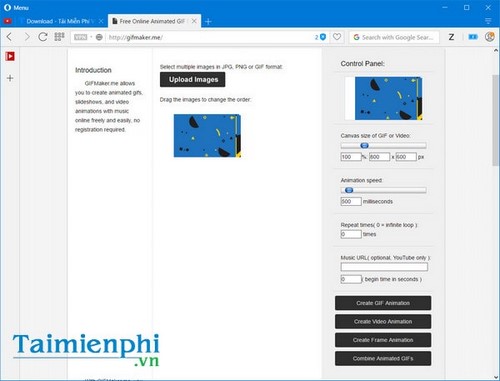 – Pros: Rich set of tools for editing and creating gif images.
– Disadvantage: The interface is a bit simple and not yet attractive.
10. GICKR – Visit here: http://gickr.com/
GICKR allows users to choose up to 3 photos to create animations and share or download to your computer easily.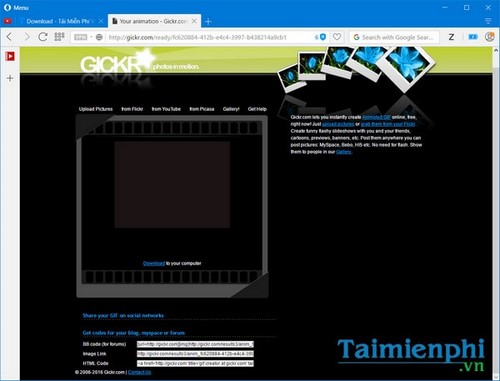 – Pros: Support retrieving photos from many different sources including Youtube and Flickr.
– Cons: The interface has not been attractive and there are still many professional gif editing tools that users can choose from. Required to use two gifs to allow use.
To support users to create gif images on their computers, currently users can use the software or use online gif image creation services, but no matter what service or software they use, they have inherent pros and cons. Many users say that inserting text into gifs in Photoshop is quite complicated, or something create animations with PhotoScape Also, the reason is due to software like Photoshop and PhotoScape is quite complicated, besides,
However, with the above animation and gif websites, ElectrodealPro hopes that readers can easily create animations, gifs and post gifs on Facebook without having to rely on anyone else because of the proximity. Like you won't need much to get a gif.
https://thuthuat.taimienphi.vn/trang-web-tao-anh-dong-anh-gif-truc-tuyen-tot-nhat-12808n.aspx
Good luck!
.