Google Drive currently provides quite a lot of useful tools to help us edit files, spreadsheets or presentations. But that is not all that this cloud service can provide because Drive also very well supports interacting with PDF files thanks to the features available as well as install from outside. In this article let's take a look at a few ways to take advantage of Drive's PDF support so we can work faster and easier.
Download Google Drive for iOS
Download Google Drive for Android
Download Google Drive for Windows Phone
Tải Foxit Reader
1. Available Features
Save PDF files directly to Drive when viewing with Chrome
Chrome itself comes with a great PDF viewer with fast loading speeds. In addition to saving files to your computer, this viewer also has a file save button straight to our Drive account that not many people know. Normally you have to manually download and then upload again to Drive, while now it is just one click to finish.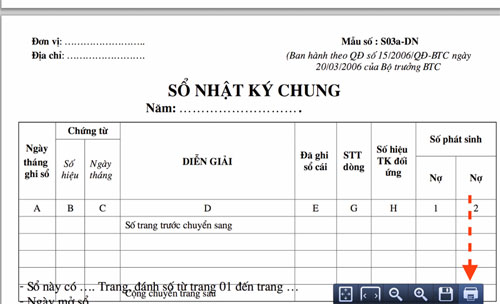 Usage is also extremely simple. First of all, you need to make sure that you are signed in with your Google account in Chrome. Later:
Browse the web and open any PDF file
In the new screen that appears, click the printer icon in the toolbar that appears at the bottom edge
Click on the "Change"> scroll down the section"Google Cloud Print"
Choose "Save to Google Drive"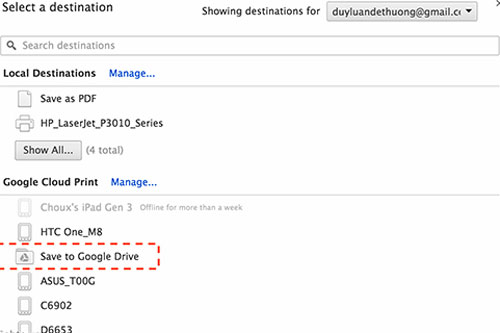 Edit the content of the PDF file
Google Drive has built-in technology to read and convert PDF files. Based on this technology, you can quickly search for content in PDF files similar to when you find a certain keyword in Word, Excel, or PowerPoint files. In addition, since the text in a PDF document has been converted to editable text, you are free to edit the content as you like.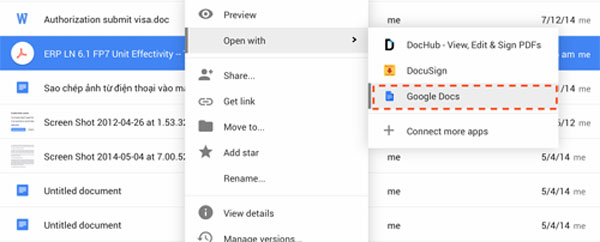 Doing:
Upload your PDF file to Drive
Right click> select Open With > Google Docs.
Once the file is open, save it as Google Docs
Edit, edit, search as you like
When you are done editing, you can save the file in PDF format for further consumption (See instructions below)
Note: For PDF pages with complex formatting, such as document table of contents, the content may be skewed after converting to Google Docs file. Pictures, notes, colors, typography … are mostly kept the same so it doesn't matter much.
Content converted from PDF files to Google Docs for editing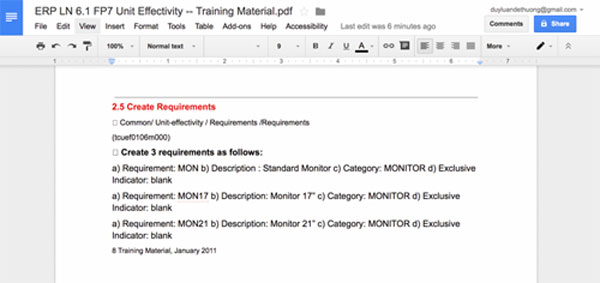 Export any document file to PDF
Normally, when you edit text files, spreadsheets or presentations on Google Drive, you will have the option to save it in Word, Excel or PowerPoint format. But that's not all, because Drive also supports us to export to PDF files. Often, to share and do not want others to edit, you should choose PDF, so the format will be preserved, and easy to view on many different devices.
Here's how to do it:
In any document open on Drive, click the File menu
Choose Download as > PDF Document
Scan PDF files with the mobile app
When you install the Drive app on Android or iOS, you can take advantage of your phone's camera to scan a paper document and convert it into a PDF file. A special feature is that after taking the camera, Drive will trim the page accordingly, then increase the contrast and other parameters to make it easier for us to read. The paper can also be flattened and increased brightness compared to a photo taken from the camera. Great for online document archiving purposes and eliminates messy paper.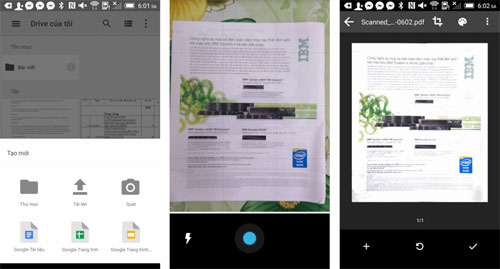 Using:
Run the Drive app on Android or iOS
Press the + sign as if you were creating a new document
Select the camera icon
Put the paper in the frame, note that shooting in a bright enough environment will result in better
Click capture, then click the tick button and wait for Drive to convert the image to PDF
2. Use external add-ons via Chrome
Mark on PDF file
Notable PDF is an add-on that turns Chrome into an extremely powerful PDF file viewer. It will allow you to bold, underline, underline, insert comments as well as insert text into your document, just like Adobe Reader on your computer can. If you regularly work online, even just using Chrome to process PDF files is enough.
Usage: Right-click on the PDF file of your choice and select Open With > Notable PDF
Download the Notable PDF add-on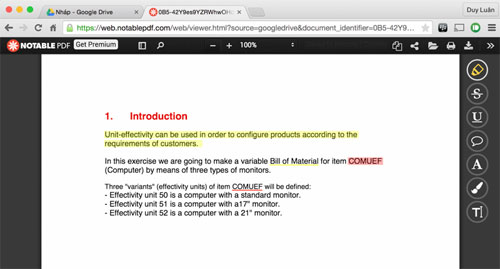 Fill in and sign PDF files
The default Chrome built-in PDF viewer lets you fill in blank PDFs. However, if you need to check (checkmark), insert a signature, or have to fill out the same type of information multiple times, you will have to rely on services like HelloSign or DocuSign. Both are capable of integrating with Drive, so you just need to right-click on your PDF and choose Open With> HelloSign / DocuSign, no need to manually upload to these two services.
The free accounts of the aforementioned two services allow you to manipulate a total of 3 files per month, but that's okay because if we sign a file, we can save it on our Drive and delete it from. HelloSign / DocuSign.
Download HelloSign
Download DocuSign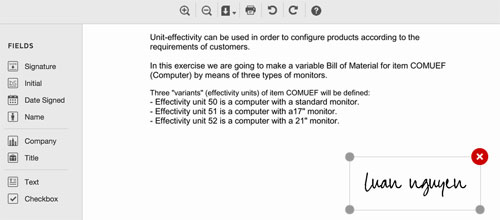 Merge multiple PDF files into one
Normally to do this you have to use the software installed on your computer, but if you use the PDF Mergy service, everything will be done online so it will be faster. Usage is very simple: in Drive, you right-click the files to merge, then select Open With > PDF Mergy. These documents are then automatically transferred to the PDF Mergy website, where you can easily move them to the desired location, drag and drop or add any desired file.
When everything looks like you want, press the button "Merge"You are blue to do the mixing operation. You can save the resulting file to your computer or save it to Drive.
Download PDF Mergy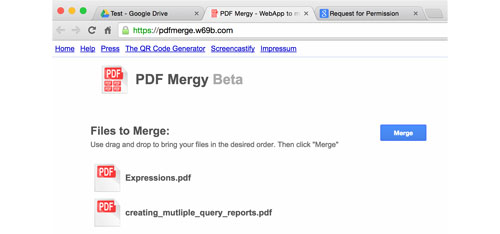 Cut PDF files, why not?
Mix it up, now cut it out. There will be times when you need to trim your PDF file to get only the pages you need, or to reduce the file size before uploading it somewhere. PDFSplit tool! will help you with this, and of course it integrates well with Drive so everything becomes even more convenient.
Using:
Open a PDF file in Drive
Click the Open With icon
Choose PDFSplit!
In the new web page that appears, in the "Pages" line, enter the number of the page you want to start cutting and the number of the ending page.
For example, if I want from pages 6 to 9 of a PDF file, enter 6 in the first box, number 9 in the second box.
Click Split when you've made your selection.
Download PDFSplit!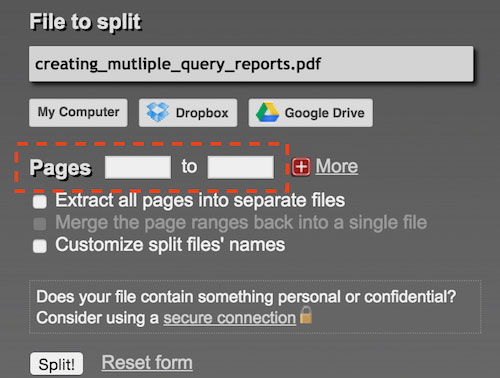 ​
Set a password for the PDF file
With the same usage as PDFSplit! but the PDFProtect add-in! will allow you to password protect your PDF files. You will be able to choose different encoding levels, whether to print documents or not, to change the file contents … Too great and convenient, right?
Download PDFProtect!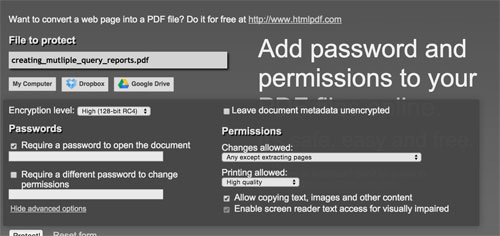 .