In my opinion, the "spirit of the age" of mobile games was not captured by games like Call of Duty: Mobile Edition or platforms such as Apple Arcade or Google Stadia in 2019, but was highly misleading Captured by a mobile game ad. This year, the number of advertising channels has increased from saturation to saturation. The reason why they think so is that for many people, these ads do not completely represent deceptive advertising strategies, but specific and instructive moments: we are fully aware So far, the success of mobile promotion is based on the dependence on the advertising platform mechanism, which is almost exclusively for mobile game distribution.
These "fake" ads show an unknown power, because every "ridiculous" ad that people see doesn't look like the game it's really promoting, and a user may see hundreds of Ad variations that are also seen by other users based on their popularity. These ads appear to be just Rorschach inkblot tests (a personality test) with multiple variants, and are specifically distributed through Facebook and Google's sophisticated, highly dimensional positioning algorithms-let everyone see what they like to see s things.
I believe that these misleading advertisements are only a temporary phenomenon. Platforms and consumers can be deceived, but they will not always be deceived. In a sense, these ads show only the importance of user acquisition for mobile games. If the content of the advertisement can have a greater impact on the success of the game product than the content of the game itself, then it is clear that user acquisition is an essential part of the release of a mobile game.
The author saw some analysis that pointed out that large-scale advertising production will be a noteworthy trend in 2020, which is too lagging. If this analysis occurs in 2018, we will feel more prescient. What will appear in 2020 may be a more consumer-friendly, data-oriented approach to match advertising creatives with audience tastes, which is still completely consistent with the way advertising platforms target potential users. High-volume, diverse creative production strategies are a distribution method targeted at the target audience; the author believes that context- and information-based approaches will continue to evolve.
Part of the reason is that advertising creativity is only one of them, although it is an important, mainstream, project-driven and algorithm-adjusted mobile advertising environment; the other is happening in games, linking behaviors in games with advertising is It's also the way that mobile game developers often use it.
AppAnnie pointed out in its 2020 report that total mobile advertising spending in 2019 was $ 190 billion; about a year ago, our estimate for this number was $ 100 billion. The mobile game market is huge, driven primarily by investment in marketing and benefiting from the brilliance of the gaming and interactive entertainment market. In this article, we will identify three main marketing trends that may affect how mobile game studios operate in 2020.
Trend 1: The audience is new oil
In the context of algorithmic campaign management introduced to mobile devices by Google and Facebook, the importance of large and diverse creatives has been widely acknowledged, but the underlying purpose of this initiative is little known-allowing platforms to explore and define Relevant audiences and reach them with semi-custom messages.
The material experiment effectively helped Facebook build its own proprietary similar user group model at the ad set level, but these audiences are not visible to advertisers (the data on the "wall" isolation comes not only from other advertising platforms, but also from Advertiser itself). Experimental creatives make it very expensive for Facebook to create a target audience that is hidden from advertisers. By definition, real money is required to discover which creatives are ineffective for matching with audiences.
Facebook audience building and management will become a more meaningful part of the mobile marketing workflow in 2020. Advertisers will need to provide sophisticated models to identify more profitable users early in the promotion of the game, and then push these users to the right place in a list that can be used to locate more similar users. This is similar to what Facebook does in AEO campaigns, but is more flexible: Facebook only allows targeting different event types in AEO campaigns (while advertisers can create custom Facebook events), and developers can Use any event as a predictive target for the long-term value of the game.
In addition, the audience will be seen as a valuable asset for a developer to increase M & A and collaboration opportunities. It is foreseeable that a company can be acquired with the player's receipt in its hands: since tradability often depends on the revenue potential of the game, for developers, effectively monetizing users to merge with the studio to acquire their The audience is very wise.
Trend 2: Bridge between marketing and Live-Ops
Driven by the profitability of most successful games, Live-Ops (real-time operations) will be more synchronized with market promotion. The marketing team will adjust its user acquisition strategy around weekly events, tournaments, and other content, and produce materials to suit users, placing new users in social and competitive gameplay with the best results.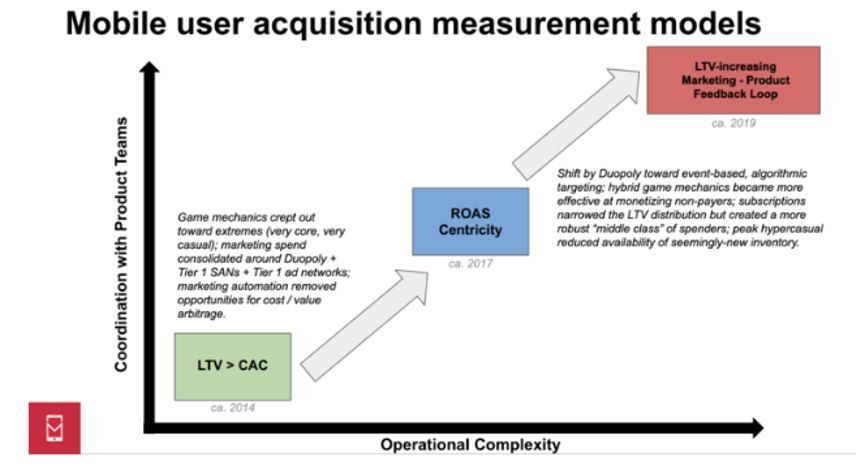 This means that managing promotional spending will need to be more time-oriented: providing daily and weekly events to users participating in recurring events can lead to greater profits than running ads at a stable spending level for just one week. Spending fluctuations throughout the week need to be carefully structured to avoid conflicts with how algorithms work on platforms such as Facebook or Google (the sudden start / stop can cause problems with these backward channels), but because Facebook 's CBO tool allows weekly or per week Budget allocations are made daily, so this analysis is entirely possible.
As the marketing team designs a model that effectively allocates spending within a week, they will start looking for other opportunities to reach users at the right time and fit their gaming experience, such as a three-day weekend, a long vacation, or one of a day Time and so on. This way of focusing on real-time operations and marketing connections will return to the game team: If the game is more marketable on a certain day of the week, perhaps it is best to plan around that. These types of product and marketing feedback loops will become increasingly important and will become more common in the future.
Trend 3: Data experts become new CMOs
In the promotion of mobile games, there is always a disturbing tension between brand-oriented marketers and effect-oriented marketers, but by 2020, the disputed balance may lean towards the latter. How can you defend omnichannel brand marketing when Playrix is ​​worth billions of dollars and its ads look like a dream fever?
Last year, when I published my predictions for mobile marketing in 2020 on Mobile Dev Memo, I expected that the CMO role of those mobile-first companies would gradually disappear. The "death of CMO" has never been seen in decades. I do n't like to say "the times are different", but this time "the times are really different": Facebook and Google not only completely abstracted the digital marketing management mechanism, but also their proportion in digital marketing growth is getting higher and higher The insurmountable leading edge in advertising technology and data, as well as current regulations in the form of GDPR and CCPA, are substantial changes.
What the mobile gaming market team needs now is creative productivity that generates a large number of advertising concepts, analytical capabilities that translate in-game behaviors into target lists, and data science capabilities that can combine trends 1 and 2 to predict overall revenue. Some people may say that brand awareness is important in the concept design phase of the game, but the author has never seen the benefits of focused interviews outperform thematic tests: With mobile devices, marketers and product managers can quickly obtain direct and considerable results from many real players Feedback, how could this be worse than the hypothetical concept?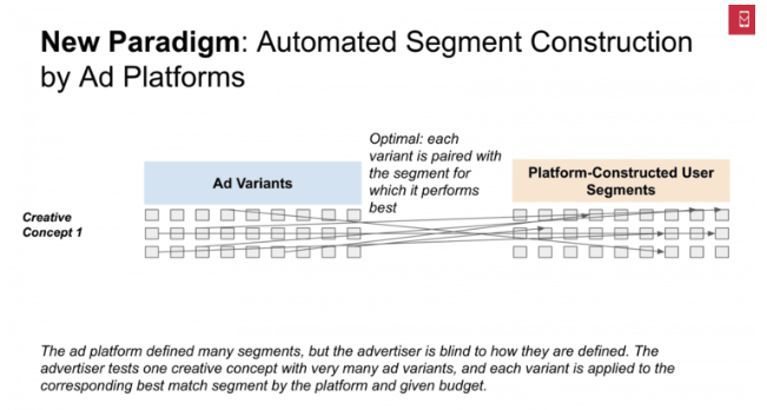 All in all, I find that the person who can best build and link a compelling combination of themes, tone, and mechanics in a game studio is a producer who has a deep understanding of gamer motivations and impulses, rather than a traditional marketer. Gaming marketers outside the mobile gaming market.
Originally posted on deconstructoroffun
Author: Eric Seufert
Source: Compilation
Original address: https://mp.weixin.qq.com/s/7CYW67Iy6NIq4NbdFCiL7A
.