The first images of the Galaxy A72 show us the design details of this device.
Recently, the WinFuture news site has published a series of leaked images of the 4G version of the Galaxy A72, showing us the design details of this smartphone. It is known that Galaxy A72 is the successor version of the Galaxy A71 that was sold very successfully before, and this machine will soon be launched with the Galaxy A52 in the near future, but specifically this March.
According to WinFuture, Galaxy A72 will only be sold with only one 4G version, at least in the initial stage of sale, not two 4G and 5G versions as its "brother" Galaxy A52. In addition, the design of the Galaxy A72 is also slightly different from the Galaxy A52, especially the main camera cluster on the back of the device.
Specifically, the Galaxy A72 will have a back with many color options, including black, white, purple and blue, quite youthful and suitable for young people, the segment that this smartphone is aiming for. The Galaxy A72 camera module is designed in the same color as the back, giving it a solid feel and giving it a distinctive look. If you remember, this design was used by Samsung on the Galaxy A32 launched not long ago.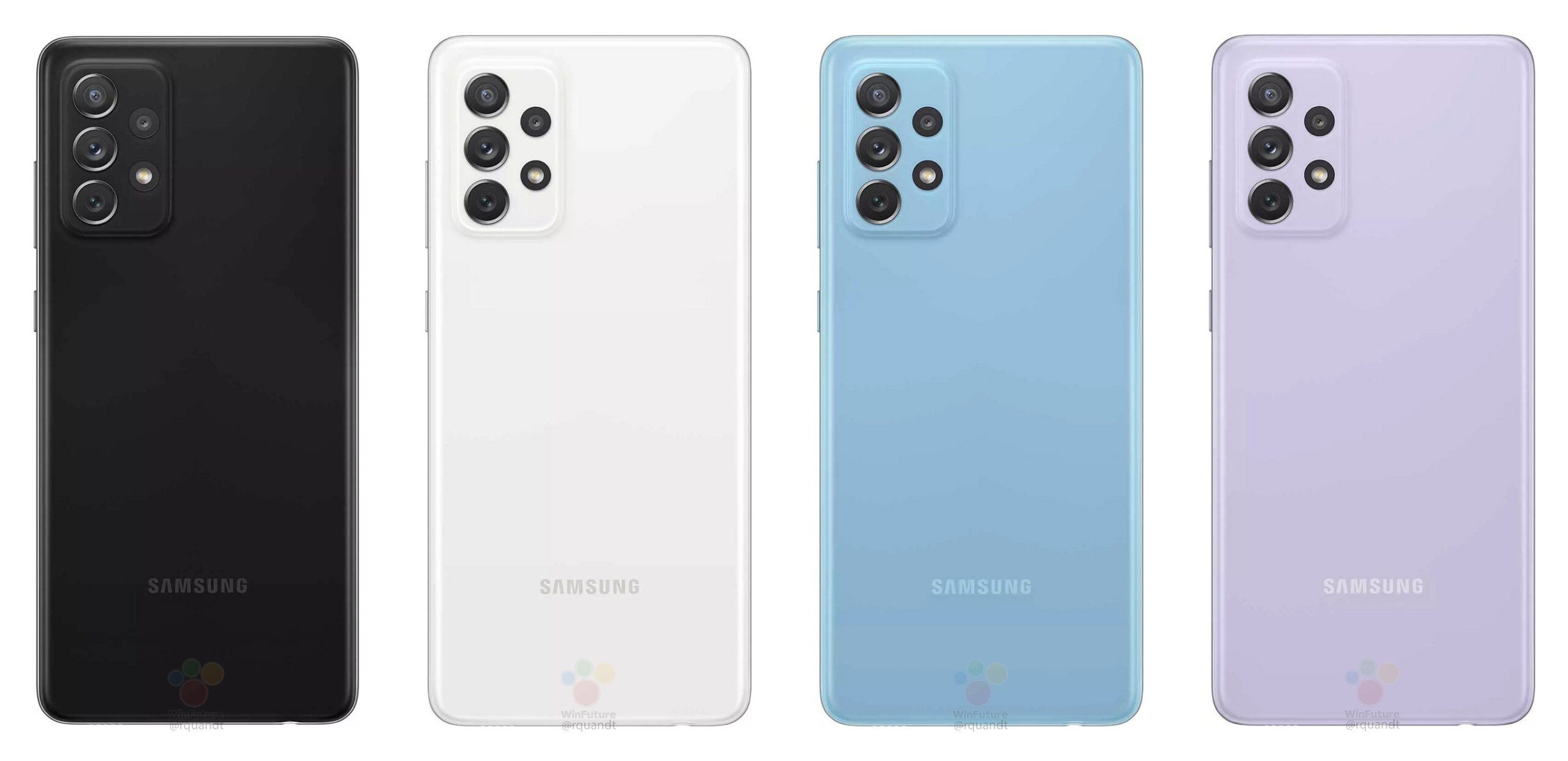 In terms of specs, the Galaxy A72 camera cluster includes a 64MP main camera, a 12MP super wide-angle camera, a 2x 8MP telephoto camera and a 2MP macro camera. Information about the camera of the machine is WinFuture said to come from a source that has not been verified, so it is for reference only. In addition, the machine has a 32MP selfie camera.
On the front, A72 will be equipped with a 6.7-inch screen, using a high-end Super AMOLED panel and is expected to have a refresh rate of 90Hz, along with Full HD + resolution. This will also be the first mid-range device from Samsung along with the A52 equipped with a high-refresh rate screen.
In terms of performance, due to the lack of support for 5G, the Galaxy A72 will come with a Snapdragon 720G chip, 6GB or 8GB of RAM, 128GB or 256GB of storage. The included battery will have a capacity of 5000mAh and support 25W fast charging, it is not clear whether Samsung will include the charger with the device.
Galaxy A72 4G version will be sold for 449 EUR, equivalent to about 12.5 million. These prices are relatively high as these are for the European market. In the near future, the A72 together with the A52 will also soon be introduced in the Vietnamese market with a cheaper price.
Sign up for newsletter Galaxy A72


悦悦