Should there be noise cancellation for cars? Sound absorption – how much does an audio car cost? When making soundproofing, what should be noted?
Tinnitus noise, irritability, stress, fatigue, distraction … is a common situation that most people traveling in ordinary cars are encountered. Just thinking of shopping for a "driver" will get rid of the noise in busy streets, but only people who have cars will understand that "going by car has its own pain".
Unlike luxury cars, which are always invested by manufacturers to prevent noise, ordinary cars have very poor sound insulation. This is inherently a common drawback that users must accept, "the cheaper the car, the louder the noise."
Cause the car is noisy
---
There are many causes of vehicle noise. The causes of noise in cars are mainly divided into the following groups:
Noise from the car: the sound of the engine, the sound of exhaust pipes, the sound of details of the body assembly, echoes in the car cabin (common if covered with plastic ceiling), the sound from other parts are having problems. (if),…
Noise from the environment: street sounds (or noise), wind, rain …
Noise from the road problem: the sound of gravel splashing into the wheel cavity – undercarriage, tires, bad pavement …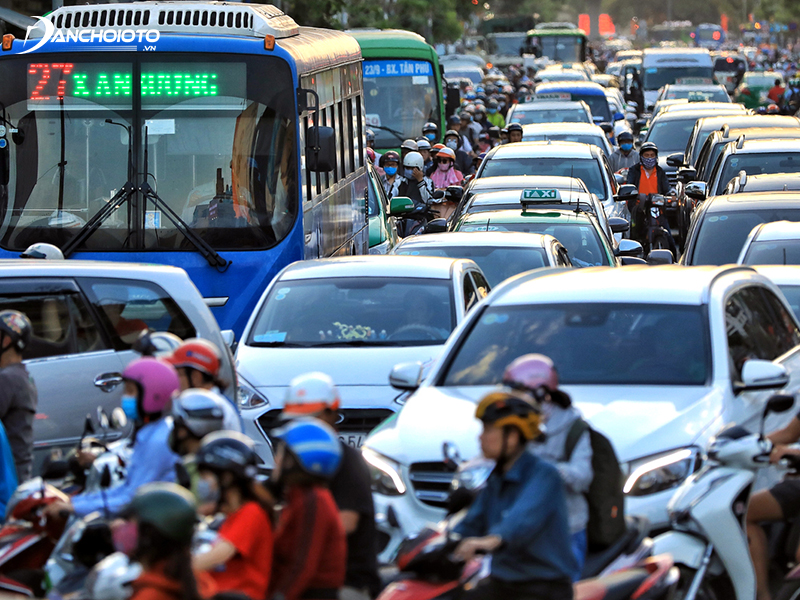 There are many causes of noise in cars
How are the original cars soundproofed?
---
In order to meet the needs of car buyers as well as increase competition in the market, car manufacturers are always calculating to offer the most attractive price. It is easy to see that car prices are becoming more "affordable", buying cars is easier than before. Currently, with just 300 million car buying budget, you can own a new car right away.
However, in order to get an attractive price, it is still required to ensure safe, durable, modern equipment, and fuel efficiency, forcing the manufacturer to cut a few factors that are not too important. This is the reason ordinary cars are not focused on soundproofing. By the fact the cost of soundproofing materials – dedicated sound absorption for cars is not low even at the input.
In popular cars, the manufacturer uses very little or almost uses very little sound-proof materials for cars. With low-cost cars, sound insulation mainly comes from "taking advantage of available goods". The first is to use felt floor coverings that are both cheap and soundproof.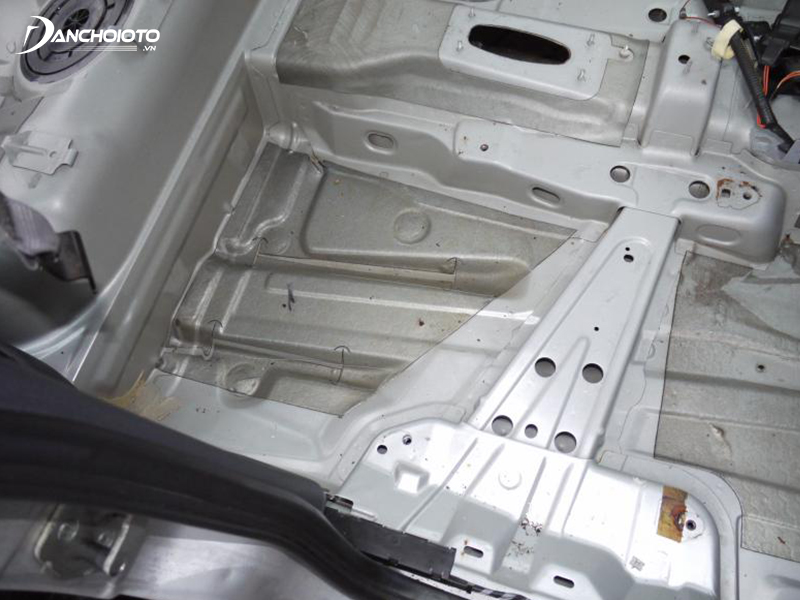 Ordinary cars do not pay attention to soundproofing
Next, if all the felt floor is open, users will see the metal floor is lined with concave grooves. This design helps to reduce vibration amplitude. In addition, some vehicles also have metal "patches". This is a reinforced damping to prevent vibration and noise on the floor. Most damping pads will paste in the places that vibrate much when the engine of the car operates.
In the door frames, the manufacturer also reinforced rubber gaskets to support opening / closing conveniently, while increasing tightness – sound insulation. However, these gaskets are quite thin, easily cracked, broken …
It can be seen with such basic equipment, it is difficult to "withstand" against the loud noise from the outside environment as well as even from inside the car. Not only is the car soundproofing poor, some cars also have problems with poor sound absorption, most notably the car with echoes and buzzing sounds.
Refer:
Types of car paint finishes

Car seat cover

Car ceiling level
There should make noise for cars?
---
Because the issue of soundproofing – sound absorption is not paid much attention to, so "poor soundproofing ability", "car is too noisy", "car buzzing unpleasant" … is always a forever problem that users of cheap cars than coal mind. Cars are not a small asset. Spending a large amount of money to buy a car (even with the burden of installment payments), everyone wants you and your family to have the best experience. However, the car noise will greatly affect the experience.
Noisy cars are not a big problem to talk loudly, not really small. Noise of cars first of all causes discomfort, tinnitus … If traveling long distances, noise can make people tired, stress, distracting to drive … This is also one of the causes of car sickness. .
Car noise causes discomfort, ringing in the ears … leading to fatigue, stress, distraction driving …
Having paid a large amount of money to buy a car but every day suffering from unpleasant noise every time the car rolls, it is an obsession. Many people choose to turn on the music and turn on the radio to "the song is louder than the bomb" but it is not very effective, the resonance of the sound only makes the situation worse.
Therefore, it is necessary to seek solutions for sound absorption – soundproofing against car noise. Using these solutions, the ability of sound absorption – soundproofing of the car is better, the noise level is significantly reduced from 3 to 80%.
What is car noise proofing?
---
Currently, there are many soundproofing and anti-noise solutions for cars such as 6D soundproof floor mats, car underbody, car ceiling cover, noise-proof rubber gaskets … But according to experts and users price, the most effective way to prevent vehicle noise is to use soundproofing materials – specialized sound absorption for cars.
With this soundproofing and soundproofing solution, people will use specialized soundproofing and sound absorption materials to fix on susceptible areas on the tires such as the ceiling, car doors, door panels. , floor, wheel cavity, capo … Depending on the characteristics of each position on the car will use 1 or a combination of multiple soundproofing materials – suitable soundproofing.
Using soundproofing materials – dedicated sound absorption is effective soundproofing
Automotive soundproof materials is a material that can reduce the transmission from the outer space to the interior of cars. Soundproofing materials will help reduce the intensity of sound from outside to inside the vehicle as well as from inside the vehicle to outside.
Automotive sound absorption materials is a material that can reduce echo, reduce echo time in car interior space. More specifically, the sound-absorbing material eliminates the buzzing and echoes in the cabin, helping the sound travel clearer and more realistic.
Types of automotive soundproofing materials
---
There are many types of soundproofing materials – specialized sound absorption for cars such as:
Mineral fiber cotton
Vulcanized rubber
Synthetic resins
Sponge foam (chicken seed foam)
Aluminum
There are many types of soundproof materials for car noise cancellation
Each type has its own advantages and disadvantages, especially the effect of sound absorption – soundproofing against car noise differently. These materials are currently on sale quite popular in the market. Many people choose to buy to make their own soundproofing cars.
However, according to many experts in the profession, besides the above pure materials, the market also has many branded soundproof products. With this type, manufacturers often do not use one type of material, but research to combine and squeeze many layers of materials together to form a special soundproof sheet with glue available exclusively for cars. In addition to the solid sheet, there is also a mixture of solutions containing synthetic resin components to spray directly onto the car. Using these specialized soundproofing products, the car noise reduction effect is usually higher.
Some famous soundproofing and noise reduction products for automobiles are as follows:
3M Acoutic soundproof panels
Brand: 3M
Origin: USA
Structure: 3 layers (3 mm thick)
First layer: Surface adhesive rubber
The second layer: Aluminum soundproof
The third layer: Sound-proof foam rubber – soundproofing
3M soundproof panels
Advantages:
Sound insulation, soundproofing – anti-noise at many locations on the vehicle
Sound absorption, reduce buzzing
Fireproof, withstand high temperatures
Odourless
Can be affixed to many positions on vehicles, easy to apply
Gribz soundproof panels
Brand: Silent Coat
Origin: Russia
Structure: 3 layers
First layer: Butyl-based rubber with BASF adhesive (Germany)
The second layer: Aluminum soundproof
Gribz soundproof panels
Advantages:
Interference, noise reduction – sound insulation
Insulation
Odourless
Can be affixed to many positions on vehicles, easy to apply
Soundproof panels STP (Standartplast)
Brand: Standartplast
Origin: Russia
There are 2 types: Depending on the position on the vehicle, stick 1 of the 2 types or overlap both types
STP Silver M1 (soundproof): 2 layers including Butyl-based rubber with adhesive and aluminum
STP Splen 04 (sound absorption): 1 layer of rubber with glue
STP soundproof panels
Advantages:
Sound insulation – noise
Sound absorption
High heat resistance
Can be affixed to many positions on vehicles, easy to apply
Forch soundproof panels
Brand: Forch
Origin: Germany
Structure: 1 layer (2.68 mm thick)
Grade: Synthetic honeycomb structure resin
Forch soundproof panels
Advantages:
Sound insulation – noise
High heat resistance
Can be affixed to many positions on vehicles, easy to apply
SuperCar noise proofing panels
Brand: SuperCar
Origin: Russia
Structure: 3 layers (3 mm thick)
First layer: Rubber with adhesive
The second layer: sucking sound absorption
Third layer: Aluminum
SuperCar noise proofing panels
Advantages:
Characteristic – anti-noise
Sound absorption
Can be affixed to many positions on vehicles, easy to apply
Wurth soundproof panels
Brand: Wurth
Origin: Germany
Structure: 1 class
Grade: Bitumen polymer mixture with adhesive
Wurth soundproof panels
Advantages:
Anti-noise – vibration reduction – sound absorption
Dark elastic
High heat resistance
Odourless
Resistant to water, acids, mild alkalis
Can be affixed to many positions on vehicles, easy to apply
Vaber soundproof panels
Brand: Vaber
Origin: Italy
Structure: 1 class
Grade: Adhesive Bitumen mixture (honeycomb structure)
Vaber soundproof panels
Advantages:
Good sound absorption
Sound insulation – noise
High heat resistance
Can be affixed to many positions on vehicles, easy to apply
Dynamat soundproof panels
Brand: Dynamat
Origin: USA
Structure: 2 layers
First layer: Bitumen mixture with glue (honeycomb structure)
Second layer: Synthetic resins
Dynamat soundproof panels
Advantages:
Soundproof
Create good surround sound
Resistant to high temperatures
No smell
Can be affixed to many positions on vehicles, easy to apply
Noxudol soundproof spray
Brand: Noxudol
Origin: Sweden
Structure: A solution with a synthetic resin component
Advantages:
Can cover many small nooks and crannies that are hard to stick
No smell
Simple construction
Noxudol soundproof spray
Defect
Level of soundproofing – sound absorption is not equal to solid materials such as soundproof panels, soundproof stickers, so it should only be used in the form of supporting a combination of a variety of materials.
The locations usually do soundproofing against car noise
---
Soundproofing for 4 doors
The car door system is one of the most important places to reinforce soundproofing – sound absorption in the car. Because much of the outside noise gets into the cabin through the doors. As most of the door systems in ordinary cars do not have soundproofing materials, the structure consists merely of corrugated iron tires and plastic tappi. This makes environmental noise very easy to get inside.
To prevent noise from the doors, cars need soundproof stickers for 4 doors. A common solution is soundproofing reinforcement for both the corrugated iron enclosures and the inner plastic tappi sections.
With the corrugated iron shell, car soundproofing stickers are usually applied directly to the corrugated iron. Soundproofing strips are usually made of aluminum to support both soundproofing and insulation for doors. Many automotive soundproofing facilities often use 3M or STP Silver M1 soundproofing panels for this area.
When soundproofing for 4 doors, people will put soundproof pads on the corrugated walls of the car door
For the door top part, we usually use sound absorption stickers (STP Splen 04 or 3M cotton sheet), cotton yarn or foam sponge fixed inside the tappi to absorb sound as well as enhance soundproofing.
For additional reinforcement, the door tappi can be pasted in the door
In addition to restricting the amount of outside noise from entering the car, people often reinforce the doors and the B-pillars of automotive noise-canceling rubber washers. There are many types of rubber gaskets, including B, D, P, Z, O … With the edge of the door, for good protection against many places, O-rings are usually inserted into the P, D or B rings to reinforce the door edges and Sop B.
To enhance sound insulation, people added rubber car washer at the doors and pillars B
Soundproofing of automobile engine compartment
Engine noise is one of the most annoying causes of car noise. Car engine soundproofing is also the most complicated. To prevent noise from the engine compartment, there must be soundproof stickers stuck in the partition between the engine room and the passenger compartment, there are 2 ways:
Magnetic insulation stickers in the engine compartment: To paste the soundproofing panels for the partitions from inside the engine compartment, you must remove all the machinery systems in the engine compartment. This is very complicated, the cost of assembly – high, finding hidden many risks affecting the operation of the vehicle engine system if errors occur. So very few places choose this way.
Soundproof stickers in cabin (passenger compartment): In this way, the constructor will remove the entire taplo to paste soundproofing partitions from the inside of the passenger compartment. Although this way has to replace the air conditioner due to removing the evaporator, the construction process is faster, not too complicated and cheaper. Most people will choose this way to prevent car engine noise.
To insulate the car engine compartment people paste soundproofing from inside the cabin
Materials using soundproofing of the engine compartment are usually preferred materials with aluminum layer to both sound insulation and insulation. Because the engine compartment often has quite high temperatures.
Besides gluing soundproofing panels, people also reinforced a soundproof capo cap that is both soundproof and insulated for the engine compartment.
Can be pasted capo soundproof cap to reduce noise effectively
Soundproofing car floor
The car floor is also susceptible to noise. One of the causes of a lot of noise is the echo from under the floor, into the car. Echo from the roar is mostly the sound of the wind, the sound of gravel splashing against the ground, the sound of tires …
The soundproofing floor covering of cars is also quite complicated. Firstly, you need to remove the entire car seat system, opening the floor covering. Then use car soundproof stickers on the entire floor of the car. When constructing soundproofing floors – under car floor, with hatchback, crossver / SUV, people often stick soundproof stickers for both luggage compartment floor and side walls.
See more: Advice on leather seats
In order to soundproof the car floor, people will remove all seats and floor coverings and then put soundproof panels on the floor
Soundproofing soundproofing materials for floors are usually materials containing rubber / plastic components. If adding aluminum layer, it will be better to be able to prevent sound, insulate for roar. Some cars are too noisy, echoes, people will paste an extra layer of cotton padding to help absorb sound.
For sound absorption can be added lining sound absorption cotton
In addition, about the sound insulation of cars, there are some other effective complementary solutions such as using 6D car floor mats. This type of carpet has many layers (including soundproofing, sound absorption), the design covers the floor so it helps support the anti-noise well, helps to eliminate echo, play music in the car better.
In addition, the car paint coating (or young rubber chassis cover) also helps to support soundproofing from the outside. Undercarriage coating has the effect of anti-oxidant – corrosion, protect – increase the life span, cover joints of joints to prevent wind from entering … Especially in automobile sprays, often have high components. Su create elasticity helps limit the sound of rocks splashing into the ground.
Anti-tire cavity noise
The tire socket (or wheel cavity) is where the unpleasant echo comes into the car. Tire sockets are often echoes from the sound of tires when running on the road (often quite heavy if running on bad roads, running through the speed reducer line continuously), the sound of wind, the sound of rocks and stones hitting the tire cavity … car personnel are noisy, some cases even cause tinnitus.
There are many measures to prevent noise from tire cavity, such as spraying young rubber, noise-proofing stickers, installing plastic sheets to cover wheel holes … In which, anti-noise stickers and plastic sheeting of wheel cavity are considered to be the most effective anti-noise. .
Plastic plate covering wheel cavity works to prevent tire cavity
Soundproofing of cars
The roof is another important part that needs to be reinforced in parallel with sound and heat insulation. The sound of rain on the ceiling is also a cause of vehicle noise. However, more ominous than the roof is the place that absorbs most of the heat from the sun, causing the temperature in the car to rise, especially when parking for long periods in hot weather.
Therefore, soundproofing the ceiling of the car will usually be "a double story", both soundproofing and heat insulation. With the ceiling, as well as the floor, people often open the felt cover, soundproof stickers to the ceiling.
Reinforcing ceiling sound insulation will both help sound insulation, while increasing ceiling insulation
Because the structure of the ceiling will greatly affect the echo sound in the cabin, so people often enhance the sound absorption padding to reduce buzzing, echoes. However, today after the soundproofing of the ceiling, instead of covering the felt layer, many people choose to cover the ceiling of the 5D. This new type of ceiling cover has the effect of sound absorption, the sound in the car is warmer, clearer, and at the same time it brings a different aesthetic beauty and class to the car.
How much do car soundproofing cost?
---
As a service, car soundproofing prices do not currently have a specific level. Price of soundproofing for noise in cars usually depends on two factors:
Performance items (sound insulation for each chassis, car door, floor, ceiling … or package)
Soundproof materials used
According to the general survey, the average car soundproofing price in each current category is:
* Drag the table to the right to view full information
| | | |
| --- | --- | --- |
| Price soundproof car each item | 5 seater (VND) | 7 seater (VND) |
| Soundproofing 4 doors | 1 – 3.5 million | 1,2 – 4 million |
| Soundproofed baffle of machine compartment | 1 – 1.5 million | 1.2 – 1.7 million |
| Soundproof car floor | 2 – 5.5 million | 2.5 – 6 million |
| Soundproof ceiling | 0.6 – 2 million | 0.8 – 2.2 million |
| Soundproof wheel cavity | 0.5 – 1 million | 0.6 – 1.1 million |
Prices for car soundproofing cars with 5 seats also differ. Soundproof price of small 5-seat car of class A such as Kia Morning, Hyundai i10, Toyota Wigo … will be cheaper than 5-seat cars of class B, C, D such as Toyota Vios, Nissan Sunny, Hyundai Accent … And with car line 5 High ground clearance such as Ford EcoSport, Mazda CX-5, Hyundai Tucson … soundproof prices are usually higher.
About 7-seater car, noise-proof soundproofing price for popular cars such as Toyota Innova, Fortuner … similar.
Experience car noise reduction
---
Should make soundproof car at home
Because the cost of soundproofing packages for cars (including material costs and construction costs) is high, many car users choose to do their own soundproofing at home. Currently, branded to non-branded soundproof materials are commonly sold. Anyone can easily afford it.
However, making your car soundproofing at home is easy but not simple. Soundproofing is not just simply pasting soundproof pads into a car. The process consists of many steps such as dismantling the vehicle parts, cleaning, soundproofing, and then reinstalling. In order to dismantle and install the parts in a car, the implementer must have certain knowledge and understanding.
Soundproofing stickers for cars requires the most knowledge and experience
But that is not the most headache problem. In order to make noise for cars effective, the implementer must know the principles of sound. In the car there will be sound absorption, reflective places, can not arbitrarily soundproof stickers. If improperly glued with materials, the vehicle will not only reduce noise, but will also make it more loud and tinnitus. Therefore, if you do not know this knowledge, it is best for car owners to bring cars to professional car soundproofing centers.
Priority should be given to specialized and branded soundproofing materials
High soundproofing cost for cars is partly due to soundproofing material. Therefore, many people who want to save money have chosen to use cheap, unidentified soundproofing materials. Some establishments and centers make soundproofing vehicles because they want to lower the cost of services to increase competition and attract customers, so they also use materials used to build soundproofing houses such as sucking eggs, cotton mattresses …
The same is soundproofing but car soundproofing is different from house soundproofing. The car structure is more complicated due to the influence of the operating system so the car will have many vibration points, negative points and feedback points. Therefore, it is not possible to arbitrarily paste indiscriminately soundproofing materials.
Priority should be given to specialized and branded soundproofing materials
On the other hand, cars often move outdoors, under the impact of the environment, weather such as sunshine, rain … Especially with the hot and humid climate of Vietnam, the cars are more susceptible to cars. damp. If using conventional soundproofing materials such as foam, cotton padding … the durability will not be high. Foam, cotton padding … is also susceptible to moisture, causing rust to the car body, potentially dangerous if exposed to the electrical system in the car.
While with specialized soundproof products for branded cars, the manufacturer has calculated the above issues, so the durability of the soundproofing layer will be higher, soundproofing – noise prevention more effectively.
Should seek professional advice, avoid judgments according to emotions
A common problem among users when taking a car to work against noise is to self-judge the cause of noise in cars. This leads to self-determination to make soundproofing for a part, while that is not necessarily the cause of noise.
Mr. Phan Q. Vinh (District 3 – Ho Chi Minh City) shared: "At first I kept hearing the noise at the ground being very uncomfortable, so I took the car to work for soundproofing under the ground. Then it was better, but it didn't reduce much noise. I think that due to the wheel cavity, I should continue to soundproof for 4 wheel cavities. Now the noise is alleviated but there is an earache. "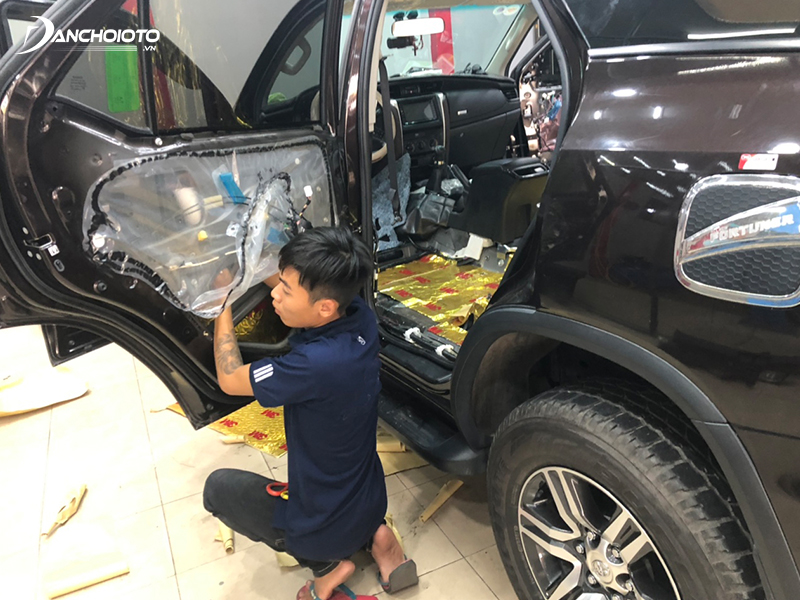 Should seek advice from professional car soundproofing
Although "only the owner understands the car", the lack of professional knowledge will make the car owner make a mistake. The problem of soundproofing is actually not as simple as other normal car upgrade or upgrade items. Car owners should seek the advice of experts and experienced workers.
Be careful when choosing a place for soundproof and noise proofing
There have been a lot of cases where the car was put to work for soundproofing, but the car not only did not reduce noise but also made more noise or appeared buzzing, echoes very uncomfortable. After the soundproofing, almost everyone is quite satisfied. But the general situation is that after a while, many people feel the car is more noisy, the car appears tinnitus … So uncomfortable that they choose to remove the soundproof layer, put the car to its original state.
Mr. Huynh M. Hung shared: "I am not too noisy with the 2017 Yaris but I also want to work to make noise to keep the car quiet. Searching online found 1 place in An Duong Vuong cheap so I am too eager to do it, I do not ask much. After finishing it was a bit noisy but the car was very echoing, aching brain. In the end, I couldn't stand it and had to take it off. "
See also: Should ceramic coating for cars
Many cases of improperly soundproofing cars cause the car to be buzzing, sounding to be dismantled and painted
As mentioned above, if you make noise improperly for the car, after a while the car often gets the following general condition:
Tinnitus: If using poor quality soundproofing materials, sticking the materials in the wrong position (negative and negative) … the sound will be deformed, causing tinnitus more unpleasant than normal noise.
Echo: When using soundproofing or sound absorption materials, the structure of the car's surround sound will be distorted, causing echo.
Có thể thấy khi làm cách âm xe hơi, trình độ chuyên môn của người thi công rất quan trọng, nó ảnh hưởng trực tiếp đến sự "thành – bại" sau khi làm cách âm. Do đó, người dùng nên tìm hiểu kỹ, ưu tiên chọn những cơ sở, trung tâm làm cách âm ô tô lâu năm, có uy tín nhất định.
Nên làm cách âm chống ồn ô tô ở đâu?
---
Theo chúng tôi tìm hiểu hiện có một số địa chỉ chuyên làm cách âm chống ồn cho xe ô tô uy tín ở TP.HCM được nhiều khách hàng đánh giá mang lại hiệu quả cao.
Trung tâm chăm sóc – làm đẹp ô tô ZADATO
Hotline: 1900 636 589
Website: zadato.com
Address: 832 Phạm Văn Đồng, P. Hiệp Bình Chánh, Thủ Đức District, TP. Ho Chi Minh
Cách âm chống ồn 3M BẢO NGỌC
Hotline: 0944 636 889
Address: 27 Đường Số 3, P. Hiệp Bình Phước, Thủ Đức District, TP. Ho Chi Minh
Chuyên cách âm chống ồn, thảm lót sàn ô tô VATONA
Hotline: 0906 882 977
Website: vatona.com
Địa chỉ: 38 đường số 4, KP5, P. Hiệp Bình Chánh, Quận Thủ Đức, TP. Ho Chi Minh
Chuyên dán cách âm chống ồn, phủ gầm, phủ ceramic xe hơi TRÍ THỨC
Hotline: 0902 979 855
Address: No. 11, D6 Street, Dong An KDC, Tan Dong Hiep Ward, Di An, Binh Duong
Xưởng độ cách âm xe ô tô KOTADA
Hotline: 0976 090 011
Website: kotada.com
Address: 21 / 32B Tự Lập, Phường 4, Tân Bình District, TP. Ho Chi Minh
Những cơ sở, trung tâm này không chỉ dán cách âm mới mà còn chỉnh sửa, khắc phục lại các trường hợp dán cách âm nơi khác nhưng bị hỏng, bị ồn… Không chỉ có thợ giỏi, các địa chỉ trên còn sử dụng vật liệu cách âm thương hiệu nổi tiếng nhập trực tiếp nên giá thành rẻ hơn nhiều nơi khác.
Đăng Dương