The idea of ​​using a phone or smartwatch as a car key has been around for a while but is forecast to explode in the new decade, starting in 2021.
Wireless technology has evolved rapidly over the past decade, allowing car users to unlock their cars remotely, via a smartphone or smartwatch.
However, the implementation of this technology is inconsistent between car brands and sometimes is fixed to only certain types of phones or devices. There's even a need for a third-party app to lock and unlock your car.
But all are and will change. At Apple's Worldwide Developers Conference last summer, a new car key protocol appeared on the iOS Wallet app. The product is currently only cooperating with BMW to launch the market.
Recently, Apple's rival Samsung has announced the Galaxy S21 smartphone with built-in digital control technology to a higher level. Not only does smart home control by phone, but now, users also easily open the car door, start and turn on the air conditioner remotely.
Unlike Apple, the South Korean tech giant says it has announced partnerships with Ford, Genesis and Audi, as well as BMW, to bring this feature to more products and models "for the foreseeable future".
The story of the digital key to cars is not just the willingness to work together, but hardware upgrades also play a role. Previously, digital keys were entirely dependent on a technology known as near-field communication or NFC (short for Near-Field Communications).
NFC uses magnetic induction to make a connection between devices when in direct contact or close to each other. NFC was developed based on the principle of identification by radio frequency signals with a maximum data transfer rate of 424 Kbps. Due to the relatively short data transmission distance (within a distance of 4 cm), transactions via NFC technology are considered safe. NFC-equipped devices are usually mobile phones.
However, a newer protocol, called Ultra Wide Bandwidth (UWB), improves NFC by providing extremely precise communication of location over short distances. Automakers and tech companies claim that this makes it suitable for unlocking car doors.
Samsung has described how to unlock with UWB will be a lot more convenient. In other words, as long as your phone is in your pocket or pocket, you won't have to take it out and touch the door handle to get inside the car like NFC.
In addition, the integration of an operating system-level digital key will allow users to share their keys with friends and family when needed. This will signal a change in the automotive industry in the near future.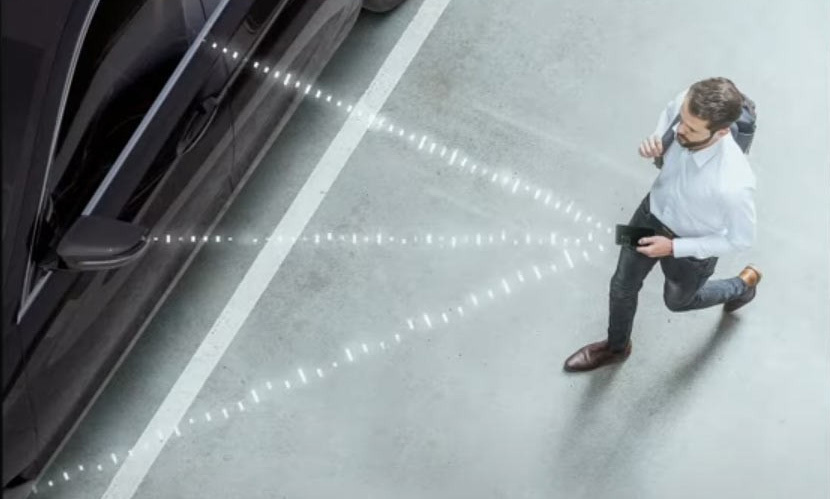 Currently, UWB chips are increasingly popular, including the iPhone 12 and iPhone 11 series and Samsung's Galaxy Note 20 Ultra. However, NFC communication is still the basis for the current digital keys, as the UWB is still quite new and requires some time to upgrade.
BMW is one of the automakers leading the shift towards UWB communication. The company has confirmed that the BMW iX model that will introduce this key technology in its next generation will go on sale later this year.
Thus, with the entry of the two largest mobile phone companies in the world, digital keys on the phone will no longer be the "rare" as before, but will soon become a new trend and technology standard in cars. in this decade, starting from 2021.
.