Comparitech.com, a security comparison website, has just published a new study, related to the comparison, evaluation and ranking of countries in the world based on censorship. , internet control. The end result is not surprising for most people: North Korea is the top country on the list, while China is in second place, followed by Russia, Iran and Turkmenistan.
The 10 factors assessed by Comparitech.com include:
Torrents are limited
Torrents are prohibited
Restrict pornography
Prohibit completely pornographic content
Limit political communication
Political media is heavily censored
Social media is limited
Prohibit all social networks
Control and limit VPN
Prohibit VPN.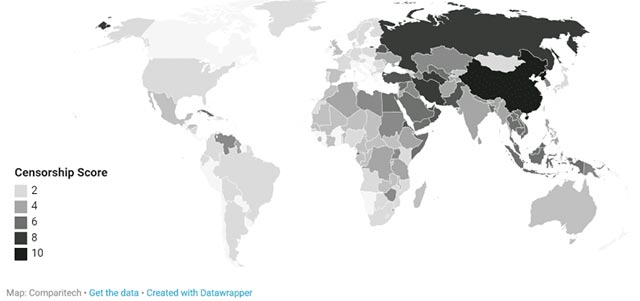 Each of the above criteria is equivalent to 1 score. North Korea is the only country to own all the 10 evaluation factors set by Comparitech.com, reaching an absolute score of 10/10 and of course leading the list. China reached 9th place, while Russia, Turkmenistan and Iran scored 7 points in this survey. Vietnam is among the countries that ban 6 elements.
Internet censorship is a topical issue worldwide as more and more countries are trying to curb or control online content in one way or another.
Governments also realize that more and more internet users are using Virtual Private Networks (VPNs) to bypass internet restrictions from regulatory agencies and access to "restricted" content, especially social networks.
Many democracy activists think the internet is part of basic freedom of speech, but state authorities also have their own arguments in promoting control of the internet environment. . This is an extremely complex problem that certainly cannot be solved overnight.
.