Cristiano Ronaldo's actions may not have gone unnoticed by themselves, if, at roughly the same time, Coca-Cola's market value hadn't dropped by the multibillion-dollar according to early sources. The international press took turns "making headlines" about this, causing a stir among readers. "One shot of Cristiano Ronaldo, Coca-Cola lost $4 billion" is one such "sensational" headline.
But is there really a cause-and-effect relationship between these two moves, or is Coca-Cola's stock price down from $56.10 to $55.22 (equivalent to 1.6 percent)? other reasons? It must be said that it is difficult to have a clear and definitive answer to this question, but Urbanlegends.hu journalist Marinov Iván has tried to figure it all out.
First of all, it should be emphasized that Coca-Cola stock started to fall shortly after the stock market opened that day, before CR7's Budapest press conference. Specifically, NBC News reported that the company's stock price fell rapidly from $ 56.08 to $ 55.25 after opening at 9:30 a.m. New York time, before Ronaldo's press conference began. Moreover, during and after the press conference, it even increased slightly.
Ronaldo had a good day but his Portuguese team still lost to Germany
A second addition to the story pointed out in the "New Statesman" article is that such a drop in the market rate is not necessarily a loss for Coca-Cola, but mainly for other companies. Investors. The "New Statesman" data also shows that Coca-Cola's stock price has risen steadily since January 2021 and remains close to a 52-week high even after falling earlier this week.
Approaching in a 1-year period, it can be seen that the decline at the beginning of the week was thought to be very large, but not at all prominent compared to normal exchange rate fluctuations. Even during this period, stocks have at times dropped more sharply, for example, at the beginning of the year, due to negative news about Coronavirus.
Nicholas Johnson, equity analyst at Morningstar, said that there is most likely no causal link between Ronaldo's actions and the drop in stock prices. According to a view sent to "Business Investor", he argues that stars have a big role in positioning brands in the minds of consumers (which is why they are hired to advertise products), but this level is much more limited for an iconic brand like Coca-Cola.
Such negative news could change the exchange rate for a while, Johnson said, but perhaps even the most fanatical CR7 fan won't stop drinking Cola if they like it. this beverage. And in the long run, that's what matters most to the company and its investors, as Johnson notes.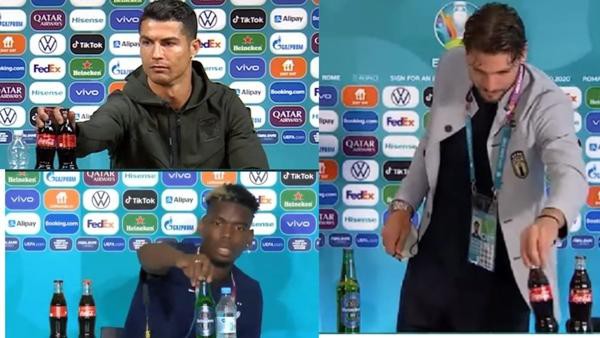 Following Ronaldo's actions, some other stars "learned" from the Portuguese star when removing sponsors' products during the press conference.
Could there be other reasons for the drop in Cola stock? The "Entrepreneur" article offers an explanation in principle, though not necessarily the reason for the June 14 drop. Accordingly, June 11 is the deadline to secure participation in the upcoming dividend payment – and a temporary drop in share prices after the expiration of that period is normal. And CR7's actions may have reinforced this further.
The author of the online article "New Statesman" suggested that the story of "losing a billion dollars in a split second" could be very popular because recently, the world has witnessed a number of cases, when a few characters are known for their behavior or actions that greatly influence stock prices (e.g., Elon Musk's stock-manipulating tweets). However, it's not yet time to move 2 cans of Cola to beat the world's largest beverage maker.
But that doesn't mean CR7 can't give Coca-Cola headaches. If it's from Ronaldo and other stars that sparks a sustained movement against carbonated and sugary drinks, Coca-Cola – and any company that makes similar products – can feel it. .
But it is also possible that the manufacturers and their marketing department, when they see the negative reaction of these players, will slightly adjust the arrangement of their products during big events, attracting attention. mind, and deal with it more wisely in the future.
Returning to CR7's actions, the EURO 2020 spokesman said that in addition to filtered water, the players attending the press conference can use Coca-Cola or Coca-Cola Zero and this is part of the financial cooperation relationship. aid in the organization of the football tournament, as well as in the development of European men's and women's football. UEFA also requires players not to "imitate" Ronaldo, and although it does not fine players, it can fine the national team if there are violations.
According to an anecdote in the football industry, Ronaldo may have learned from former player and coach Ryan Giggs that Cola is not a very good drink for an elite sportsman. The story goes that, at a shared breakfast at Manchester United (England), when Ronaldo appeared with a Cola in hand, Giggs pushed him against the wall and said "don't do this again".
Ronaldo, now considered a health enthusiast, recently said that if his son Cristiano Jr. Ronaldo – drinking Cola and other soft drinks is not certain that he can become a great football player, although the boy is only 10 years old and can change a lot. However, both Giggs and Ronaldo seem to "say it, but not": both have appeared in Coca-Cola advertisements.
At that time, it was not a problem for them to need to advertise products that they not only did not use, but considered harmful to their health…